3 technical reasons to buy the NASDAQ 100 index
The tech sector dropped from its all-time highs above 16,500 points without any significant bounce. So is it time to buy as it meets strong support?
Tech stocks dropped severely in 2022, despite many of the most representative companies delivering much better than expected results. On its way down from all-time high levels set in the last days of 2021, the NASDAQ 100 index made no significant bounce.
However, the technical picture points to at least three bullish signs to consider: support given by the apex of a contracting triangle, a bullish RSI divergence, and a falling wedge pattern.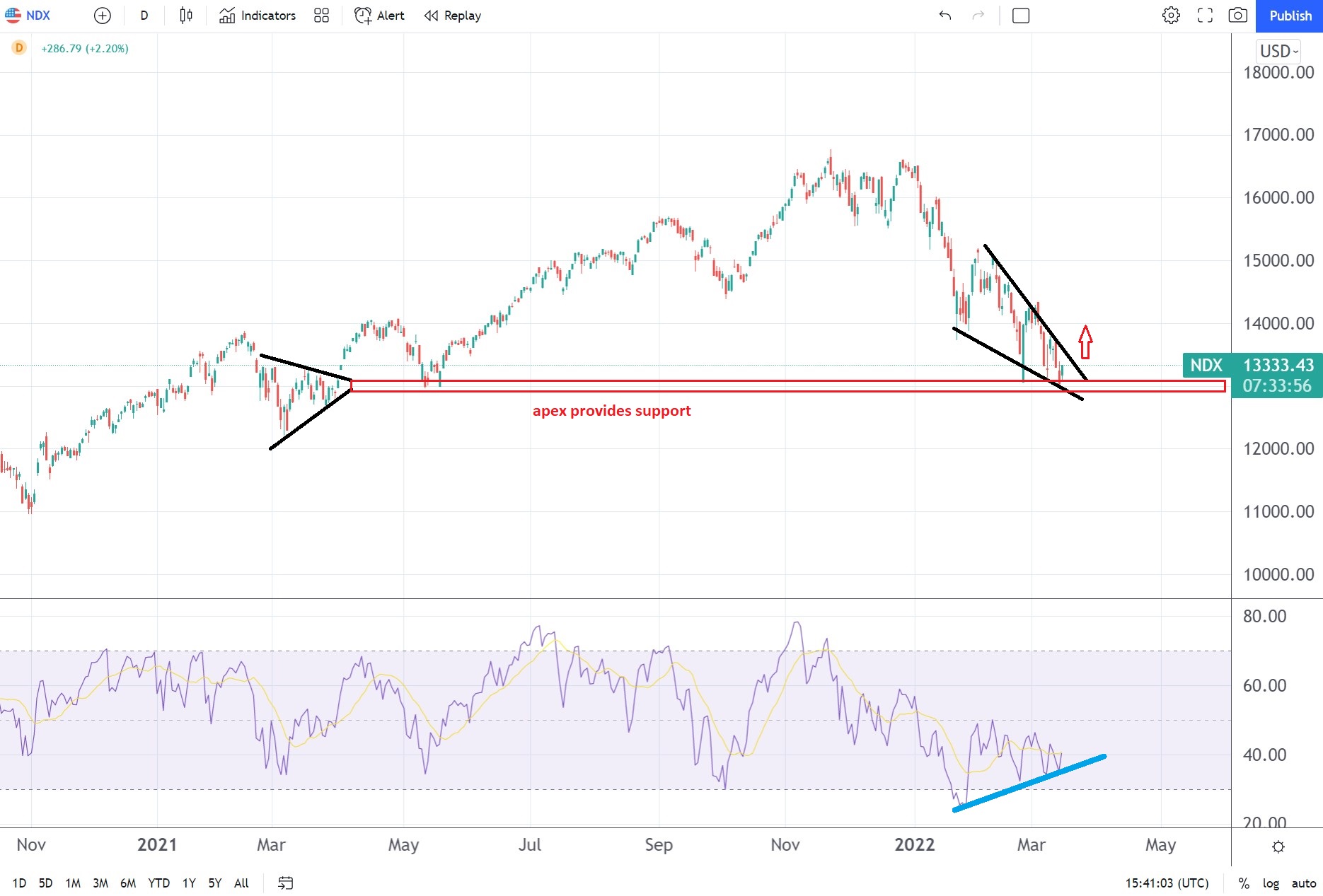 Strong horizontal support is given by the apex of a previous contracting triangle
The first bullish signal is horizontal support provided by the apex of a contracting triangle. The apex is where the two trendlines belonging to a triangle intersect.
It is a place that provides horizontal support, and it did so for the NASDAQ 100 index.
Bullish RSI divergence
Another bullish sign is a divergence between the price and the Relative Strength Index (RSI). The RSI is an oscillator showing overbought and oversold levels.
Whenever the actual price diverges from what the oscillator does, it forms a divergence. In this case, the NASDAQ 100 index kept making new lower lows, but the RSI did not.
Hence, the oscillator formed a bullish divergence after moving in oversold territory, calling for caution.
Falling wedge pattern
Finally, one can observe a falling wedge pattern. A falling wedge is a bullish reversal pattern, and technical traders typically wait for the price to break and close above the upper trendline.
In the case of the NASDAQ 100 index, a daily close above 14,000 points would act as confirming the pattern. Providing the market is not making a new lower low, a new all-time high might be in the cards.
When the stock market is trending higher, most investors plan to buy the dip. But when a dip eventually appears, investors start doubting their own thesis. As such, buying a dip is more like wishful thinking rather than what human beings actually do. For this reason, it is worth waiting for confirmation before dedicating some money to an investment. For technical traders, certain moves above or below some levels are enough to give them the courage to act.
Will we see such a move in the NASDAQ 100 index?