Best gold mining stocks to buy amid deep value against gold bullion
Gold mining equities trade at a big discount compared with the price of gold. So what are the best gold mining stocks to buy?
In times of rising inflation, investors turn their attention to gold. The traditional hedge against the general rise in the prices of goods and services did not disappoint during the COVID-19 pandemic, even though some investors expected gold to rally even more than it did.
However, it did make a new all-time high, as it traded above $2,000 for the first time ever. But gold's performance is even more obvious when we interpret it relative to gold mining equities, which trade near a 35-year low vs. gold.
So what gold mining stocks to buy amid the deep value against gold bullion? Here are some names to consider: Barrick Gold, Alamos Gold, and Newmont.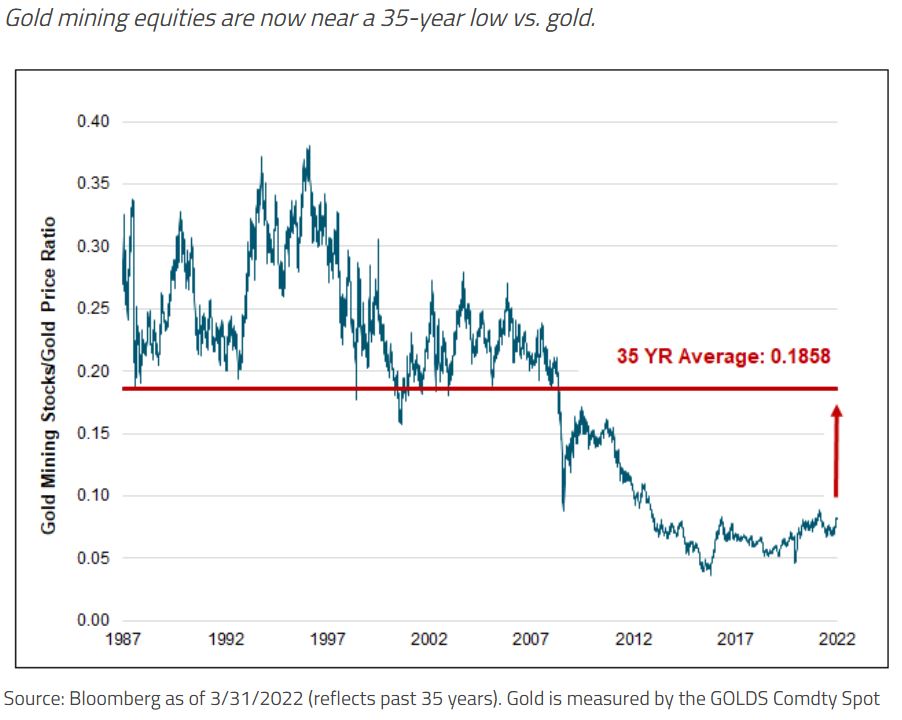 Barrick Gold
Barrick Gold is headquartered in Toronto, Canada, and operates gold mines in countries such as Mali, Argentina, Canada, and the United States. This is a dividend-paying company with a forward dividend yield of 1.59% and a dividend payout ratio of 31.62%.
Besides receiving a dividend, shareholders saw the stock price gaining +15.60% in the last twelve months. At the current market price, Barrick Gold has a market capitalization of $44.86 billion.

Franco Nevada
Franco Nevada's stock price sits near all-time highs and has already gained +22.75% YTD. Just like Barrick Gold, Franco Nevada pays a dividend, but the forward dividend yield is only 0.77%.
One of the metrics that draw attention to Franco Nevada is the gross profit margin for the past twelve months, higher than the sector median by 179.54%.
Newmont
Newmont's stock price made a new all-time high in April as gold miners benefited from gold prices trading near $2,000 again. Newmont's forward dividend yield is 2.6%, and the five-year dividend growth rate is 71.11%.
At the current market price, Newmont is valued at $67.18 billion and has an enterprise value of $67.94 billion.