Best REITs to buy for dividend income and portfolio diversification
Real estate is an alternative investment favored by long-term investors in search of protecting their portfolios from rising inflation. REITs go a step further as they provide a steady dividend.
A Real Estate Investment Trust, or simply REIT, is a company investing in income-producing properties. To be a REIT, a company must satisfy a number of conditions, such as paying more than 75% of its taxable income to shareholders in the form of dividends or deriving at least 75% of its gross income from interest from mortgages, rents, or real estate sales.
A REIT is an alternative to owning real estate, and it offers investors exposure to the real estate market at a low price. Because REITs pay most of their income as a dividend and, at the same time, act as a hedge against inflation due to the exposure to the real estate sector, they bring stability and diversification to a portfolio.
So what are the best REITs to buy? Here are three suggestions: Prologis, American Tower, and Crown Castle.
Prologis
Prologis (NYSE:PLD) is the world's largest REIT. It owns and operates warehouses and distribution centers, in the United States, Europe, and Asia, and it has a market capitalization bigger than $110 billion.
The dividend yield for 2022 is 1.73% and the company is estimated to earn $3.28 per share in 2022 and $6.68 in 2026.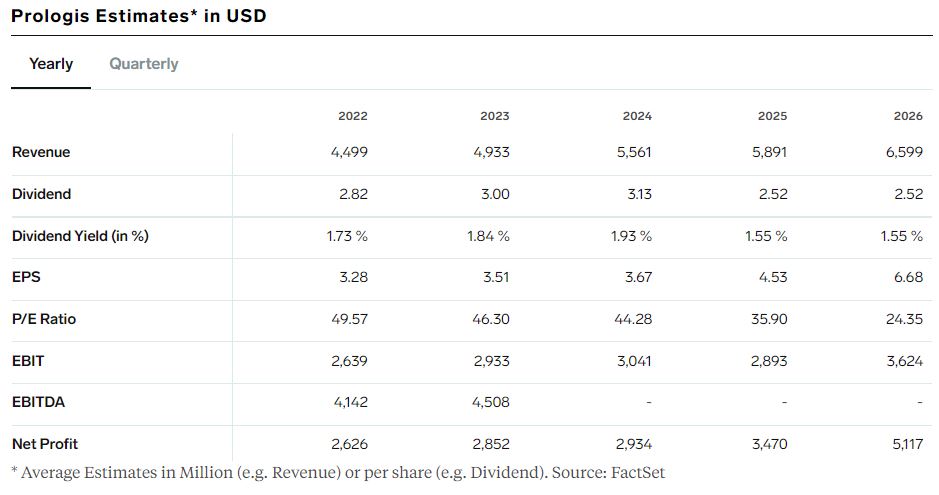 American Tower
American Tower (NYSE:AMT) is a specialized REIT focusing on the operation of communications sites. The company pays a quarterly dividend and it has increased the annual dividend for the past 10 years.
American Tower's stock price dropped by about -10% YTD, but analysts remain optimistic about the stock price's ability to recover. For instance, out of the 36 analysts covering the stock, 24 have issued buy recommendations, and 11 have neutral ones. Only 1 analyst has issued a sell recommendation.
Crown Castle
Crown Castle (NYSE:CCI) is another specialized REIT focusing on communications. More precisely, it offers access to wireless infrastructure via long-term contracts.
Crown Castle's stock price gained about 6.25% in the past twelve months, and the forward dividend yield is 3.05%.