Dax index approaches major resistance: here's what the charts show
Dax index bounced from its recent lows and now approaches major resistance. Is it possible for the German stock market index to move to a new all-time high?
Stock markets in Europe tumbled on the news that Russia had invaded Ukraine. But after the initial shock, investors decided to buy the dip, and so, all major European indexes bounced strongly.
Now, the big question is if the bounce is a bear market rally or the start of a new bullish trend? While the geopolitical tensions suggest caution, the technical analysis picture looks bullish.
15,000 – a pivotal level for Dax
Dax topped above 16,000 points, and then bears took control. However, before the selloff, one may notice that the market found strong support at 15,000.
That support transformed into resistance, and this is why the Dax hesitates at the current levels. On a daily close above 15,000 the Dax will likely find more buyers.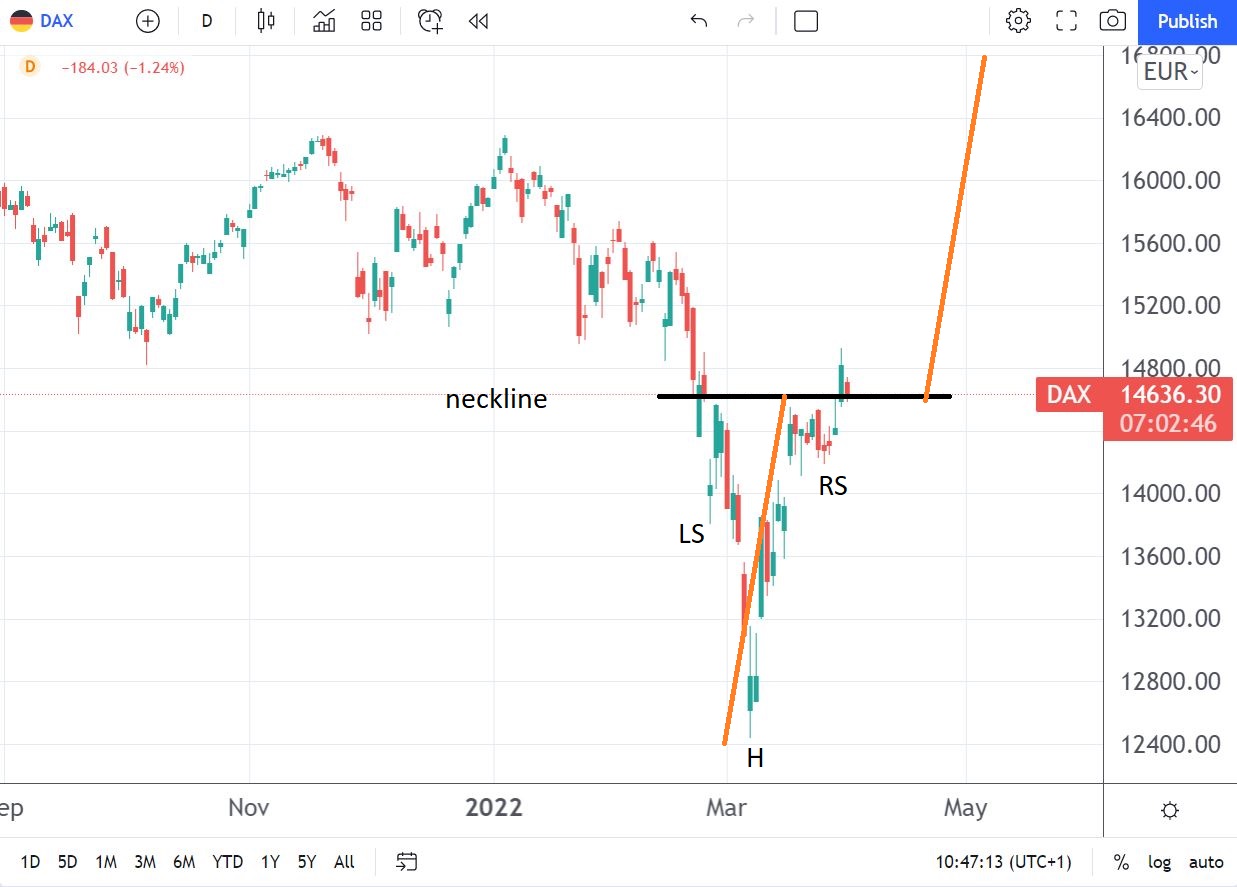 Inverse head and shoulders pattern suggests more upside
While the horizontal resistance at 15,000 looks strong enough to drive investors away, an inverse head and shoulders pattern comes to support the bullish thesis. The market appears to retest the neckline, and the measured move points to a new all-time high.
Head and shoulders are reversal patterns, and their measured move represents only the minimum distance that the market should travel. As such, the Dax's rally may continue even beyond the all-time highs made in late 2022.
Russia-Ukraine conflict not enough to scare equity markets investors
A risk for European stock markets is the ongoing war in Eastern Europe. Sure enough, reasons to be optimistic surfaced later.
For example, according to the press releases, yesterday's meeting between the two countries at war yielded some progress. As a result, equity markets rallied, but the sentiment can change in a blink of an eye.
All in all, investors in the European stock markets were not scared of the conflict. They bought the dip, as reflected by the Dax index bouncing more than 2,000 points and the technical picture looks constructive moving forward.
15,000 represents a pivotal level. Any close above it may trigger more strength.