Dax index bounces from lows: is this just a bear market rally?
The German stock market index bounced from the lows ahead of the ECB meeting. Is this just a bear market rally?
The German Dax index was one of the European indexes that dropped aggressively after Russia invaded Ukraine. This is because many German companies did business in Russia, plus the country is strongly dependent on Russian gas.
As such, investors thought of reducing exposure on the German stock market at least until it becomes clearer where this conflict heads too. Moreover, the central bank is pressured to react to rising inflation, and so the prospects of monetary policy tightening coupled with the uncertainty brought by a military conflict led to a sharp decline recently.
From a technical perspective, the index found support at a previous resistance area. It is back to levels seen in 2020, but it bounced sharply from the lows. The big question here is if this is only a bear market rally?
Rallies are much more aggressive during a bear market than during bullish markets. They tend to have strong impact on investors and often are false rallies.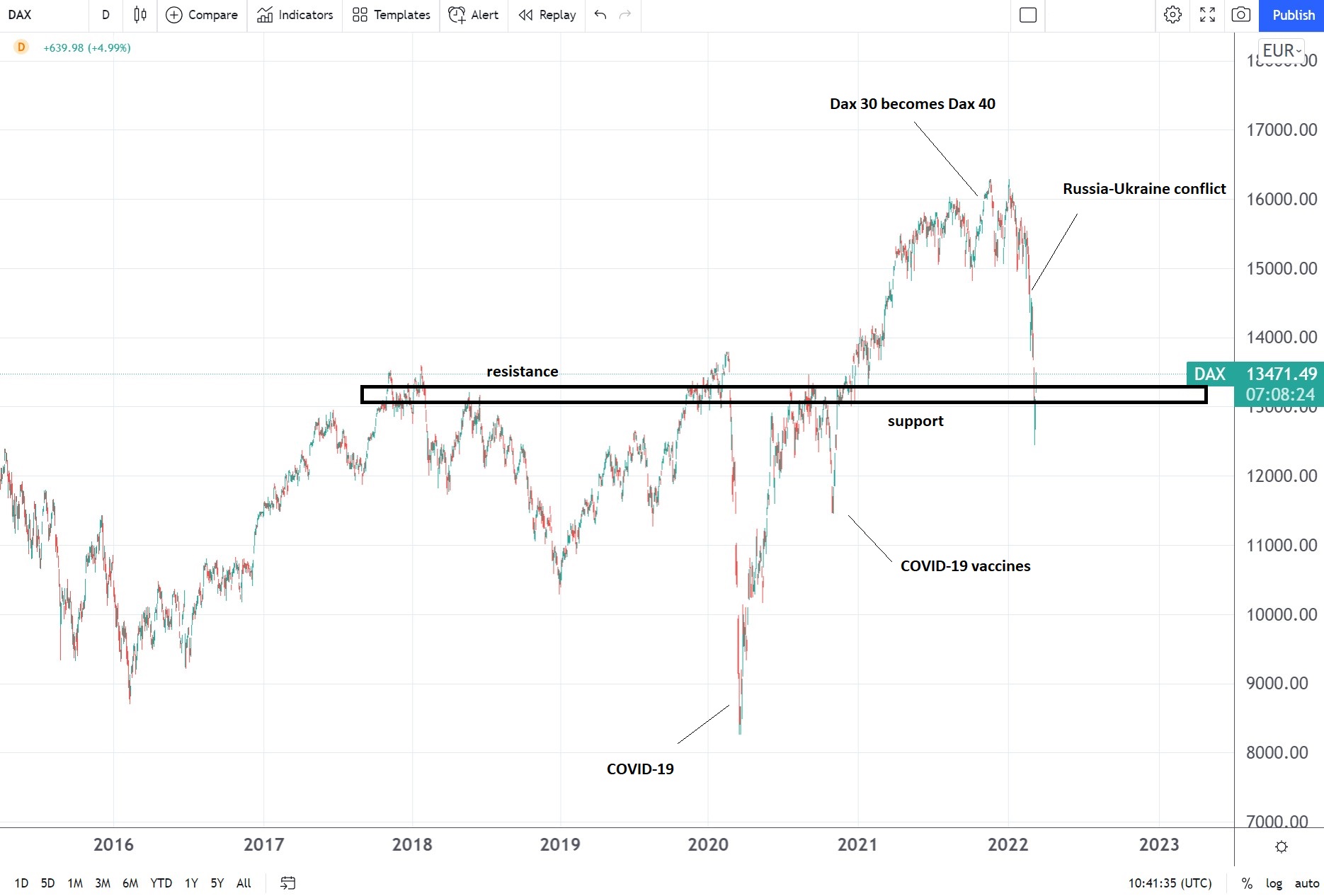 Russia-Ukraine conflict almost erased gains triggered by the COVID-19 vaccine announcement
Equity markets are influenced by fundamental and technical factors. The Dax seems to react heavily to macro events, as the chart above reflects.
In the first half of 2020, the index dropped sharply on the COVID-19 pandemic. The subsequent rally that followed was mostly triggered by central banks and governments reacting and easing both monetary and fiscal policies.
Moving forward, the announcement of COVID-19 vaccines triggered yet another rally in the world's stock markets. But Dax found it impossible to hold above 16,000 points, where it met strong resistance.
Not even the fact that it expanded its number of constituents from 30 to 40 was not enough to sustain the rally. The idea was that by introducing new, modern companies in the index, it would become more attractive to investors.
And then the conflict in Ukraine started. Sure enough, Dax made a double top pattern above 16,000. As such, investors were "warned" of a possible reversal well before the war started.
Now that it bounced from support, the dilemma is if this is a bear market rally. If yes, support would not hold the second time around.