Dax index craters on Russia invading Ukraine news; here's what charts say
The German stock market index opened the day with a gap lower. News that Russia attacked Ukraine overnight sparked a selloff in European equities.
Europeans woke up in shock today, as news that Russia launched an attack on Ukraine overnight quickly spread. The news triggered a risk-off move in financial markets, first reflected by investors seeking refuge in safe-haven currencies such as the Japanese yen or the Swiss franc.
Because the stock market's advance is viewed as a risk-on movement, a risk-off environment triggers the opposite – a decline. Europe's dependence on Russian gas made it vulnerable, and Russia's move was bold considering what was at stake.
As such, the German main stock market index, the Dax, sold off. It opened with a gap lower, and the technical picture remains bearish.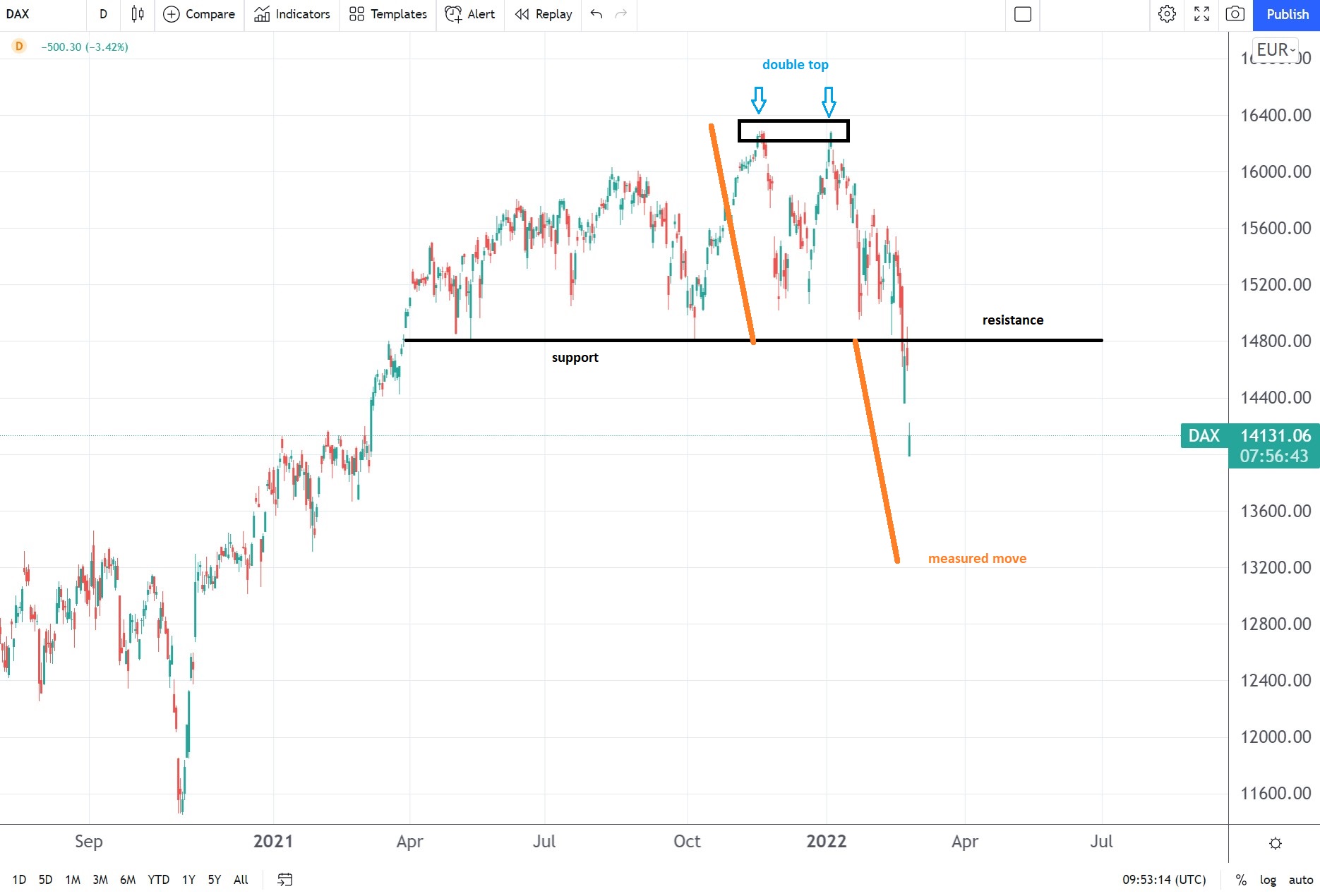 Bearish warnings have appeared on the Dax daily chart since late 2021
The Dax index cratered below major support, but technical traders are not so surprised. After all, major bearish signals, warning of a correction, have appeared on the daily chart since the last days of 2021.
First, the previous year ended with the Dax index forming a double top pattern at the 16,200 area. Since then, it couldn't make a new higher high, thus giving bears a reason to push for more.
Second, the Dax index's transformation from 30 to 40 constituents was meant to "modernize" it. That is, to make it more attractive to investors, only that did not happen.
Coming back to the technical picture, the double top pattern has a measured move, seen in orange on the chart above. It points to 13,200 as the minimum target, likely bringing the Dax index into the bearish market territory.
Finally, the 14,800 level acted as a pivotal one. It provided support for almost one year, as investors bought the index every time the market tried to move below.
Now that support is broken, it turns into resistance. Therefore, any possible rally should find a hard time advancing beyond 14,800.
To sum up, this is a dark day for Europe. War in Eastern Europe is something to worry about, as this is what Europe has tried to avoid at all costs in the recent decades.