Dax index price forecast ahead of the Euro area Final CPI data
The German stock market consolidates below a critical resistance area. Will the Final CPI data, to be released later this week, help the index?
European traders and investors have a hard time this year. Not only that the European economies struggle in the aftermath of the COVID-19 pandemic (almost all restrictions in Europe were lifted), but the Russia-Ukraine war adds another dimension to the complexity of interpreting European economies in 2022.
Let us think of just some of Europe's challenges right now. First the war in Ukraine. A conflict at the outskirts of Europe, with no ending in sight, is weighing on all European economies, on the common currency, and, ultimately, on the stock market.
The second is the rising inflation. The Final CPI YoY data will be released on Wednesday and the forecast is that inflation rose by 7.5% YoY.
Inflation may not have risen as much as in, say, the United States, but there is an upward trend. Moreover, the prices of goods and services have increased much more than the central bank's willingness to tolerate them. Hence, this summer, a change in the ECB's stance is almost a given.
Germans have wished for the central bank to raise the interest rates from the negative territory for a long time. Finally, their wish may come true this summer as the ECB is ready to start tightening.
But what would it mean for the local stock market?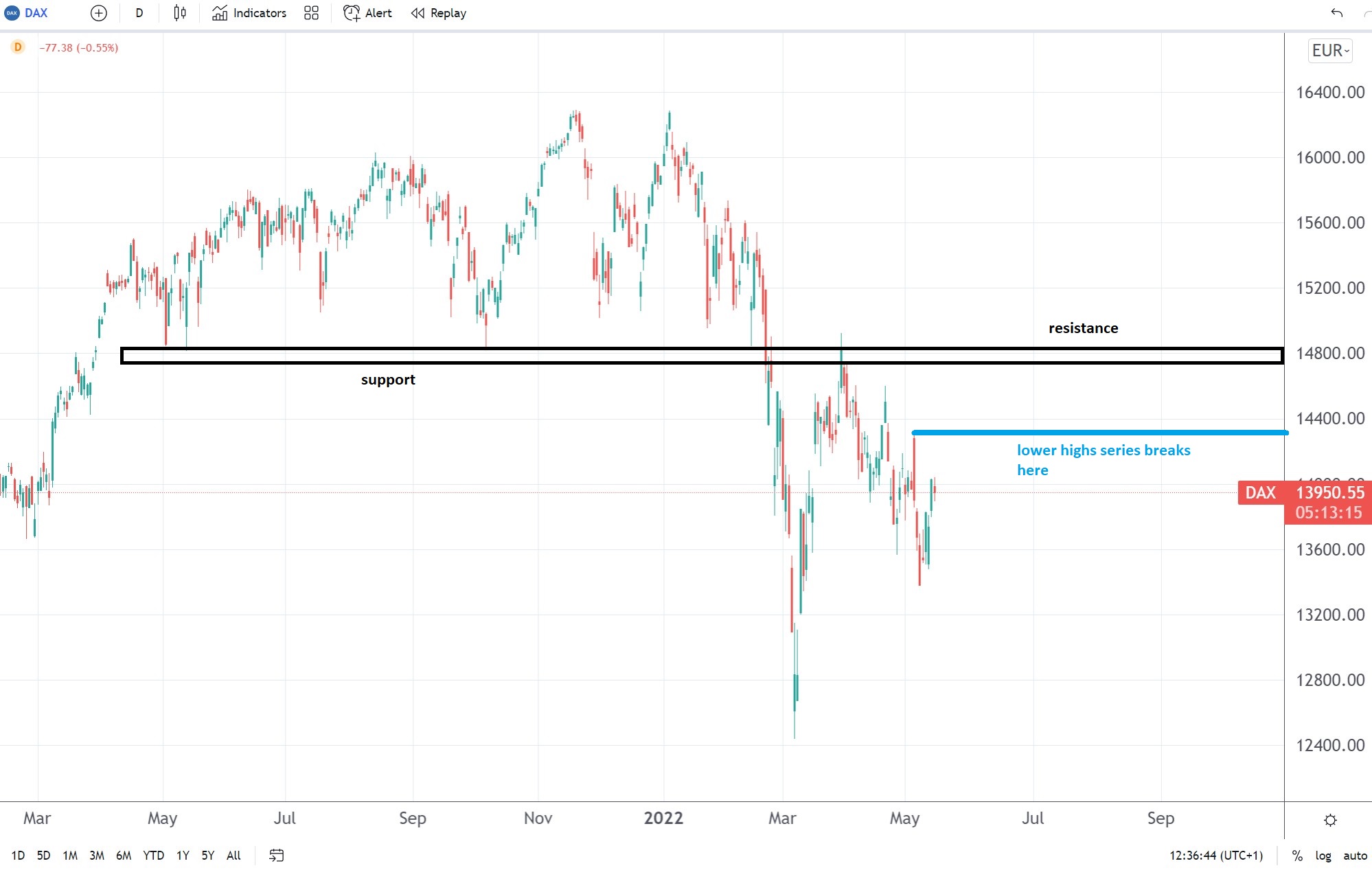 Dax finds stiff resistance at 15,000
Last year, the German Dax index changed. It included ten new companies in an effort to modernize the index and make it more appealing to investors.
Indeed, the index rose to record highs shortly after. But the European stock market is closely correlated to the US one.
As the US markets began tumbling after topping in the last trading days of last year, the Dax index followed. It broke support seen at 15,000 points and fell another three thousand points or so in what appeared to be capitulation.
But it bounced, yet again, together with the US stock market. It found stiff resistance at 15,000, a level that acted as support previously. In other words, unless we see a new lower low, the bias remains bullish for the Dax index.
The first step would be for the index to break the lower highs series. After such a move, the focus shifts to the pivotal 15,000, and a daily close above should trigger further gains.
On the flip side, with the ECB on track to raising rates, it is difficult to see the stock market rallying. But if the lows hold, one should not discount another attempt at the 15,000 area.