Dax index price forecast amid cost pressures in Europe easing
Dax index consolidates in a possible bullish flag formation. As cost pressures are easing in Europe, will the German stock market move to a new high?
It has been a busy start to the trading week in Europe. Besides the fact that the European Central Bank has called for the end of negative interest rates by September, the PMI data released earlier today suggests cost pressures in Europe are easing for the second month in a row.
Europe is having a hard time in 2022. After the Russia-Ukraine war started, the following wave of sanctions acted with a boomerang effect for the European economies.
On top of that, inflationary pressures have affected economic growth too. Moreover, the correction seen in the US stock market has affected European markets too.
Because of the undesired rise in the prices of goods and services, the major central banks in the world have started to tighten financial conditions. So far, every major central bank raised the rates at least once – not the ECB, though.
But those times are over. The central bank has had the deposit facility rate in negative territory since 2014. Back then, the common currency, the euro, was trading at 1.35.
Now that the ECB talks about normalizing the policy, what would the effect on the European stock markets be? Furthermore, today's PMI data in Europe shows that cost pressures are easing in Europe for the second month in a row. If inflation has peaked, will we see a relief rally on major European stock exchanges?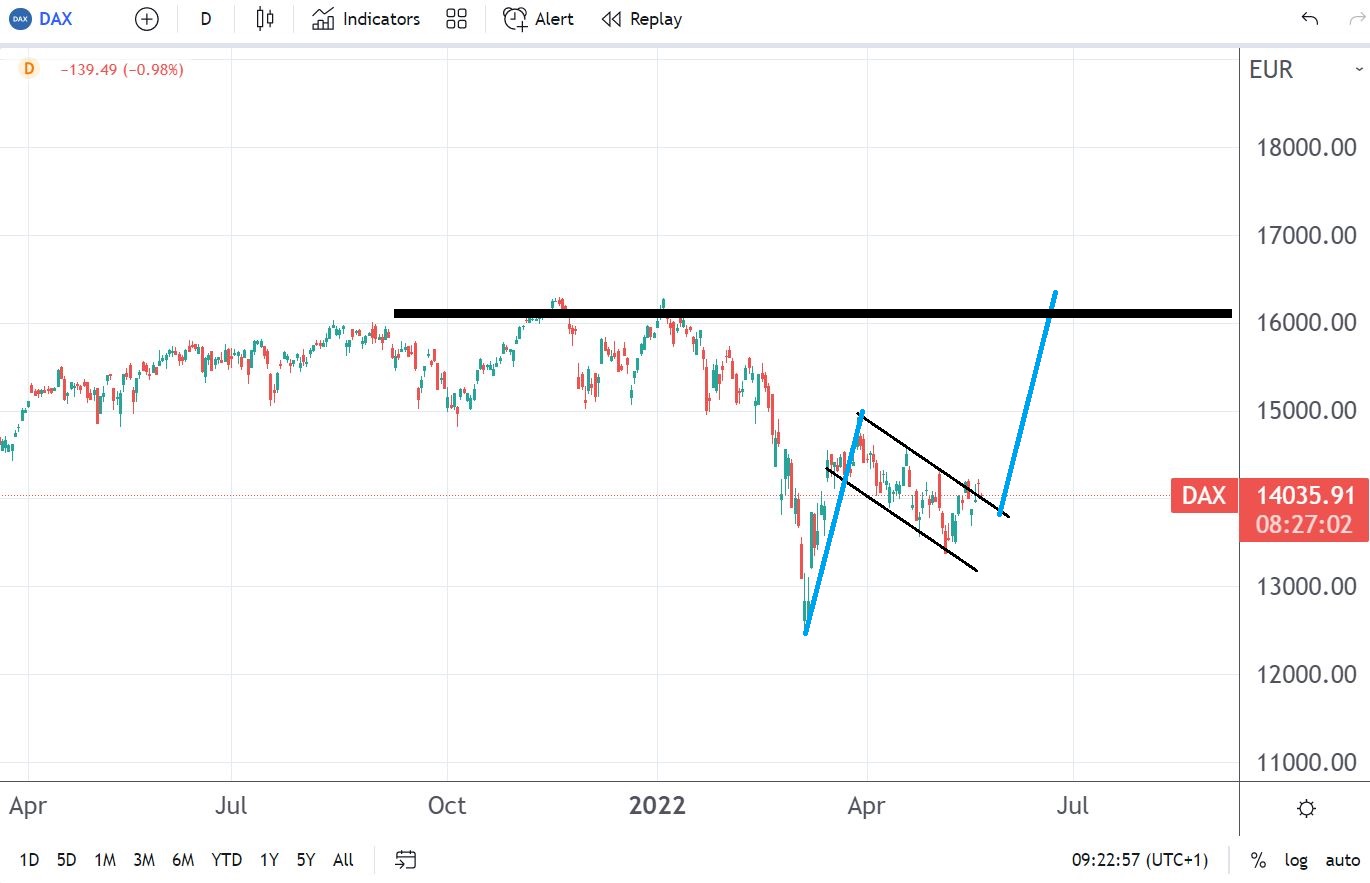 Potential bullish flag on the Dax index daily chart
After failing to hold above 16,000 points, the Dax index dropped all the way to 13,000 points. But it bounced from the lows and formed what appears to be a bullish flag pattern.
A bullish flag's measured move is the market's distance traveled to the flag's consolidation area, projected from the upper edge. In other words, on a daily close above the upper edge, the measured move projects levels above 16,000 points.
To sum up, the German stock market has consolidated for more than one month. With cost pressures coming down and the central bank on the path to policy normalization, another attempt at the highs is not out of the question.