Dax index signal for May: bearish while below 15,000 points
Dax index began the new trading month below the pivotal 15,000 level. The bias remains bearish while below as the German economy slows down.
The German stock market has a hard time in 2022, as reflected by the Dax index. After failing at 16,000 points several times in the past, the market dropped below the pivotal 15,000 level.
The level acted as support in the past. While above, the bias was bullish.
However, the support gave way in 2022. Investors did buy the dip, but support turned into resistance, as the 15,000 level held at the first attempt to break it.
Moving forward, the bias remains bearish while below the pivotal level. The war in Ukraine does not help, as it has already started to take its toll on the European economies, including the German one.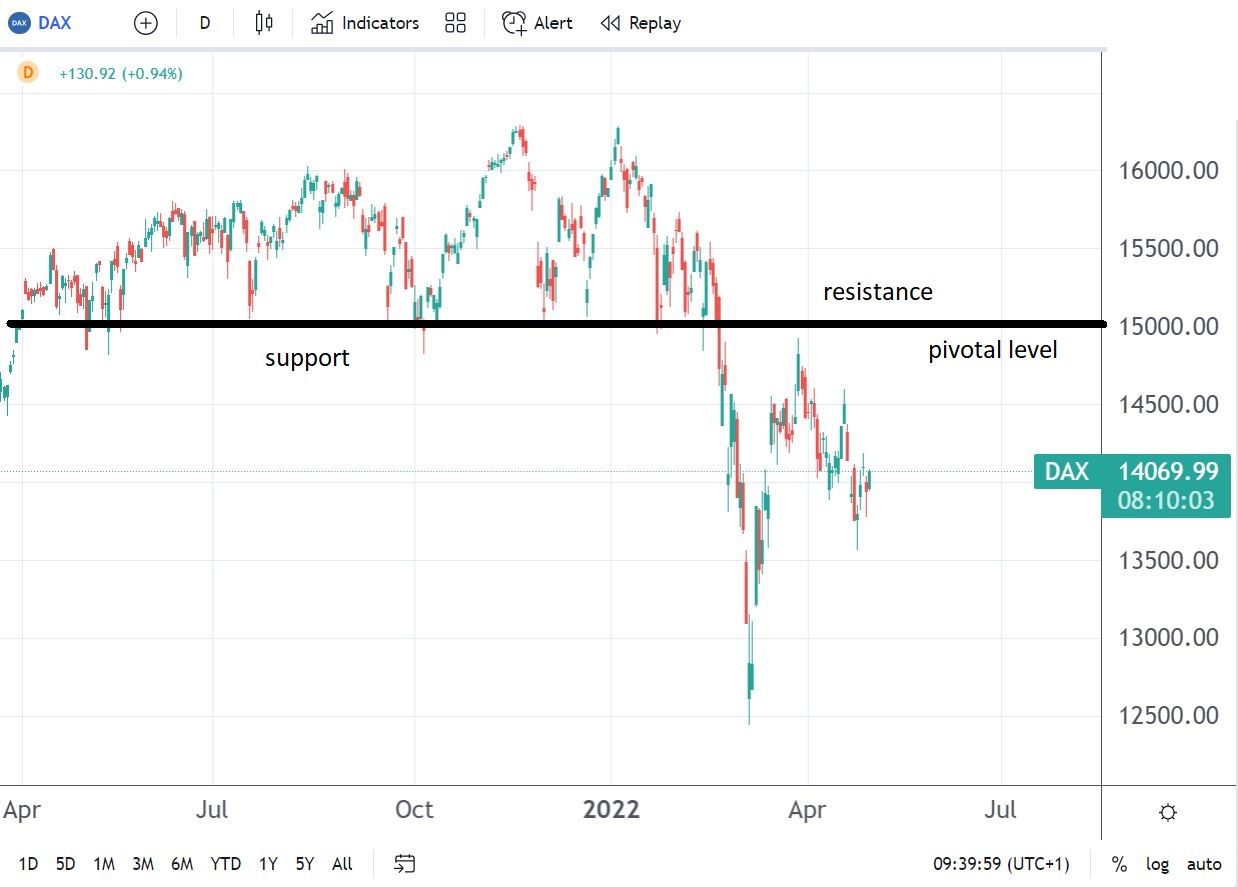 German Unemployment Change disappointed today
Earlier today, the German Unemployment Change data surprised negatively. Unemployment in Germany increased by more than the market expected at a time when economic activity is revised lower.
Euro's weakness continues unabated
At the same time, the common currency, the euro, remains weak. A weak currency should support the equity market, but it was not the case.
In 2022, both the European equity markets and the euro dropped, mostly because investors fled the old continent due to the Russia-Ukraine war.
ECB is one of the last major central banks to raise rates
Another factor weighing on the stock market is the European Central Bank (ECB)'s policy stance. The central bank is one of the last major central banks in the world to raise rates.
For several years, the ECB has moved the deposit facility rate below zero, in an effort to stimulate economic growth. It did, and it had quite some success.
But then the COVID-19 pandemic started, and the ECB was forced to ease financial conditions some more. Furthermore, after Russia invaded Ukraine, the central bank is under more pressure.
However, inflation is rising in Europe. While not at the same pace as in the United States or the United Kingdom, it is above the ECB target. Hence, the ECB might be forced to hike into an economic slowdown, something that will weigh on the stock market too.