Is it safe to buy Nasdaq 100 after dropping 1,000 points in April?
The tech sector is in corrective territory, as reflected by the Nasdaq 100 index. Is it safe to go long now that it dropped 1,000 points in April?
After recovering from the 2022 lows, the tech sector declined again in April. The Nasdaq 100 index is representative, as it dropped from 15,200 to the current 14,000, mainly on poor earnings.
One of the companies that reported poor earnings this week was Netflix. It lost subscribers for the first time in a decade, spooking investors. As a consequence, the stock price dropped by more than -30% in one trading session alone.
In any case, the pressure on Nasdaq 100 mounts, as it has corrected from the 2021 highs more than other US indexes. Is this a dip to buy?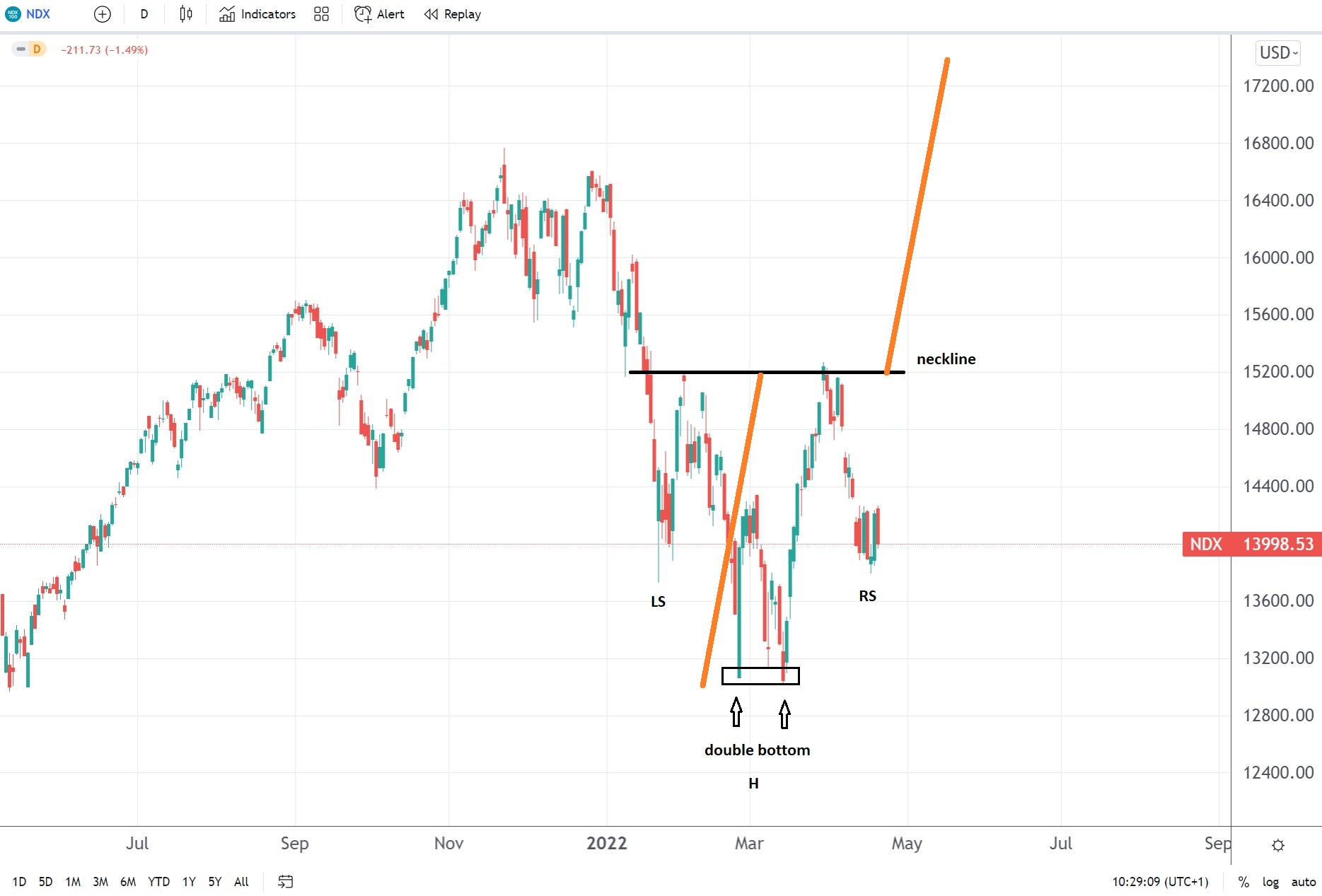 Possible inverse head and shoulders pattern supports a bullish case
From a technical perspective, the market appears to form an inverse head and shoulders pattern. The drop this month has reached the area where consolidation might start as the pattern's right shoulder.
If that is the case, the Nasdaq 100 index should bounce and move towards the neckline, seen at 15,200 points. A break above would be even more bullish because it implies that traders' next level of interest is the measured move, seen above 17,200 points.
Fed's excessive tightening might hurt stocks
A drop below the double bottom in the 13,200 area would invalidate the inverse head and shoulders pattern. But what could cause such a drop?
One cause may be the Fed's excessive tightening. The Federal Reserve is fighting the highest inflation in the last four decades, and it warned markets that it would raise interest rates faster, even at the cost of slowing down the economy.
Unlike in other parts of the world, where high energy prices mostly drive inflation, the Fed deals with a broad base rise in the prices of goods and services. To many market participants, the Fed is already behind the curve, thus needing to act as soon as possible.
It did so at the previous meeting but only delivered a quarter of a basis point rate rise. As such, the market expects much more from the Fed, such as a 50bp rate hike at the next meeting.
Such increases should hurt stocks unless they are already priced in. Therefore, the key to Nasdaq 100 future performance lies in how much the future rate hikes are already priced in.