Is it safe to sell Tesla stocks after being dropped from the S&P 500 ESG Index?
Elon Musk was all over the news recently. His takeover bid to take Twitter private was covered extensively due to the ongoing saga there.
Tesla's investors were not indifferent to Twitter's takeover bid. Elon Musk, Tesla's CEO, has pledged some Tesla shares to finance the takeover.
It is said that he will receive a margin call from bankers should Tesla stocks drop below $540/share. So, indirectly, Tesla's stock was put under pressure by Elon's bid to take Twitter private.
After last week the takeover bid was put on hold, Tesla's share price rallied in relief. But the news that Tesla was cut from the S&P 500 ESG Index may put further pressure on the stock as ESG is a growing area in investing.
What is the S&P 500 ESG Index?
This is a market capitalization-weighted index that measures the performance of particular securities meeting sustainability criteria, or ESG – Environmental, Social, and Governance.
Why do companies care about being included in this index?
The rise of responsible investing led to investors focusing more and more on companies respecting and dedicating their activities to meet ESG criteria.
So how is it possible for Tesla, which did a lot in cutting emissions, to be kicked out of the S&P 500 ESG index? One reason cited was the lack of published details related to its carbon strategy.
In response, Musk called ESG a scam in a series of tweets following the announcement.
How did Tesla's stock perform recently?
Tesla's stock price dropped by more than -40% YTD and remains under pressure. It closed yesterday at $709.81, and Elon Musk sold a good chunk of his shares when the stock traded above $1,000.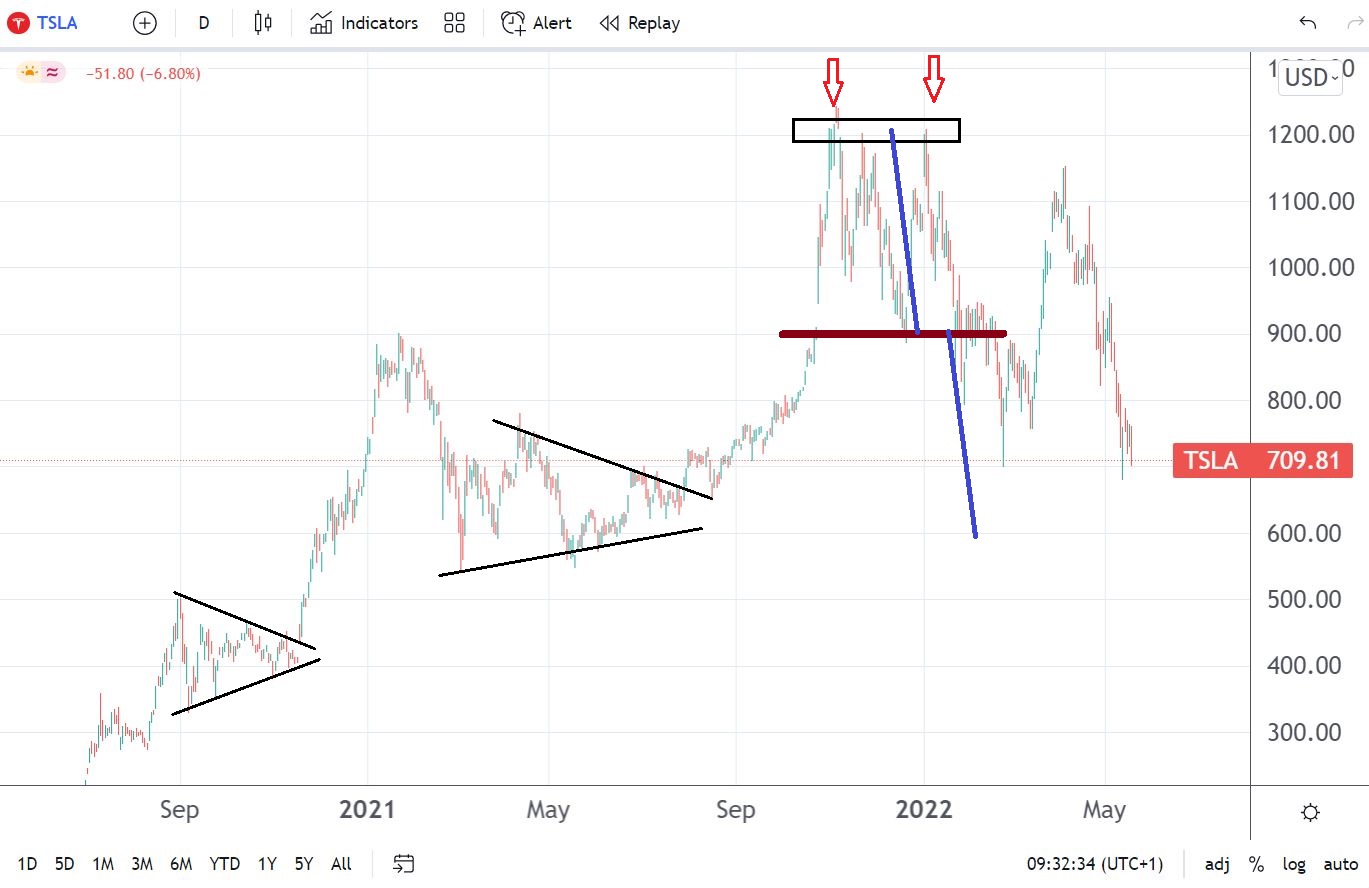 Tesla's stock price could not hold above $1,000. It made a double top pattern at $1,200, and the neckline is seen at $900.
The minimum distance for the market to confirm the top is given by the measured move. It points to $600 – a dangerously close level to $540, where a margin call from Twitter's takeover bid would be triggered.
Unless Twitter's takeover does not move on.