Nasdaq 100 price forecast after rallying last week
Nasdaq 100 rally continued this week. What should investors expect next?
Stocks in the United States recovered a big chunk of their 2022 losses despite the Federal Reserve starting a tightening cycle. In particular, the tech sector's bullish run is impressive, as it bounced close to 2,000 pips from the lows.
Is this just a bear market rally, or are stocks heading to a new all-time high?
The technical picture favors more of the same
From a technical analysis perspective, the Nasdaq 100 index looks bullish. Even the series of lower highs is broken, and the bias is bullish for at least two reasons.
First, the market formed a bullish divergence with the Relative Strength Index. More precisely, while the tech sector kept forming new lower lows, the RSI did not confirm them.
Second, a falling wedge pattern ended recently. The breakout above the upper trendline is a bullish outcome and points to even more upside. Falling wedges are often retraced in full, and most of the time at least 50%.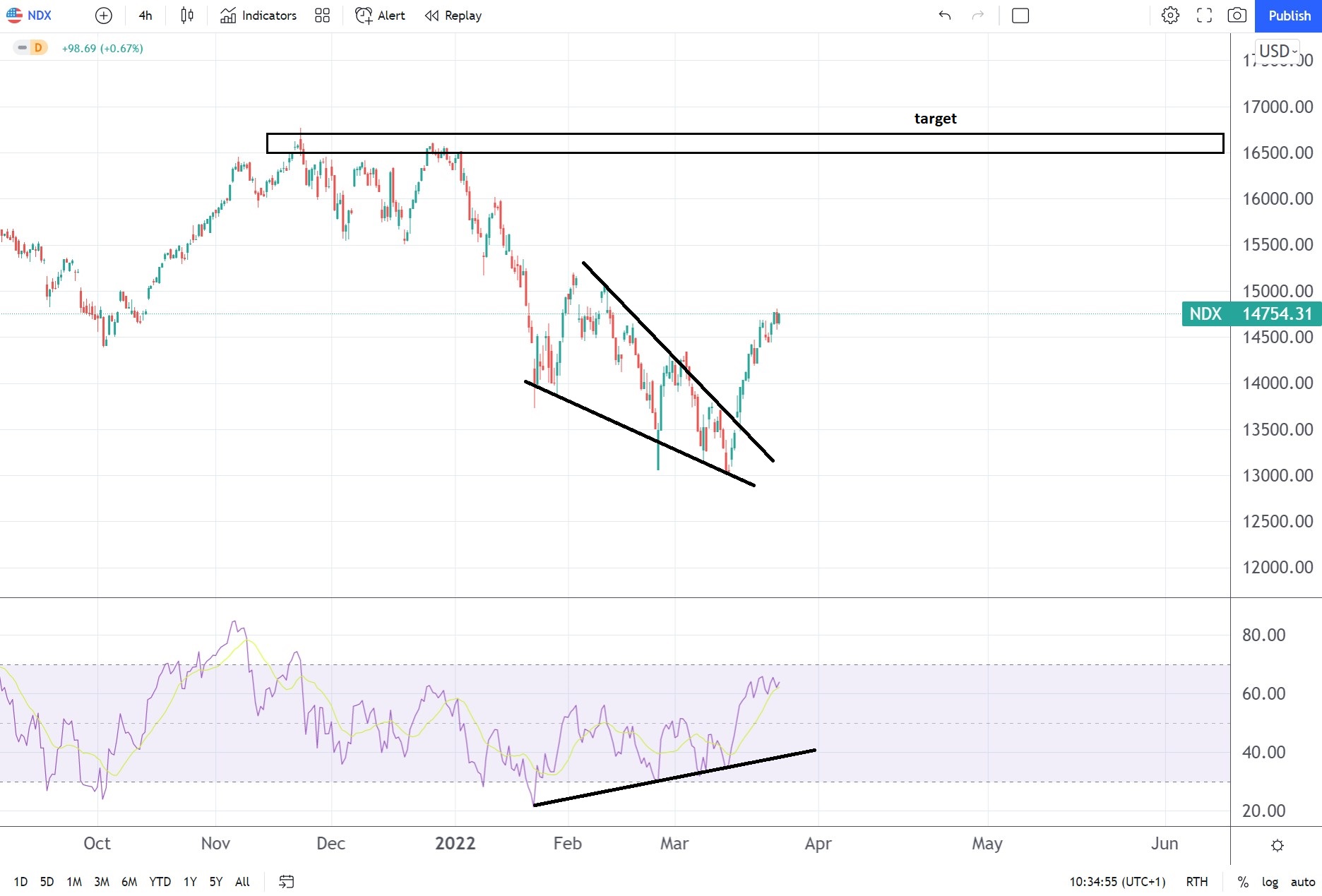 The tech sector was oversold
The tech sector was oversold in 2022. During the COVID-19 pandemic, investors have bought tech stocks, and profit-taking was the name of the game towards the end of last year. The recent drop in 2022 represented the dip that many investors expected to buy, and so they did.
Stocks remain bid despite Fed's increasing hawkishness
The Fed hiked the federal funds rate and talked hawkishly. Many market participants believe that the Fed will raise the rates much faster due to the higher inflation rate, and a 50bp rate hike should not be ruled out at the next Fed meeting.
Stocks tend to underperform during a tightening cycle but investors have little choices considering the gap between the inflation rate and the federal funds rate. In other words, even if the Fed delivers a 50bp rate hike at the next meeting, it is too little and too late to fight such higher inflation.
We should all remember that no later in the second part of 2021, the Fed believed inflation is transitory. What we see now not only is not transitory but rising much faster than expected.
To sum up, the Nasdaq 100 index looks bullish despite the Fed starting a tightening cycle.