Nasdaq 100 price forecast after the sharp drop from all-time highs
After opening the year close to all-time high levels, Nasdaq 100 is down several thousand points in 2022. What will the next few months bring for tech investors?
The US stock market index that corrected the most in 2022 so far is the Nasdaq 100. This is a stock market index made out of the largest non-financial companies listed on the Nasdaq exchange, and it is known as a tech index.
Technology stocks had a rough start of the year so far, dragging the index down. PayPal, Metta, Netflix, or Zoom, are just a few names that dropped more than -30% YTD and now trade in bearish markets.
But not all Nasdaq 100's constituents are down, resulting in a milder correction for the Nasdaq 100 index. So now that the market has broken out of the rising channel, what should investors expect for the months ahead?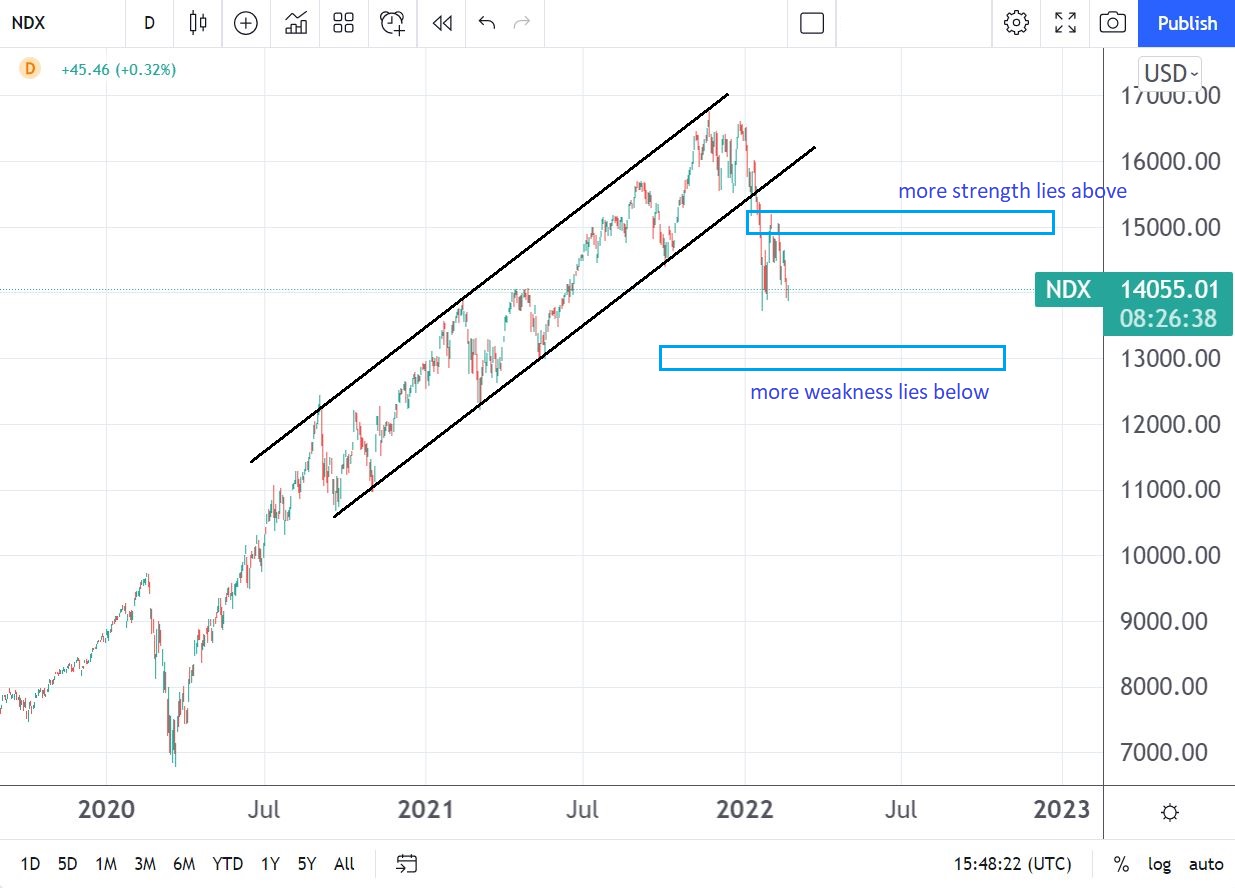 The technical picture looks bearish, but bulls still have hope
The drop from all-time highs has damaged the chart. First, the market broke out of the rising channel, a bearish development. Second, it also broke the series of higher lows on its way down.
During bullish trends, the market forms higher highs and higher lows. Therefore, when the series is broken, the bullish bias disappears.
However, it doesn't necessarily mean that a bearish market has started. In between bullish and bearish markets, we might as well have periods of consolidation, a scenario we should consider when interpreting the Nasdaq 100 chart.
Two areas are critical for bulls and bears moving forward. Bears may want to wait for the market to break below 13,000 points before adding to their short positions. This is an area that provided support in the past and would likely do so in the future.
On the other hand, bulls may want to wait for the Nasdaq 100 index to recover the 15,000 level. On such a move, momentum builds up, and one cannot rule out another attempt at the all-time highs.
To sum up, the 13,000 and 15,000 levels are key for the period ahead. A breakout below, respectively above, the said levels, would likely trigger more similar price action.