NASDAQ 100 price prediction after it rallied over 1,500 points from recent lows
NASDAQ 100 rallied more than 1,500 points from its recent lows and threatens to break above 15,000. Is this just a bear market rally?
If there is one sector that was heavily beaten down in the first quarter of 2022, it was the tech sector. The NASDAQ 100 index, representative of the sector, dropped more than -20% from the all-time highs posted in late 2021, officially entering bear market territory.
Moreover, the Federal Reserve of the United States increased the federal funds rate for the first time since the COVID-19 pandemic. Furthermore, the central bank has a hawkish rhetoric regarding its future actions.
Yet, the NASDAQ 100 index rallied, and the price action remains well bid. Is this just a bear market rally, or is it time to buy stocks again?
NASDAQ 100 broke out of a falling wedge pattern
The technical picture favors more upside. The market recently broke out of a falling wedge pattern and has rallied ever since.
A falling wedge is a bullish reversal pattern, and the price often retraces it completely. In this case, a return to all-time highs might be in the cards, providing the recent lows in the 13,000 points area hold.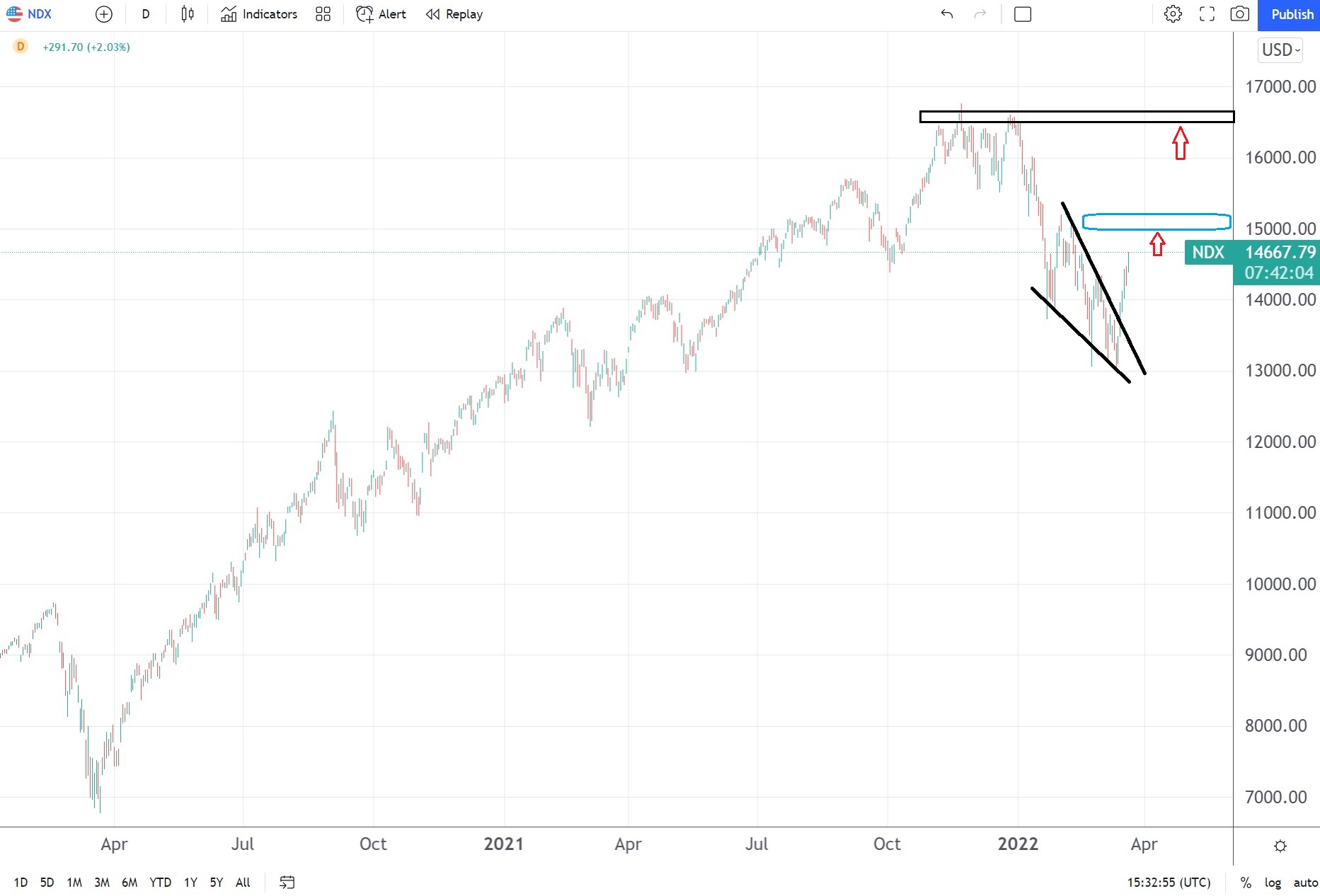 Why do stocks rally if the Fed is tightening the monetary policy?
Not only that the Fed has started a tightening cycle, but its rhetoric is increasingly hawkish. The Fed no longer sees impossible that the federal funds rate might increase by half a percentage point at the next meeting, thus adding more worries to stocks investors.
So why do stocks rally?
One explanation might be that the gap between the inflation rate and the federal funds rate is so big that the recent rate hike does not matter in curbing the inflation trend.
Is this a bear market rally?
A bear market rally is much more violent than a bull market one. Indeed, the current rally is almost vertical, with no significant pullbacks, suggestive of a bear market rally.
However, the reversal pattern tells us differently. Moreover, the Fed will not act again until six weeks from now. In the meantime, inflation data for March will come out, and if the rate keeps increasing, the stock market's rally is poised to continue.