Should you buy Nike stocks ahead of the third quarter fiscal 2022 earnings?
Nike reports its financial performance for the past quarter later today. The market expects EPS of $0.72 on the quarter.
Nike is one of the large-cap US companies reporting the quarterly performance this week. Later today, after regular stock market hours, the earnings call starts.
Financial markets participants expect EPS of $0.72 on the quarter and, judging by the performance in the last quarters, the bias is that Nike will beat expectations.
Nike is one of the few companies that increased its annual dividend every year in the past two decades. Moreover, the forward dividend yield is 0.93%, and the 5-year dividend growth rate is 11.27%.
Nike operates with a gross profit margin of 45.98%, higher than the sector median by 28.18%. Also, the EBIT margin for the past twelve months exceeds the sector median.
What do analysts say about Nike's stock price?
Analysts are bullish on the Nike stock price. Out of 99 analysts covering the stock, 92 have issued buying recommendations, and only one analyst has issued a sell recommendation, while 6 analysts have neutral ratings.
Most recently, Telsey Advisory Group maintained its buy rating for the Nike stock with a $165/share price target. Deutsche Bank did the same, with an even higher price target – $173.
How about the technical picture?
The stock price is in a downtrend in 2022 and has recently bounced from dynamic support given by the lower edge of a falling channel. It currently struggles to break out of the channel, and the $140-$150 area may act as a pivotal one.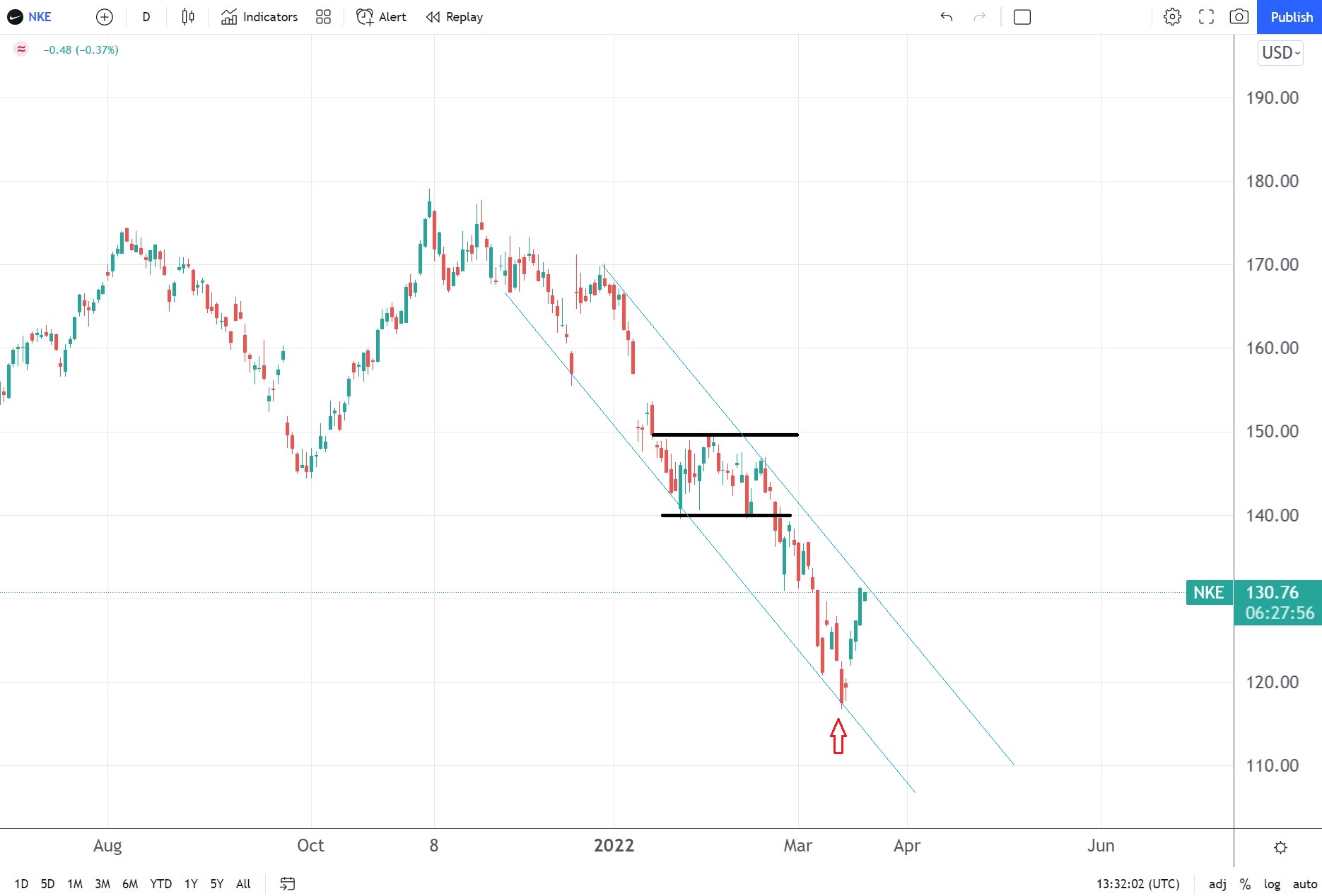 This is an area where a bearish flag formed in the past and most likely will provide resistance. Therefore, any close above the pivotal area should be considered bullish, and one should not be surprised to see Nike's stock price back at the highs.
Nike is valued at $207.53 billion at the current stock market price, and the enterprise value has reached $205.15 billion. The revenue grows at an annual rate of 21.05%, and Nike has delivered better than expected EPS for the past six consecutive quarters.
For the fiscal period ending May 2022, investors expect revenues of $46.90 billion.