Should you buy or sell Microsoft stocks ahead of the Q3 FY2022 earnings?
Microsoft reports its quarterly earnings today, and investors expect EPS of $2.20 for the Q3 FY2022. So should you buy or sell Microsoft stocks?
Microsoft investors get ready for the quarterly results scheduled for release later today during post-market hours. The market participants expect Microsoft to report EPS of $2.20 for the quarter, and the annual revenue estimate for the fiscal period ending June 2022 is $198.73 billion.
This is a dividend-paying company. Microsoft increased its annual dividend payments for the past 18 consecutive years, and the 5-year dividend growth rate is 9.49%.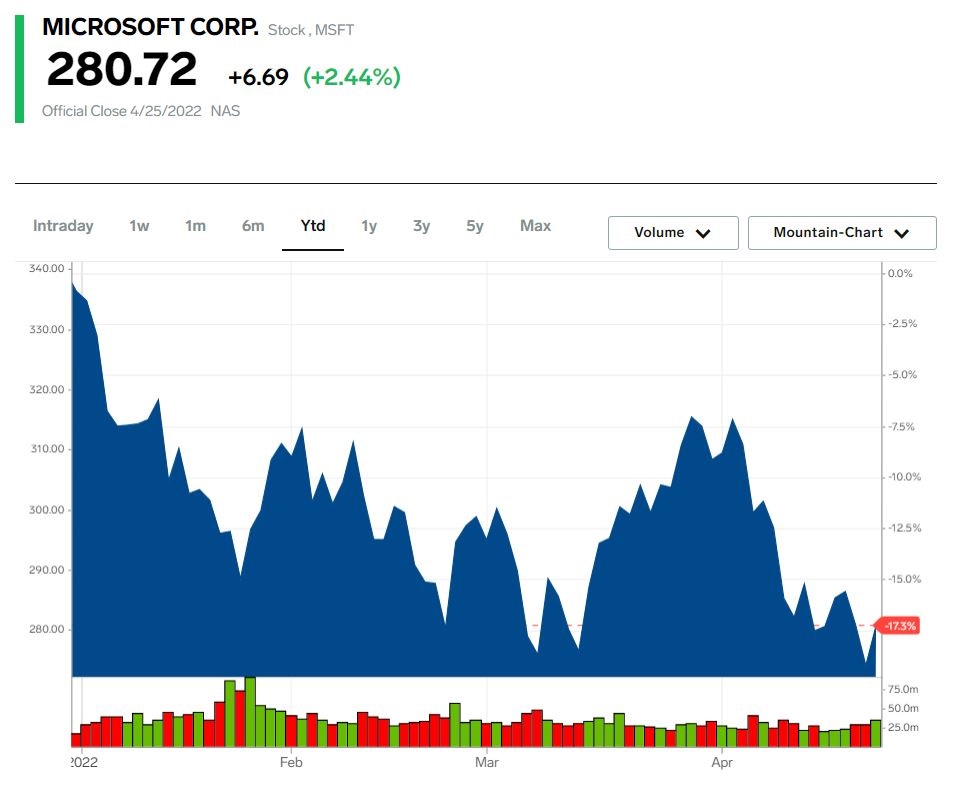 How did Microsoft's stock price perform this year?
The tech sector was and is under pressure this year. During the COVID-19 pandemic, investors sent the tech companies to record highs, as working from home resulted in people becoming more dependent on online products and services.
But COVID-19 is mostly over, at least judging by the fact that restrictions are lifted almost everywhere in advanced economies. As such, investors dumped tech stocks in 2022 and looked for other opportunities.
Microsoft's stock price fell -17.3% so far this year but remains close to its all-time highs levels.
What do analysts say about Microsoft's stock price?
No analyst has issued a sell recommendation for Microsoft. Out of the 89 analysts covering the stock price, 84 have buy ratings, and 5 have neutral ones.
Most recently, Citigroup maintained its buy recommendation with a price target of $355/share. So did Wells Fargo, but this time the price target is much higher, at $400/share.
Microsoft shares trade at a P/E Non-GAAP of 30.89, higher than the sector median by 62.31%. For the past twelve months, its gross profit margin was 68.83%, also higher than the sector median by 36.61%.