Should you buy or sell Tesla stocks amid Elon Musk announcing layoffs?
Tesla stocks fell last Friday after Elon Musk announced a 10% workforce reduction. So should you buy or sell Tesla stocks?
Tesla (NASDAQ:TSLA) dropped more than -9% last Friday after the CEO, Elon Musk, announced a 10% workforce reduction amid an upcoming economic recession. The warning triggered a sharp move lower in the stock price as investors were worried about Tesla's quarterly performance.
The stock price fell by more than -40% YTD. However, it still gained over +20% in the last twelve months, a performance well above what other stocks have delivered over the same period.
But the charts do not look bullish. Just the opposite.
The $600 level acted as support in the past, and it did so again recently. Yet, the inability to rally from it puts pressure on bulls as the chances of the support giving way increase drastically.
A daily close below $600/share would put even more pressure on bulls, as stops and margin calls would force further liquidation.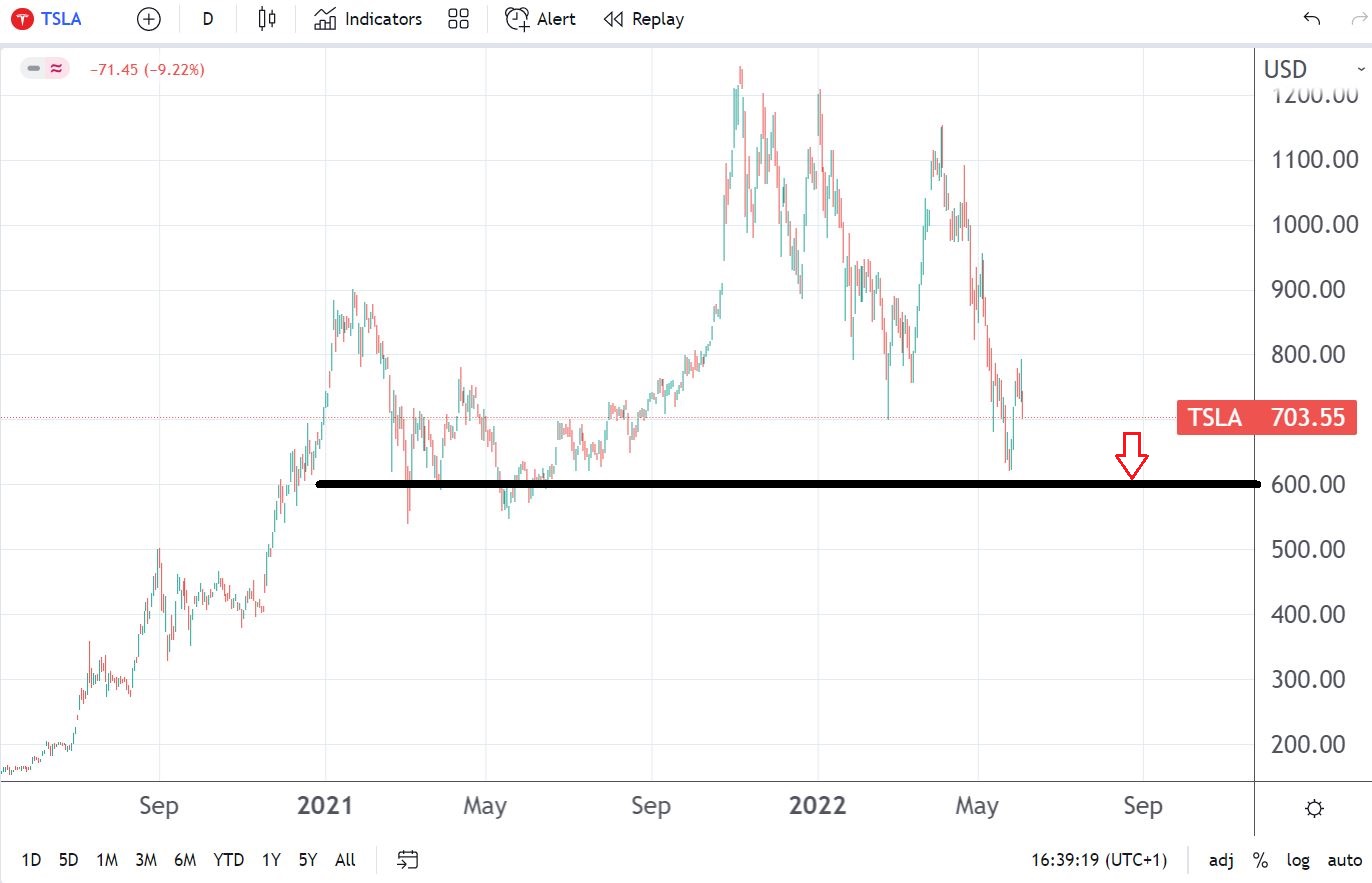 Could it be that Elon Musk prepares investors for a disappointing quarter?
The stock price dropped so much last Friday because investors worry that Musk's announcement of layoffs and a possible economic recession is tied to a poor quarter. If that is the case, the announcement may be viewed as a way to blame for poor results – an economic slowdown.
But incoming US data does not support the case for an economic recession yet.
The last NFP Report does not point to an economic recession
Yesterday, the NFP Report for the month of May revealed that the US economy added 390k new jobs. This is well above the consensus and in line with an economy that keeps growing.
Moreover, the unemployment rate remained steady at 3.6%. Therefore, while the mainstream financial media (and Elon Musk) warn about an imminent US economic recession, the data begs to differ.
Bill Gates and Michael Burry have short positions
So is it time to buy or sell Tesla stocks?
For one thing, Bill Gates has a massive short position worth a couple of billions, according to Elon Musk. Also, Michael Burry, the famed fund manager of "The Big Short", has a short position in Tesla.
By shorting a company's stocks, an investor has limited gains and the potential for unlimited losses. Because the price of a stock cannot go below zero, the short can make at most the difference between the shorting price and zero.
But if the stock advances and catches a short on the wrong side of the market, short-sellers must come up with more capital to respond to margin calls.
All in all, Tesla's stock price is in a difficult position now. A move below $600/share should trigger more of the same, while Musk's message hints at a possible poor quarter.