Should you buy or sell the Dow Jones amid global tightening?
Central banks around the world are in a race to tighten financial conditions. So should you buy or sell the Dow Jones index amid the global tightening of financial conditions?
US stocks suffered in a week when (almost) all of the central banks due to release their monetary policy have tightened financial conditions. Moreover, the Fed delivered a 75bp rate hike on Wednesday, some 25bp more than the market expected last Friday.
Higher rates are detrimental to stocks, but it is even more so this time. Here is one example of a shock for the US stock market coming from an unexpected, external source.
Yesterday, the Swiss National Bank (SNB) raised the interest rate by 50bp, surprising market participants. But even more surprising was the message it delivered.
More precisely, to fight rising inflation, the SNB is willing to sell its assets in order to buy the Swiss franc. Central banks want a stronger currency in times of rising inflation, so the SNB's message makes sense.
However, this is a problem for a US stock market investor because the SNB holds a large portfolio of US equities. It bought them as part of its quantitative easing program, and now the big question is – will it sell US equities to raise US dollars, which will be used to purchase Swiss francs?
Therefore, it is unsurprising that the US stock market gave back Wednesday's gains. As it turned out, Wednesday's upside move was nothing but a bear market rally.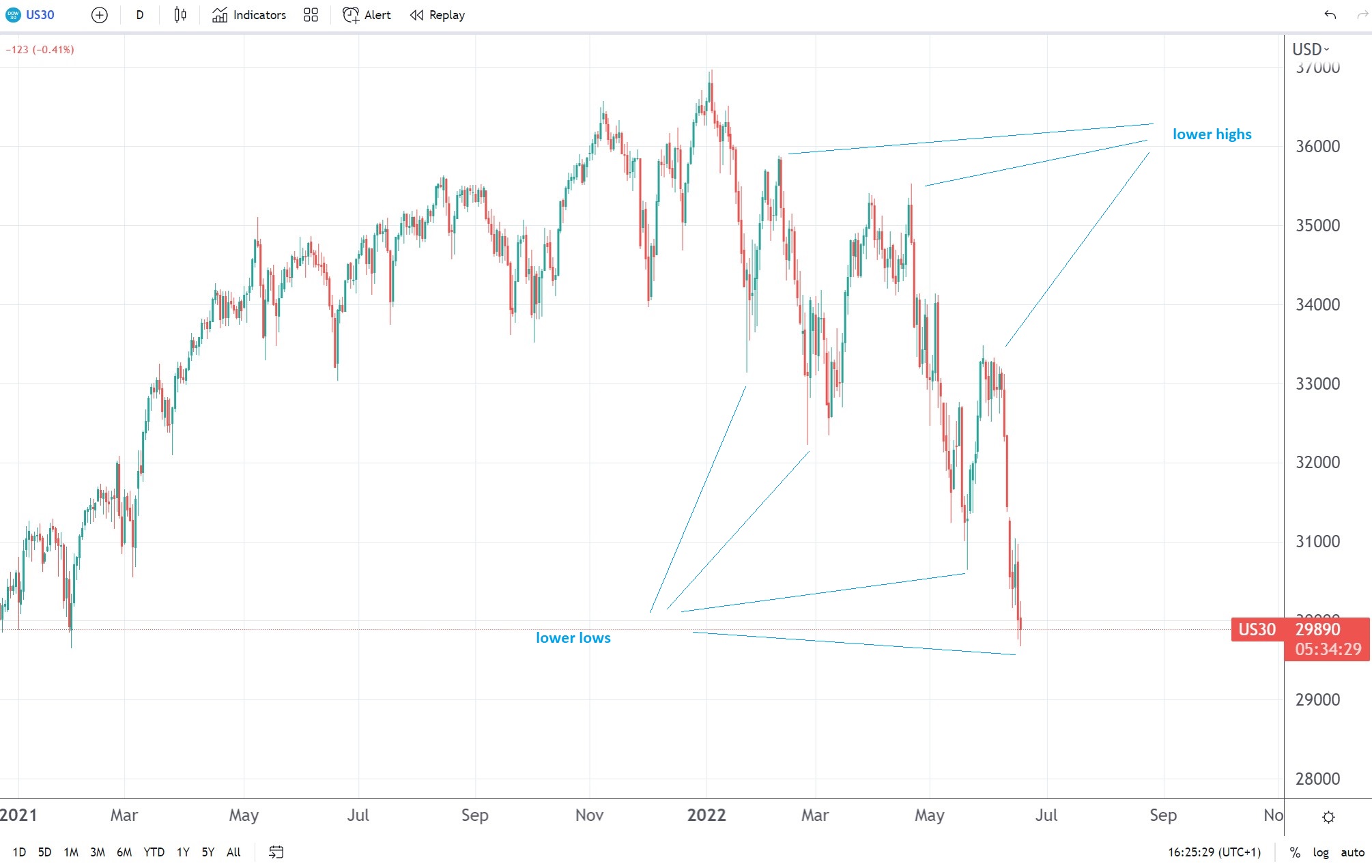 Dow keeps making lower lows and lower highs
The Dow barely holds closer to the pivotal 30,000 level. This year so far, it made a series of lower lows and lower highs, typical for a bear market.
And the worse is still to come, at least if we judge by the historical context. In June alone, the S&P 500 index is down more than 11%, which would be the second-worst June ever if the month ended today.
While June is weak, the weakest part of the month is the last one. Hence, if the S&P 500 is to remain weak in the couple of weeks that remain from the trading month, then the chances are that the Dow Jones will accompany it.