Should you buy Wells Fargo stocks ahead of FQ1 2022 earnings results?
Wells Fargo reports its FQ1 2022 financial performance tomorrow. Should you buy the stock ahead of the release?
Before the market opens tomorrow, Wells Fargo investors will find out the company's financial performance in the previous quarter. The market expects an EPS of $0.8 for the first quarter of fiscal 2022, and Wells Fargo has beaten the EPS expectations for the past six quarters.
Wells Fargo is one of the largest diversified financial services companies in the United States, providing banking, mortgage, and investment services. As the Federal Reserve embarks on a tightening cycle, higher rates will increase profitability for companies active in the financial services industry.
Wells Fargo's stock price gained +17.64% in the past twelve months and lost -5.24% YTD. So should you buy Wells Fargo stocks ahead of the upcoming quarterly earnings?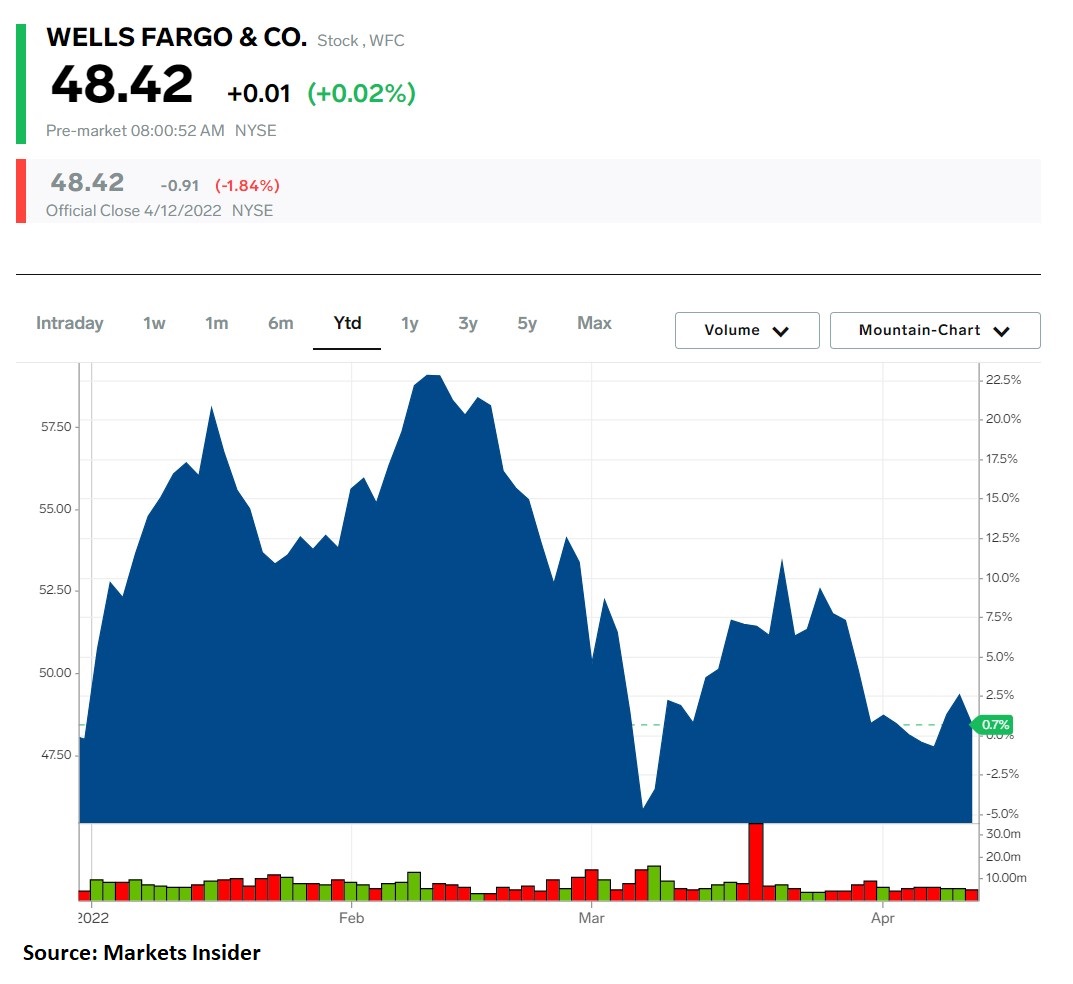 What do the charts say?
A head and shoulders pattern is visible on the daily chart, but the market could go either way at this point. From a technical analysis perspective, the bias turns bearish if we see a daily close below $44.50.
On the other hand, a daily close above $55 would pressure bears trapped on the head and shoulders pattern. On such a move, Wells Fargo's stock will likely push to new highs.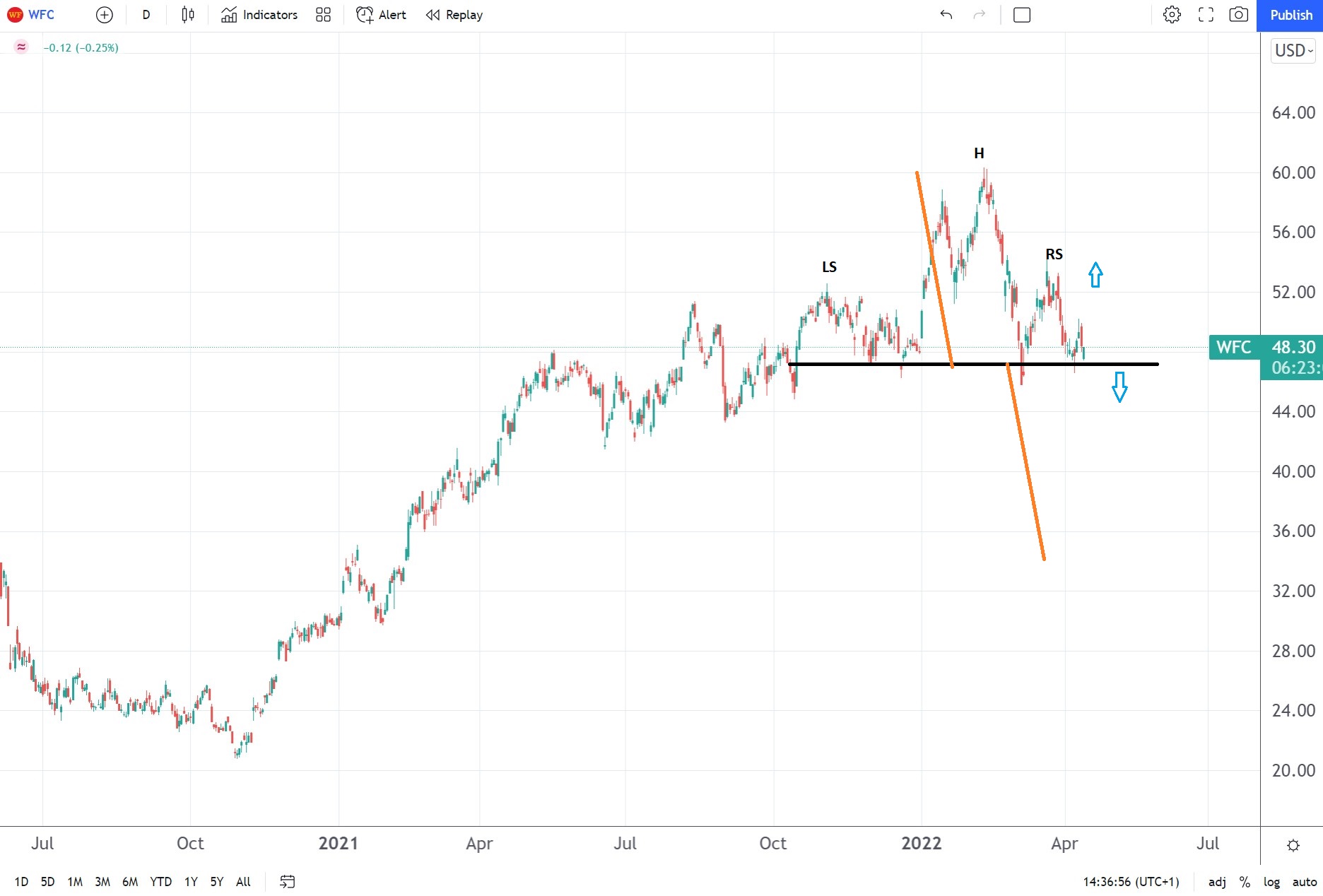 How about valuation?
The stock trades at a P/E ratio of 12.51, forecast to decline to 8.66 by 2024. At the same time, the net profit is expected to reach $19.53 billion in 2026 from $15.37 billion in 2022.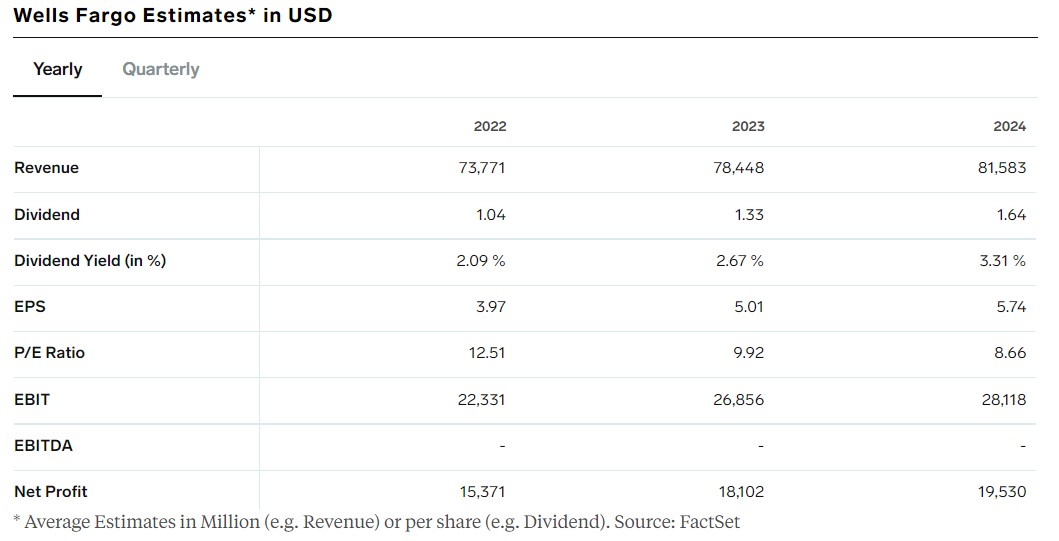 What else should I know about Wells Fargo?
Wells Fargo is a dividend-paying company, and the dividend yield is 2.09%. Out of the 45 analysts covering the stock, 27 have issued buy recommendations, and 17 have issued neutral ones. Only 1 analyst has issued a sell recommendation.
A couple of days ago, Wells Fargo was upgraded to buy at Citigroup, with a price target of $56. Also, Piper Sandler maintained its buy rating at the end of March with a price target of $63.