S&P 500 closed higher again on Friday: what to expect next?
The S&P 500 index closed the week at its highs. The rally completes four consecutive strong days, which are quite rare, historically speaking. What to expect next?
In a week, when the Federal Reserve raised the funds rate for the first time in a new tightening cycle, the S&P 500 outperformed. It closed last Friday sharply higher, without a meaningful pullback, despite the fact that rate hikes are typically bad news for stocks.
What should investors expect next?
Reasons to worry are plentiful. The war in Ukraine, rising inflation, the pandemic – you name it. But stocks still bounce and if we look at what history tells us, there is scope for more upside.
6.9% 4-day return for the S&P 500
Except for last Monday, stocks rallied. The S&P 500 index completed a 4-day return of 6.9% yesterday, but already from one day earlier, things were looking bullish.
Here's why.
Thursday's closing marked the third consecutive day with gains bigger than 1%. This happened only 10 times in 20 years – a rare event, one might say.
While such a run calls for booking profits to many investors, history tells us that exactly the opposite should happen. In other words, more upside is possible.
Every time the index rose by more than 1% in three consecutive days, one year later, it rose by about 25%. In other words, such price action does not signal the end of the bull market but the start of it.
If that was not enough of a bullish indication, Friday marked the 4th consecutive 1% gain. Only 5 times it happened since 1970, and, while rare, such moves are quite bullish.
The last time it happened was in November 2020. One month later, the index was up another 5.2%. Moreover, 3 months later, it was up 11.5%. Furthermore, 12 months later, it was up 33.8%.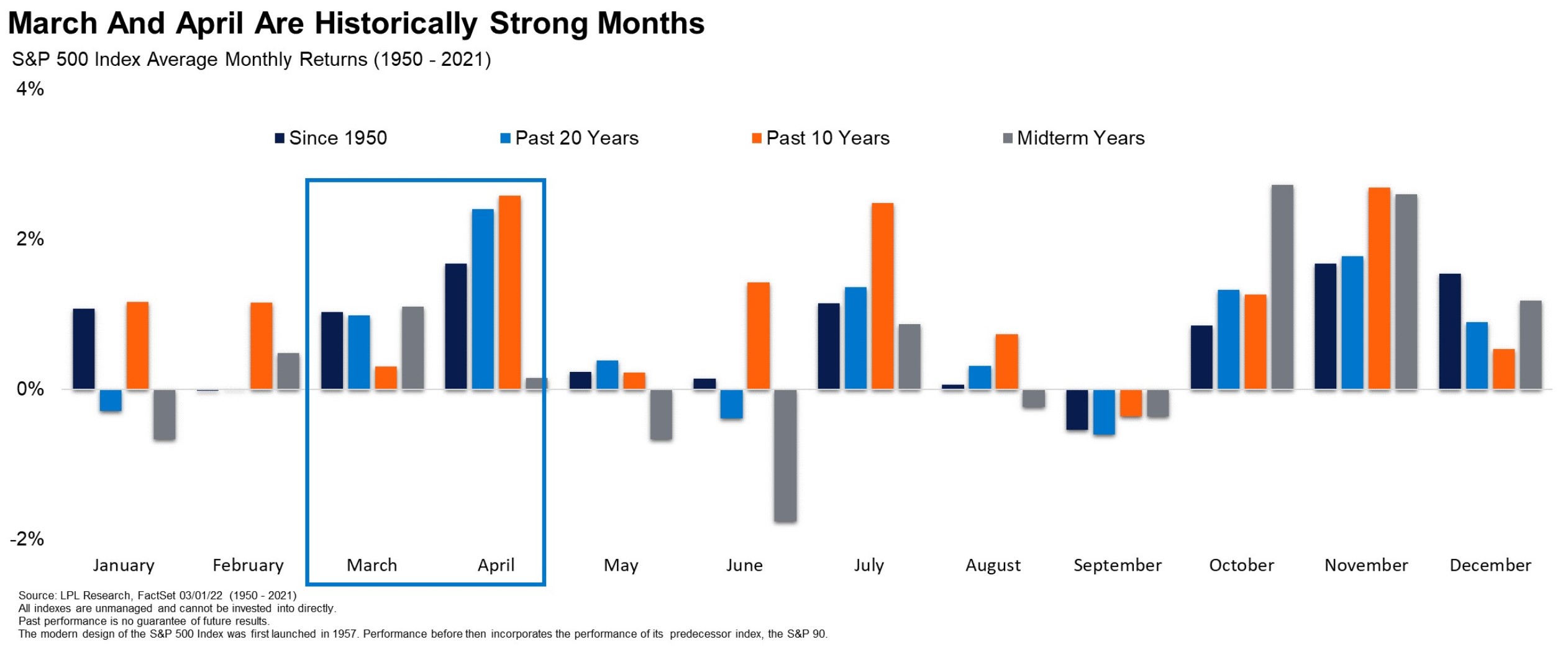 March is typically bullish for stocks, but this March makes history already. Moreover, March and April are historically strong months, so the bullish bias should persist beyond the end of this month.
All in all, the stock market did not care that the Fed started a tightening cycle. The 25bp rate increase is too little, and, perhaps, too late, compared to the rising prices of goods and services. Unless the Fed tightens much faster, stocks remain bullish.