Top 4 travel & tourism stocks to buy amid a strong sector recovery in 2022
The travel and tourism sector is forecast to grow in 2022 and exceed its pre-pandemic levels. Here are four stocks to buy amid the projected recovery: Expedia, Hilton Worldwide Holdings, Carnival Corporation, and Delta Air Lines.
The World Travel and Tourism Council (WTTC) issued a press release about a week ago stating that the US travel and tourism industry will exceed pre-pandemic levels in 2022. The strong recovery anticipated by the WTTC is bullish for travel and tourism stocks such as Expedia, Hilton Worldwide Holdings, Carnival Corporation, and Delta Air Lines.
According to the WTTC research, US travel and tourism spending is forecast to reach $1.1 trillion in 2022, higher than pre-pandemic levels by 11.3%. Moreover, international travel spending in the US would exceed $150 billion, slightly below the 2019 levels.
Expedia
Expedia (NASDAQ:EXPE) recently jumped to a new all-time high as the company reported a profitable Q4 2021. The stock price has been on a bullish trend since August 2021, and at the end of last year, a golden cross pattern reiterated the bullish bias.
A golden cross forms when the 50-day moving average crosses above the 200-day one, triggering a bullish signal from a technical analysis perspective. Expedia does not pay a dividend, and it operates with a gross profit margin for the past twelve months of 82.30%.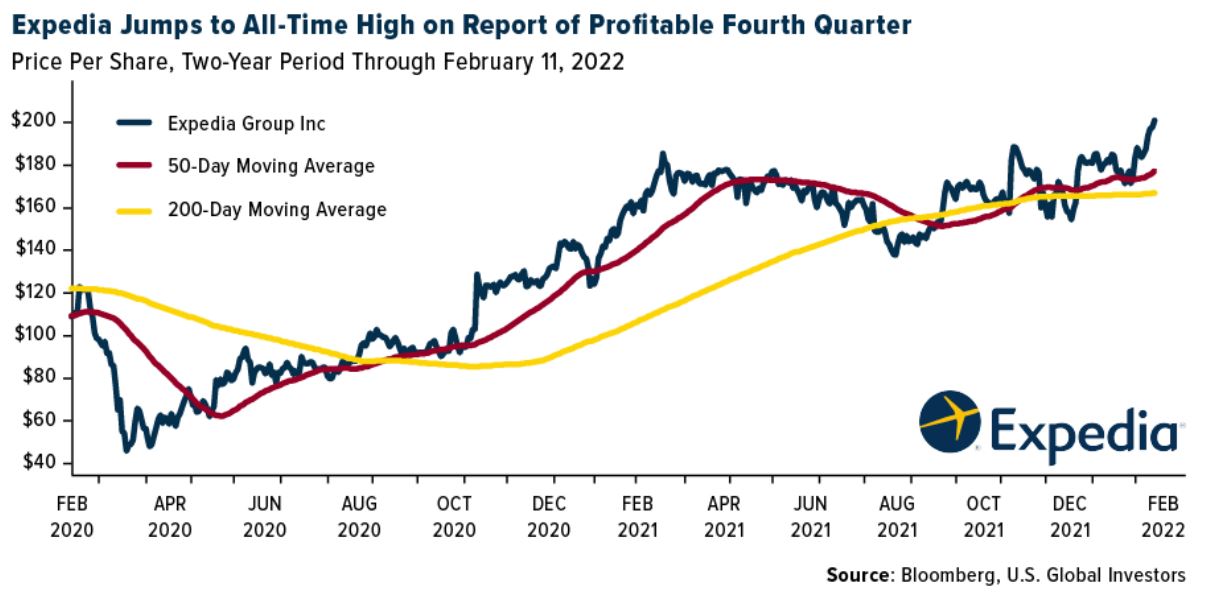 Hilton Worldwide Holdings
Hilton Worldwide Holdings (NYSE:HLT)' stock price has increased more than 35% in the past twelve months with the recovery of the travel and tourism sector. The company operates with a gross profit margin of 71.08%, and at the current stock price, the market capitalization is $42.21 billion.
Carnival Corporation
Carnival Corporation (NYSE:CCL) is one of the tourism and travel companies most affected by the COVID-19 pandemic. The cruising industry came to a halt during the pandemic, impacting the industry players' profitability.
However, as investors look past Omicron, the industry recovers. Carnival is expected to have all cruises from the US running by summer, and the stock trades almost flat compared to the same period last year.
Delta Air Lines
The COVID-19 pandemic also impacted the airline industry as lockdowns and travel restrictions were the norm. Now that most of the restrictions end, profitability returns to the sector.
Delta's stock price is almost flat in the past twelve months, and at the current level, the company's enterprise value reached $51.19 billion.