What does Elon Musk's purchase mean for Twitter stock?
Twitter has lagged the stock market considerably since going public in 2013
Don't underestimate power of Elon Musk's marketing prowess
Does Musk make Twitter stock a Buy?
As far as I'm concerned, the fact we are living in a simulation was confirmed yesterday when Elon Musk took a 9.2% stake in Twitter Inc.
Now their biggest single shareholder, Twitter stock surged 27% – their highest intraday pop since they IPO'd in 2013. Of course, we should have seen it coming:
Free speech is essential to a functioning democracy.

Do you believe Twitter rigorously adheres to this principle?

— Elon Musk (@elonmusk) March 25, 2022
Musk tweeted (as he has a habit of doing) the above poll from his account last week, warning that "the consequences of this poll will be important. Please vote carefully". He wasn't bluffing.
Nearly 2.1 million people voted in the poll (just shy of the 2.2 million that voted in my country's general election). Seeing 70% vote "No", he responded by writing a cheque for $2.89 billion and purchasing 9.2% of the company (already this move has likely increased his wealth by $1 billion – not bad for a day's work).
King Troll
In retrospect, the clues were there. Musk tweeted last week that "given that Twitter serves as the de facto public town square, failing to adhere to free speech principles fundamentally undermines democracy. What should be done?"
As if that wasn't enough, he literally said he was considering starting his own social media company. And we still didn't anticipate the move.
Am giving serious thought to this

— Elon Musk (@elonmusk) March 27, 2022
But when news followed up Musk's purchase claiming that the billionaire's stake was merely "passive", I had to smirk. Musk is as passive an investor as Will Smith is passive awards attendee.
When Twitter controversially threw Donald Trump off the platform in January 2021, Musk of course offered his opinion:
A lot of people are going to be super unhappy with West Coast high tech as the de facto arbiter of free speech

— Elon Musk (@elonmusk) January 11, 2021
Now tell me, you believed this guy would only be a passive shareholder? Musk isn't capable of doing anything passive – that's what makes him one of the most interesting, brilliant and controversial minds in the world today. Just take a quick look at some items on his CV:
Created PayPal
Caused a cryptocurrency started as a joke to reach a market cap of $89 billion
Fined $40 million after claiming he would take Tesla private at the meme-worthy number of $420 per share
And, don't forget the time he responded to a bearish Tesla tweet with a simple eggplant emoji (that most interpreted as something "other" than an eggplant…).
🍆

— Elon Musk (@elonmusk) February 23, 2021
But what does it all this chaos mean for Twitter's stock price going forward?
Underperformance
Twitter has underperformed significantly over the last number of years. I plotted the stock price of Twitter since it went public in late 2013 against the S&P 500 below to show this. Spoiler alert: if you're a Twitter investor, it's not a pretty chart.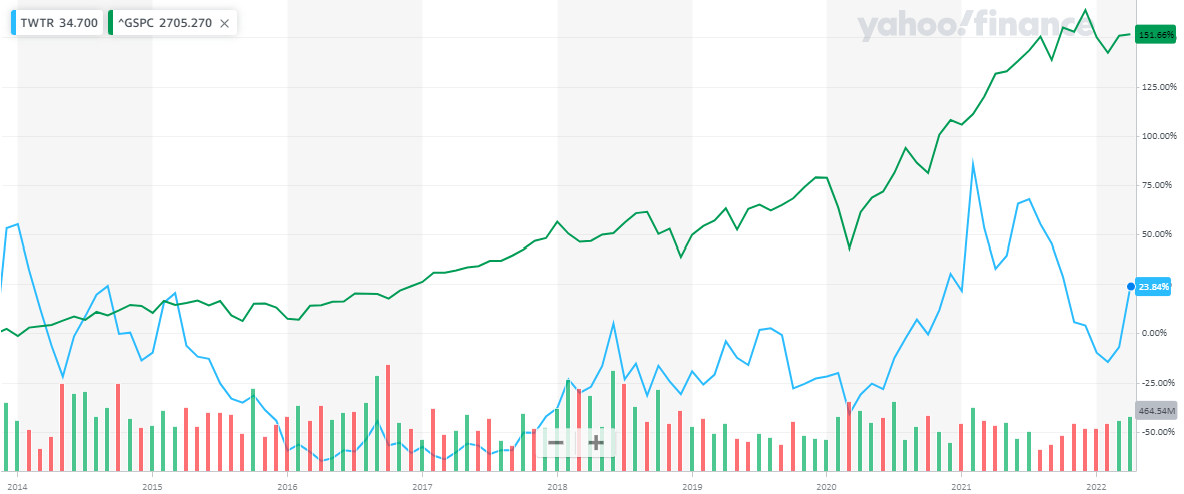 Data via Yahoo Finance
The company's continued troubles in tackling fake and offensive accounts – efforts to combat this three years ago led to them losing 1 million users and shaving 20% off their stock price – as well as questions over the path to monetisation and a slowdown in user growth (especially in the US) have been some of the biggest drivers of the downward performance.
Personally, I am enamoured with Twitter the app – as a journalist, I simply need it to do my job. I love the control over what I see (although there can be downsides to falling into narrow-focussed echo chambers, admittedly), and the different lists I can use to segregate my interests. It is essential as a source of news, and it can be a vital educational resource when used correctly. After my fantasy football app (I'm pushing for the top 100k this year!), it's the most used app on my phone.
Having said that, however, I have long been worried about its long-term future, and would never have pondered for one second adding the stock to my portfolio.
Rebirth
But things are different now. The market seems comfortable with Twitter's place as a news aggregator; the multi-platform example of Meta isn't really seen as a rival, or a goal, anymore.
Twitter Blue is a vitally bullish development – a subscription-based service that is still in Beta and only live in certain countries, but eventually lays out a roadmap towards meaningful monetisation. An additional (and constant) revenue stream beyond the advertising base was long overdue – and that's what Twitter Blue can offer. The features offered include a time window to undo tweets before they go live, a cleaner reading experience, app customisation options and NFT verification among others. And at $3.50 per month, it's admittedly a low charge, but this can no doubt be ramped up in future.
So things were looking rosier even before Musk's purchase and the 27% pop. The eccentric Tesla CEO may be much-ridiculed, but he knows how to deliver value to shareholders, that's one thing you cannot criticise him for. What's more, Musk's two thumbs have been the source of some of the best-value advertising in America over the last number of years, as his renegade Twitter account has barely spent a day off the front pages.
When the zombie apocalypse happens, you'll be glad you bought a flamethrower. Works against hordes of the undead or your money back!

— Elon Musk (@elonmusk) January 28, 2018
Musk generated $10 million by selling 20,000 flamethrowers via his Boring Company, despite warnings from the Home Office and usn politicians
The marketing impact that Musk's purchase will have alone, never mind the fact that he is now on the board of directors, is worth millions upon millions of advertising cheques. Musk clearly cares about Twitter, and whether it's a pet project or he really feels obliged to help the human race by cleaning up this communication platform and dealing with all the issues around free speech, I tend to think this will be a positive development overall for the stock.
Financials
After the surge off the back of Musk's purchase, Twitter is trading at $51.35, translating to a market cap of $32.6 billion. With analyst earning estimates for 2022 at $0.82 EPS, that spits out a lofty forward P/E ratio of 62.6 – contrasting with a trailing P/E of 21.9.
Its enterprise value/revenue ratio sits at 6.25, which is more or less in line with where it has traded historically. But as discussed earlier, its outlook looks a lot rosier now, even before this Musk news. So while I scoffed at such a EV/revenue ratio until the last year or so, 6.25 now appears fair.
So, does Musk now make it a buy?
The Musk news is good news for the stock. I don't agree with the rhetoric that he is an unhinged lunatic – sure, he likes to play around with Dogecoin and memes and can be petulant at times – but this is a frighteningly intelligent and successful individual who knows how to generate returns for stockholders, and shouldn't that be all that matters, as a prospective investor?
To me, Musk is one of a kind and I think that his antics sometimes overshadow the tremendous things he is striving to do for humanity. He runs a space company aiming to put people on Mars – for what he believes is the good of our species – and also runs a staggeringly successful electric car company at a time when we are all destroying this beautiful planet at a terrifying pace. But all people seem to care about is how he tweets irresponsibly about crypto, or how he is an attention-seeker. Both may be true, but who cares?
The rumor that I'm secretly creating a zombie apocalypse to generate demand for flamethrowers is completely false

— Elon Musk (@elonmusk) January 28, 2018
Hate him or love him, the world would be a duller place without Elon
So for Twitter, gaining the kingpin of Tesla and SpaceX can only be a good thing for me. It's a stock that stagnated for years before eventually seeming to wake up to the modern age with its recent initiatives, and now its gained a billionaire who happens to be its biggest fan.
Having said all that, however, I'm going to stop just short of declaring it a Buy. For me, it's still a Hold, but I'm a lot more optimistic about where it's headed. So no, it's not quite time for me to buy my first piece of Twitter stock, but I'll be keeping a close eye on developments.
Either way, it's going to be fun to watch.
And how about that edit button, huh Elon?