2 key events to move equity markets this week
2 key events to move equity markets this week
The week ahead is marked by two key events that will move equity markets in the US and UK – the Federal Reserve of the United States and the Bank of England's monetary policy decisions.
After the COVID-19 pandemic, another systemic shock threatens the financial system's stability – the conflict between Russia and Ukraine. Headlines from the conflict area caused wild gyrations in financial markets in the past couple of weeks since the war in Eastern Europe started, and things will likely remain the same.
But besides the war, this week is important for market participants because two central banks will announce their decision regarding the monetary policy, the Federal Reserve of the United States and the Bank of England. As such, equity investors on both sides of the Atlantic will want to pay attention to the details because both banks are set to hike the interest rate.
Federal Reserve of the United States decision
The Fed in the United States prepares for policy normalization. It communicated its decision well in advance, so a quarter of a basis point rate hike is already priced in.
On top of that, the Fed begins quantitative tightening, aka balance sheet reduction. It further contributes to the tightening cycle, as the Fed embarks on a new cycle.
It is not the first time the Fed has attempted to shrink the balance sheet. The last time it did so was interrupted by the COVID-19 pandemic. Will the war in Ukraine cause the Fed to slow down the tightening pace? Any clues coming out at Wednesday's press conference will move the S&P 500 and the other stock market indices locally and internationally.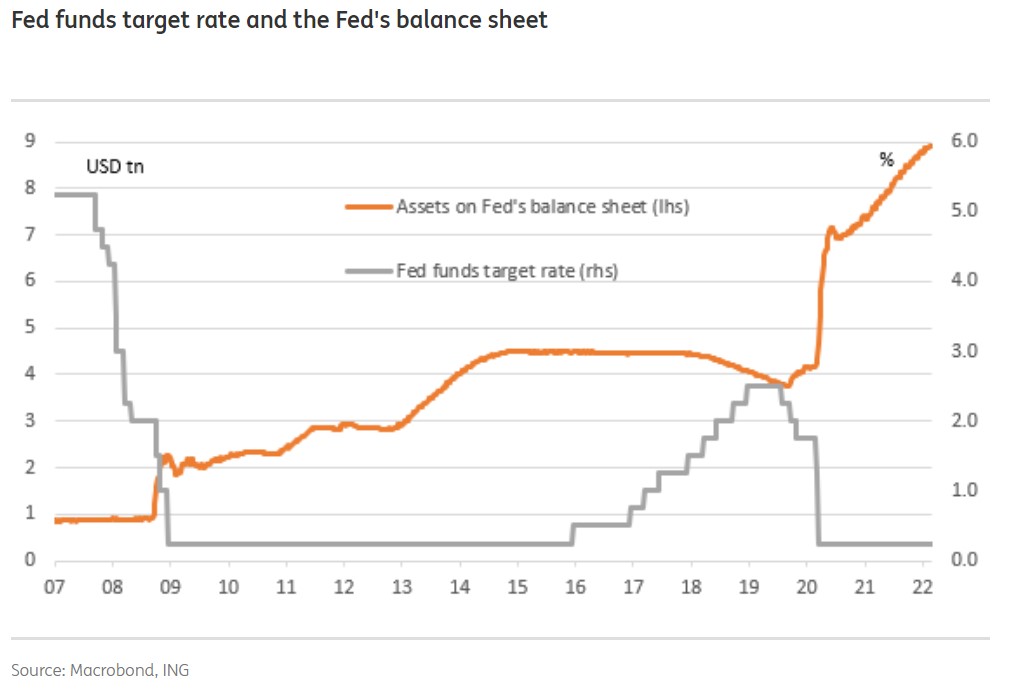 Bank of England monetary policy decision
One day after the Federal Reserve's decision, it is the Bank of England's turn to deliver its policy decision. The Bank of England already hiked the interest rate twice, but it is set to continue to do so on the back of rising inflationary pressures.
However, UK equities held pretty well despite the rate hikes. For instance, the FTSE 100 index is down only about 300 points from its 2022 opening level.
Will the US stocks react the same once the Fed raises the federal funds rate?