How to buy Facebook stocks in 2022
Facebook (FB)
...
Social networking company Facebook was founded in 2004 by four Harvard University students: Mark Zuckerberg, Eduardo Saverin, Dustin Moskovitz, and Chris Hughes. Initially, Mark and his friends created the service for their Harvard classmates, but it quickly expanded to other universities and later to the general public.
Headquartered in Menlo Park, California, the company has grown into the largest social network in the world, with over 2.7 billion active monthly users and a market cap of almost $900 billion. Facebook's offerings include messenger services, photo and video sharing, augmented reality, and many other apps and services that make it easier for businesses to connect their products with consumers.
Since its founding 17 years ago, Facebook has expanded far beyond the original social networking website, Facebook.com. The company has acquired many other social networking and internet companies, including Instagram, WhatsApp, Oculus VR, Onavo, Beluga, and Novi.
We have prepared this guide to show you why and how you can buy Facebook stock with confidence based on various fundamental factors and technical analysis.
How to Buy FB Stocks in 5 Easy Steps
Visit eToro through the link below and sign up by entering your details in the required fields.

Provide all your personal data and fill out a basic questionnaire for informational purposes.

Click 'Deposit', choose your favourite payment method and follow the instructions to fund your account.

Search for your favourite stock and see the main stats. Once you're ready to invest, click on 'Trade'.

Enter the amount you want to invest and configure your trade to buy the stock.
Everything You Need To Know About Facebook
We start by looking at Facebook's history, strategy, how it makes money, and how it has performed in recent years.
Facebook History
Facebook's origins can be traced back to Harvard University in 2003 when Mark Zuckerberg and his roommates — Eduardo Saverin, Dustin Moskovitz, and Chris Hughes — created the Facemash website that allowed students to rank each other's attractiveness. Within a few days, the site was shut down and the creators faced disciplinary actions.
Zuckerberg had already set his sights on his next project, and in February 2004 he launched Thefacebook. The platform had similar features to the Facemash they created earlier, including a profile where you could upload a photo, share your interests, and connect with other people while seeing a network of your connections. The platform was initially open only to the Harvard community, and more than 50% of students had signed up within the first month. By the end of 2004, membership was open to nearly all universities in the US and Canada, and people were eager to sign up.
Zuckerberg moved the company's operations to Palo Alto, California, and PayPal co-founder Peter Thiel joined the board while bringing a vital $500,000. In 2005, TheFacebook received more money as investors started to pay more attention to the new tech company.
The 'The' in TheFacebook was dropped in August 2005, so the official name of the company became Facebook. Later in the year, Facebook started accepting non-students, and in November, Zuckerberg announced that he would drop out of Harvard to run Facebook as the CEO.
Facebook continued to gain popularity, becoming the world's most popular social platform in December 2009. As the company grew, it started acquiring key complementary and rival platforms. In March 2011, Facebook acquired Beluga, a group messaging service, and used it to create what was later known as Facebook Messenger.
Facebook acquired the photo and video sharing social platform Instagram in 2012, in a $1 billion deal. A month later, Facebook went public and was listed on the Nasdaq exchange. At the time of the IPO, the company was valued at $104 billion and the shares sold for $38 per share. Facebook continued to thrive even though its IPO was marred with controversies.
In 2013, a year after the controversial IPO, Facebook joined the league of Fortune 500 companies at number 462. The company continued to grow, making many more acquisitions: Onavo in October 2013 (estimated at $100-200 million), WhatsApp in February 2014 ($19 billion), and Oculus VR in March 2014 ($2 billion).
What is Facebook's Strategy?
Facebook is a tech company that offers social networking services via various platforms such as Facebook itself, Instagram, and WhatsApp. Billions of people can stay connected with family and friends for free.
As one of the largest online meeting places, Facebook gives businesses a great opportunity to advertise their products and services. This is especially important to small businesses that can't afford to buy TV ads or billboards; they benefit from better targeting of their audiences. Therefore, Facebook's primary business model is to enable businesses — especially small ones — to connect their products with their target consumers. There are more than 90 million small businesses on Facebook, and they provide the primary source of revenue: advertising.
Apart from the connection and advertising models, Facebook is trying to leverage its huge user base to expand into the blockchain and payment industry. It has created a blockchain wallet called Novi and plans are ongoing for its digital currency.
How Does Facebook Make Money?
Facebook.Inc.'s primary source of revenue is selling advertising space on its various social networking websites and mobile applications: Facebook, Instagram, Messenger, and WhatsApp. In this space, Facebook faces competition from Twitter, Alphabet Inc.'s Google and YouTube, Tencent, Amazon, and Apple.
Facebook also generates a small percentage of its revenue from other sources, such as the delivery of consumer hardware devices and net fees it receives from developers using its payments infrastructure.
Consequently, Facebook categorizes its revenue sources into just two segments: advertising and other revenue. Of the $86.0 billion total revenue Facebook made in the 2020 fiscal year which ended on December 31, 2020, advertising accounted for $84.2 billion (or 98% of the total revenue) while other revenue accounted for $1.8 billion (or 2% of the total revenue). However, while advertising revenue grew by 20.8% compared to 2019 FY, other revenue grew by 72.4%.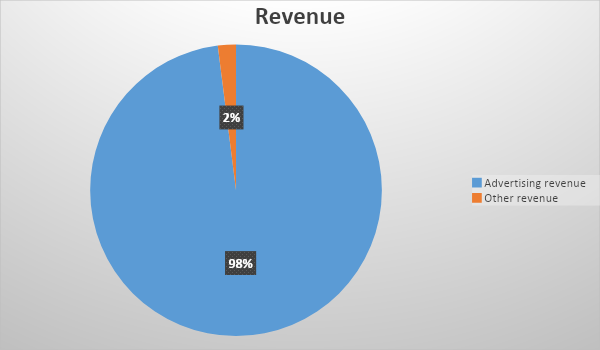 Source: created from Facebook 10-K
In terms of the geographical distribution of revenue, more than half of it came from North America (the USA and Canada).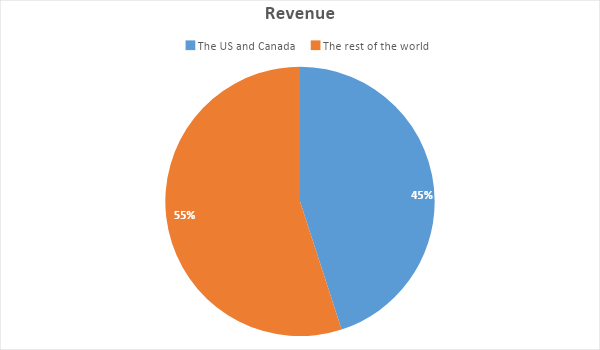 Source: created from Facebook 10-K
How Has Facebook Performed in Recent Years?
Facebook's stock price has risen ever since its IPO in 2012. In the five years to 2021, the stock's rise has been punctuated by some falls in December 2018 and March 2020 that coincided with general market correction and the coronavirus crash respectively.
During those five years, the share price increased from around $110 (in the first week of May 2016) to over $320 in the last days of April 2021. It means that Facebook investors would have made a 200% profit over that period.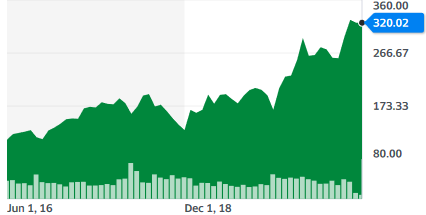 Source: Yahoo! Finance
Where Can You Buy Facebook Stock?
Buying Facebook shares from an exchange-registered stockbroker is different from simply placing a bet on the Facebook share price via a spread betting or CFD broker. Via the former, you get part-ownership of the company. 
The brokerage account you choose must have direct or indirect (via a partner stockbroker) access to the Nasdaq exchange where Facebook stock is listed. While every major stockbroker offers standard stock trading accounts, UK-based brokers may also offer stock and shares ISA and SIPP accounts to those who want to specifically plan for retirement in a tax-efficient way.
Facebook's investor FAQs state that the company does not offer a direct stock purchase plan at this time, so you can't purchase shares directly from the company.
Most Popular
Min. Deposit
$10
Promotion
Trade/invest in stocks with just $10
Deposit with ACA, Wire, Pay with my bank
Invest for dividends and get payout on stocks on Ex-Dividend day
Pros:
Trade/invest in stocks with just $10
Deposit with ACA, Wire, Pay with my bank
Invest for dividends and get payout on stocks on Ex-Dividend day
Payment Methods
Bank Transfer, Wire Transfer
Full regulations list:
CySEC, FCA
Investoo Ltd is compensated if you access certain of the products or services offered by eToro USA LLC and/or eToro USA Securities Inc., as applicable. This compensation incentivizes Investoo Ltd to describe those products and services in favorable terms. Any testimonials contained in this communication may not be representative of the experience of other eToro customers and such testimonials are not guarantees of future performance or success.
Min. Deposit
$0
Promotion
$0 commission and $0 Options contract fees
Upgraded research with advanced charts
Smart Menus for faster trades
Pros:
$0 commission and $0 Options contract fees
Upgraded research with advanced charts
Smart Menus for faster trades
Facebook Fundamental Analysis
Fundamental analysis is a way to analyze a stock to know its real value. When planning to buy a stock, you need to perform a fundamental analysis of the company behind the stock to know what it's worth and project how it might perform in the future. The alternative technical analysis uses specific patterns in share price movements to forecast future price movements.
Some of the fundamental factors you should consider are earnings-per-share, P/E ratio, revenue, dividend yield, and cash flow. You should also think about management and goodwill, but these things are not easily measurable.
Facebook's Revenue
Also known as gross sales, a company's revenue is the total amount of money the company has generated from the sale of its products or services. Revenue is the first thing you see at the top of the income statement (top line) in the yearly or quarterly report that can usually be found on the company's website.
When the current revenue is higher than that of the corresponding period in the preceding year, you can say there is revenue growth, which is a good thing for the company's stock. For the 2020 financial year that ended in December 2020, Facebook's revenue was $86.0 billion, which represented revenue growth of 21.6% from the $70.7 billion realized in the 2019 financial year.

Source: Yahoo! Finance
Facebook's Earnings-per-Share
A company's earnings are the profit the company made during the financial period under review after all costs and taxes have been deducted from the revenues. It is, therefore, called the "bottom line".
The total earnings might not be important to you as a shareholder of a company, because you only own a portion of the company and not the whole of it. So, your focus should be on the company's earnings-per-share (EPS).
To calculate Facebook's EPS, you divide its annual net income by its total number of outstanding common shares. A high EPS indicates that the business is profitable, and EPS is one of the inputs for calculating the P/E ratio, which we will discuss next.
While you can calculate the EPS yourself, you can easily get it from various financial websites or major stockbrokers' websites.

Source: Yahoo! Finance
Facebook's P/E Ratio
The price-earnings (P/E) ratio measures a company's current share price relative to its earnings per share. The ratio is calculated by dividing the current price of the company's stock by its earnings per share.
For the 2020 financial year, Facebook's P/E ratio could be calculated by dividing the share price ($320) by the EPS ($10.22) to give 31.31. This means that investors at that share price are willing to pay $31.31 for every $1 Facebook earns per annum. Put another way, it would take Facebook more than 31 years to earn enough money to pay back the investor's investment.
A high P/E suggests that investors are expecting higher earnings growth in the future, which is why they are willing to pay a higher share price today. However, when the P/E ratio gets beyond a certain level, the company may be overvalued.
The average P/E for the S&P 500 Index — which is often used as the benchmark — has ranged from 13 to 15 historically. So, Facebook's P/E ratio could be considered high. However, the P/E doesn't factor in the company's earnings growth rate that is reflected by the price/earnings to growth (PEG) ratio.
Facebook's Dividend Yield
Dividends are a portion of the company's profits shared among its shareholders. Companies that pay dividends usually declare such payments twice a year, and the information can be found on major financial websites or your stockbroker's website.
The dividend yield is a financial ratio that compares a company's annual dividends to its share price. You can calculate the dividend yield by dividing the company's annual dividends by its current share price. For example, if the company offers 10 cents in annual dividends, and if the current share price is $1, then the dividend yield would be 10/100. Expressed as a percentage, this would be 10%.
Long term investors prefer stocks that pay good dividend yields because the money they are making for taking the risk of holding stock should be better than interest rates they would have received for depositing that money with a bank instead.
Facebook does not pay dividends to its shareholders despite having made a consistent income for several years. The company would rather retain its earnings to boost growth, which is one of the reasons for the consistent capital appreciation over the years.
Facebook's Cash Flow
Cash flow is a financial metric that measures the net amount of cash and cash equivalents that is flowing in and out of a business; i.e., where the cash is coming from and how it is being spent. A good business should have positive cash flows.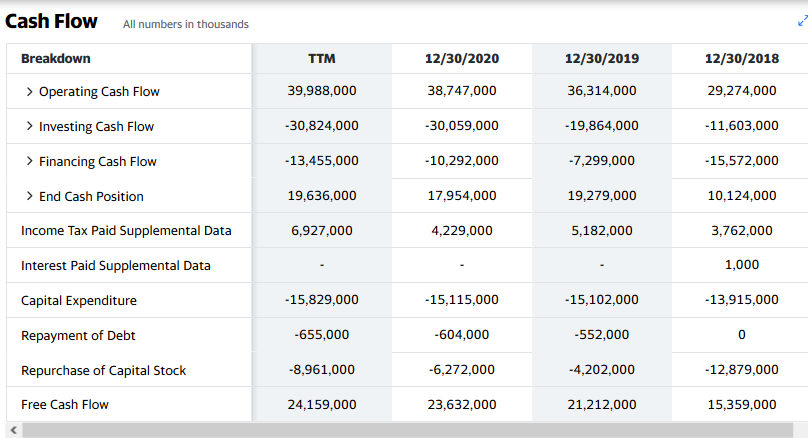 Source: Yahoo! Finance
Why Buy Facebook Stocks?
Facebook's advert-based business model will continue to be profitable because this company runs the biggest social media platforms in the world, and businesses have realized that social media ads are more likely to reach customers than the traditional TV and billboard ads are. Moreover, millions of small businesses, which can't afford other methods, are reliant on Facebook to connect with their customers.
One issue facing Facebook is the numerous lawsuits for monopolistic activities. Despite this, the company could be a good investment, and here's why:
Facebook has made good profits for many years, and its profit margin is one of the best among its tech peers
Facebook's price-earnings ratio is only 31.31, which is decent for a growing tech company
The brand is very popular, and the company is trying to leverage its large user base to expand into blockchain and online payments
Expert Tip on Buying Facebook Stock

"

Facebook is a tech stock that has enormous room for growth, especially when it fully leverages its large user base in the online payment industry and blockchain technology. Although "any time" may therefore be a good time to buy Facebook stock, it's always wise to buy when a share price dips, especially if it's trading at an all-time high price.

"
Buy Facebook Stocks Today!
5 Things to Consider Before You Buy Facebook Stock
Investing is a serious business, so before you start buying Facebook stock, you need to consider these five things:
1. Understand the Company
As the legendary Peter Lynch would advise, you must understand the company you want to invest in: what it does, its products or services, and how it makes money. But it is not enough to be familiar with a company as a consumer. You must perform a comprehensive fundamental analysis to be sure of the company's financial health before putting your money into it.
2. Understand the Basics of Investing
If you are considering investing in Facebook, it's important to learn the basics of investing first. Things you need to learn include risk management, money management, diversification, and how to read financial statements. Knowing how to read financial statements enables you to analyze the company properly while a good understanding of risk management, money management, and diversification will help you not to lose money.
3. Carefully Choose Your Broker
Your broker does not just provide you access to the exchange but also keeps hold of your cash. It is therefore important to choose a broker that is registered with the financial services regulator in your country of residence. This should also mean you get some form of protection from any financial compensation scheme in your country. Secondary things you should consider are the trading commissions and the trading tools (such as charts and market data) that the broker provides.
4. Decide How Much You Want to Invest
You need to determine the percentage of your investing capital you will allocate to each stock investment. Alternatively, you might scale into a stock investment gradually through dollar-cost-averaging. Never invest more than you can afford to lose, and do not invest with borrowed money, no matter how well you think a stock will perform. Leverage is a double-edged sword and it can quickly multiply your losses.
5. Decide on a Goal for Your Investment
Your investment goal is key. You must know why you are investing and how long you intend to hold your investment. Is it to grow your pension fund for retirement or to finance a future project?
Whatever the goal is, you must have an investment strategy and know when to sell. Your strategy could be to sell at a specific time in the future or when the company's fundamentals no longer look good enough. You may also want to hold a stock indefinitely, like Warren Buffett.
Just make sure you write down your investment goal and plan.
The Bottom Line on Buying Facebook Stocks
To summarize, Facebook is the largest social media company in the world, with over 2.7 billion active monthly users. It provides businesses with an easy way to connect their products and services to their target customers. Facebook does not offer a direct share purchase program (DSPP), so you can only buy the stock through a stockbroker.
To invest in Facebook stock right now, simply sign up for a stockbroker's stock trading account, fund your investment account, choose Facebook (FB) from the categorized list of stocks, and place a market order or a limit order to buy the stock.
If you're not yet ready to invest right now, keep educating yourself by reading our other guides until you are ready to invest. You might also practice "paper trading" on your stockbroker's demo account, to familiarize yourself with the broker's platform and tools before investing with your real money.
Frequently Asked Questions
Facebook recorded its first profit in 2009 and has been profitable ever since. In the 2020 financial year that ended December 31, 2020, Facebook posted a net profit of $29.1 billion from $86.0 billion total revenue. So, it made a net profit margin of 33.9%, which is impressive.

Despite making a consistent profit for more than a decade, Facebook states categorically on its investors' FAQ page that it does not pay a dividend. The company retains its earnings to boost growth.

Facebook is primarily listed on the Nasdaq stock exchange. However, the stock also trades on other stock exchanges around the world, including the London Stock Exchange, EURONEXT, Argentinian BYMA, and Moscow Exchange (MOEX).

Facebook does not offer a DSPP, so you can only buy the stock through a stockbroker.

You need to learn how to read financial statements. Also, you should learn some risk management, money management, and diversification methods.

Yes, you can do a technical analysis of the Facebook stock price before buying the stock, but this should be after doing a fundamental analysis to be sure that the company is financially sound. Technical analysis helps you to buy a sound stock at the right time.