How to buy Eletrobras stocks in 2023
Eletrobras (EBR)
...
Eletrobras is the largest company in the electric energy sector in Latin America. It accounts for 29% of installed generation capacity in Brazil. It also operates a total of 1,500 kilometres of transmission lines connecting countries such as Argentina, Uruguay, and Venezuela.
Eletrobras stocks are listed on the New York stock exchange under the ticker EBR and, like any utility company, it has a big dividend payout ratio. In 2020, Eletrobras ran over 50,000 MW in installed capacity, generating close to 200,000 GWh, out of which approximately 97% came from clean generation sources.
The company operates a mix of hydro, nuclear, wind, and solar sources to produce electricity, and only about 3% of the generation output comes from thermal power plants. This article aims at providing a full image of Eletrobras and to act as a guide to those wanting to buy Eletrobras stocks.
How to Buy EBR Stocks in 5 Easy Steps
Visit eToro through the link below and sign up by entering your details in the required fields.

Provide all your personal data and fill out a basic questionnaire for informational purposes.

Click 'Deposit', choose your favourite payment method and follow the instructions to fund your account.

Search for your favourite stock and see the main stats. Once you're ready to invest, click on 'Trade'.

Enter the amount you want to invest and configure your trade to buy the stock.
The Best 3 Brokers for Investing in Eletrobras
1. eToro
eToro is a social trading and investment platform that allows users to trade a variety of assets, including cryptocurrencies. The platform is designed to be user-friendly and intuitive, making it a good choice for those new to investing. eToro also offers some features that can be useful for more experienced investors, such as the ability to copy other traders' portfolios. You can read our full eToro review here.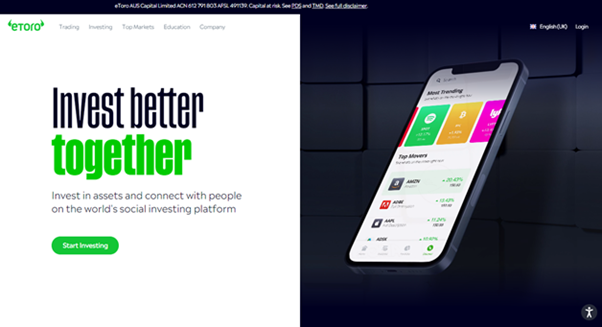 Security and Privacy
eToro takes security and privacy seriously, offering features such as 2-factor verification and encrypted passwords to keep user accounts safe. The platform also offers a strict anti-money laundering policy to protect users from fraud. To prevent abuse of the platform, they have put several security features in place, such as data loss prevention and restriction of access based on IP address. When a user invests, an additional security feature blocks the transaction from being executed if the account is linked to a potentially fraudulent user. In addition, they employ top vendors, web solutions, and firewalls, constantly on the alert to block a possible cyber-attack.
They take users' privacy of utmost importance and never share their personal information without their consent.
Fees and Features
One of the most attractive features of eToro is that it is a multi-asset platform which gives access to over 2,000 financial assets like stocks, ETFs, indices, Cryptocurrencies and many more. eToro offers users Free Insurance that would cover claims in case of insolvency or an event of misconduct. Another feature that makes this platform one of the best around is the social trading feature. You can join a community of 20 million traders all around the world and connect with like-minds to shape your trading decisions. Lastly, the CopyTrader feature allows you to use the performance of some seasoned investors to know the one to replicate.
eToro offers 0% commission when you open a long, non-leveraged position on a stock or ETF with no management fees or deposit fees. However, the platform charges an inactivity fee of $10 per month if you don't trade for 12 months. There is also a low fixed $5 fee for withdrawals.
| | |
| --- | --- |
| Fee Type | Fee Amount |
| Commission Fee | 0% |
| Deposit Fee | None |
| Withdrawal Fee | $5 |
| Inactivity Fee | $10 (monthly) |
Pros
Security and Privacy
Low fees and commission
Copytrading
Social trading
Cons
High inactivity fee
Limited customer service
2. Capital.com
Capital.com offers a variety of investment products and services to its clients. These include stocks, indices, commodities, shares, crypto, and forex. Capital.com has a wide range of clients, including retail investors, institutional investors, and high-net-worth individuals. You can read our full Capital.com review here.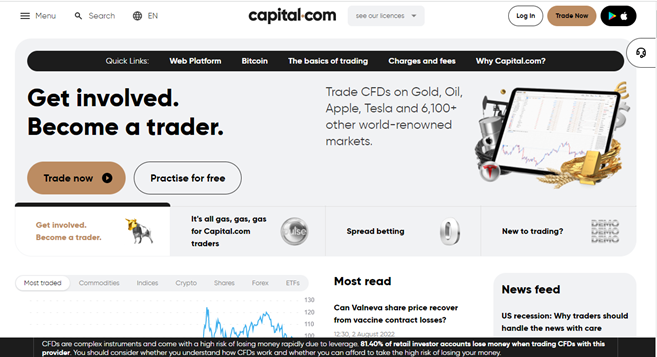 Security and Privacy
Capital.com is licensed by several top regulatory bodies, including the FCA, CySEC, ASIC, and the FSA. This indicates that Capital.com customers are well safeguarded and that the platform adheres to strict guidelines to guarantee that consumer information is secure and hidden. In addition, Capital.com's compliance with PCI Data Security Standards is another way it safeguards its customers' information.
Every deposit made by retail customers is protected by the Investment Compensation fund according to regulatory guidelines.
Fees and Features
With CFD trading, customers have access to over 6,000 markets with tight spreads. Capital.com offers educational materials that can help customers to make more informed decisions. Another feature Capital.com offers is Spread betting. This gives customers access to speculate on upward and downward moves on over 3000 markets. The broker provides a tool powered by AI in its mobile trading app that offers individualized trading insights by utilizing a detection algorithm to uncover different cognitive biases.
Capital.com charges no fees on deposit, withdrawal, commission or inactivity.
| | |
| --- | --- |
| Fee Type | Fee Amount |
| Commission Fee | 0% |
| Deposit Fee | None |
| Withdrawal Fee | None |
| Inactivity Fee | None |
Pros
Tight spreads
0% commission with no hidden charges
Artificial Intelligence
Risk management tools
Educational materials
Cons
Overnight fees
Mostly restricted to CFDs
3. Skilling
Skilling is an online trading platform that offers users the ability to trade a variety of financial assets, including forex, CFDs, and cryptocurrencies. The platform is designed to be user-friendly and provides traders with all the tools and resources they need to start trading. Skilling also offers a demo account so that users can practice trading before they start trading with real money. You can read our full Skilling review here.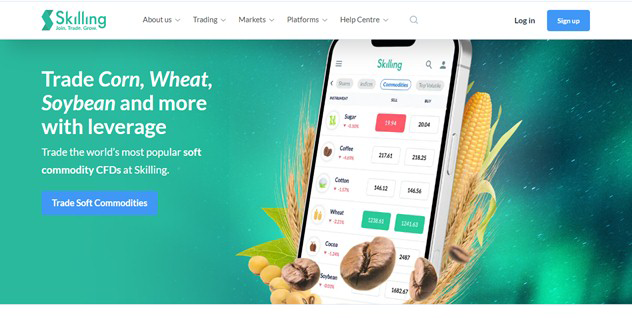 Security and Privacy
The security and privacy of the Skilling online trading platform are taken very seriously. All information entered into the platform is encrypted and stored securely. Only authorized personnel have access to this information. In addition, the platform uses two-factor authentication to ensure that only authorized users can access account information. Skilling is regulated by the Cyprus Securities and Exchange Commission (CySEC), which means customers can rest assured about the security of their assets.
Fees and Features
Skilling has four different platforms; Skilling Trader, Skilling cTrader, Skilling MetaTrader 4 and Skilling Copy. Skilling Trader is designed for traders on all levels with access to all the tools needed for trading analysis. Skilling cTrader on the other hand is designed for advanced traders with a focus on order execution and charting capabilities. MetaTrader 4 is a forex and CFDs trading platform with a very versatile and easy-to-customise interface. Skilling Copy is a copy trading platform which allows members to have access to follow or copy trading strategies of seasoned traders at a fee.
Skilling does not charge any fee for inactivity, deposit or withdrawal. However, there are commission charges on FX pairs and Spot Metals on the Premium account type. These charges start from $30 per million USD traded.
| | |
| --- | --- |
| Fee Type | Fee Amount |
| Commission Fee | Varies |
| Deposit Fee | None |
| Withdrawal Fee | None |
| Inactivity Fee | None |
Pros
Reliable 24/5 customer support
Over 1000 trading instruments
Superb licensing and regulation
Demo account
Cons
Not enough educational materials
High Spreads
Service is unavailable in many countries including the US and Canada.
Everything You Need To Know About Eletrobras
The following section of this article covers the company's business in more detail. We will have a look at Eletrobras's history, strategy, revenue sources, and how Eletrobras's share price has performed in recent years.
Eletrobras History
Eletrobras was founded in Rio de Janeiro in 1962. The company is owned by the Brazilian government and by December 2020 it had 4.7 GW of installed generation capacity outside Brazil.
What Is Eletrobras's Strategy?
It controls a group of generation and transmission companies such as Eletronorte, Eletrobras Eletropar, or CHESF (Compnahia Hidro-Eltrica de Sao Francisco). The first one is responsible for energy power, generation, and distribution in states such as Amapa or Mato Grosso. The second one holds a participation in other energy companies, and the third one powers the northeast Brazil cities. These are just a few examples of the companies Eletrobras owns or controls.
Together with its subsidiaries, it operates and controls 31 hydroelectric plants, 7 thermal plants, as well as two nuclear plants. In other words, it operates as an integrated electric company in Brazil and Latin America.
How Does Eletrobras Make Money?
Eletrobras sells electric energy to households and businesses in Brazil and other countries in Latin America. It owns about 40% of Brazil's generation capacities and controls almost 70% of the National Interconnected System.
How Has Eletrobras Performed in Recent Years?
Eletrobras' stock price has traded below $10 after the COVID-19 2020 pandemic. The market formed a head and shoulders pattern with the highest price in the head part of the pattern being $11. The failure at the $10 shows the stiff resistance lying there, and during the pandemic-led market selloff, Eletrobras shares dropped more than 50% from their 2020 highs. However, the stock price recovered most of the lost ground, as the world sees the light at the end of the tunnel as the COVID-19 vaccination pace gains ground.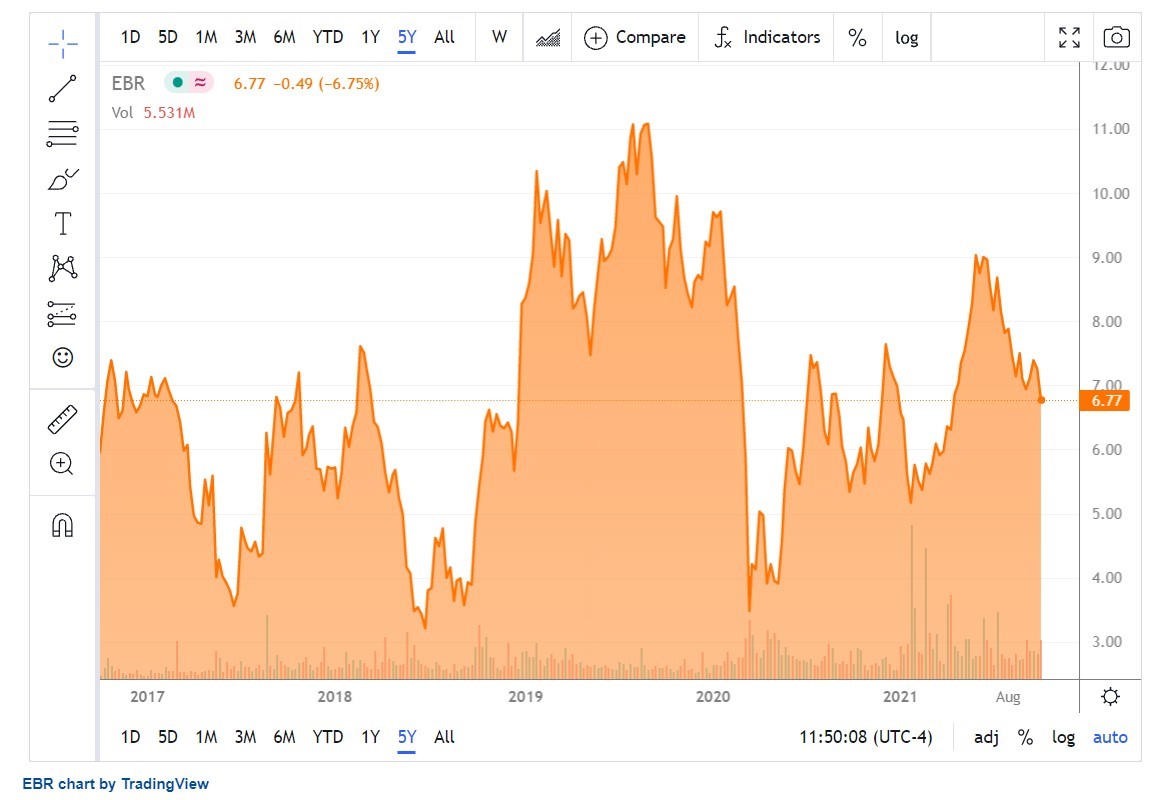 Where Can You Buy Eletrobras Stock?
You can buy Eletrobras stocks at any brokerage house that offers them. By owning a share of Eletrobras, investors are eligible to receive dividends and participate in major decisions planned by the management. 
Another way of trading Eletrobras stocks is through CFDs or contracts for difference. These contracts offer a more cost-effective way of betting on the decline of the stock price, should your analysis point to such a direction. They track the underlying asset's price (i.e., Eletrobras stock) and are favoured by investors interested in short-selling. Some brokerage houses offer both stocks and CFDs, so it is important to know what you're trading, and the benefits and costs of each.
Most Popular
Min. Deposit
£8
Promotion
Invest/buy real stocks and ETFs with 0% commission fees
Over 11 payment methods, including PayPal
Invest for dividends and get payout on stocks on Ex-Dividend day
Pros:
Invest/buy real stocks and ETFs with 0% commission fees
Over 11 payment methods, including PayPal
Invest for dividends and get payout on stocks on Ex-Dividend day
Payment Methods
Bank Transfer, Debit Card, PayPal, neteller, eToro Trading Platform, Klarna, POLi, Przelewy24, Rapid Transfer
Trustly, iDeal, skrill
Full regulations list:
ASIC, CySEC, FCA
eToro is a multi-asset platform which offers CFD and non CFD products. 81% of retail investor accounts lose money when trading CFDs with this provider. You should consider whether you can afford to take the high risk of losing your money.
Min. Deposit
£140
Promotion
One of the only Brokers to have after-market hours trading
Over 1000+ top-quality stocks, including Facebook, IBM and Boeing
Fast executions and no data fees on share CFDs, with 5:1 leverage
Pros:
One of the only Brokers to have after-market hours trading
Over 1000+ top-quality stocks, including Facebook, IBM and Boeing
Fast executions and no data fees on share CFDs, with 5:1 leverage
Payment Methods
Bank Transfer, Debit Card, PayPal, neteller, Credit Card, Wire Transfer, UnionPay, Visa, Mastercard
American Express, Discover, Bank Transfer: SEPA, skrill
Full regulations list:
ASIC, FCA
Spread bets and CFDs are complex instruments and come with a high risk of losing money rapidly due to leverage. 77.6% of retail investor accounts lose money when trading spread bets and CFDs with this provider. You should consider whether you understand how spread bets and CFDs work, and whether you can afford to take the high risk of losing your money.
Min. Deposit
£100
Promotion
UK No. 1 CFD Platform/Provider/Broker*, Biggest CFD Broker in UK
Trade +2000 CFDs on Shares, Options, Commodities & more
0 commissions & attractive spreads with up to 1:5 leverage
Pros:
UK No. 1 CFD Platform/Provider/Broker*, Biggest CFD Broker in UK
Trade +2000 CFDs on Shares, Options, Commodities & more
0 commissions & attractive spreads with up to 1:5 leverage
Payment Methods
Bank Transfer, Debit Card, PayPal, Credit Card, Visa, Mastercard, American Express, Trustly, Apple Pay
Google Pay, Discover, Bank Transfer: SEPA, Bank Transfer: FPS, skrill
Full regulations list:
ASIC, FCA, FSA, MAS, CySEC #250/14
Buy or sell CFDs with Plus500. 86% of retail investor accounts lose money when trading CFDs with this provider. You should consider whether you can afford to take the high risk of losing your money
Eletrobras Fundamental Analysis
The next section of this article focuses on Eletrobras's fundamental analysis. We will cover things such as the company's revenue, earnings-per-share, price/earnings ratio, dividend yield, and cash flow.
Eletrobras's Revenue
Revenue is the first item on the income statement and shows how much the company has sold over a period. Investors should be aware that the income statement is a reflection of the financial performance of a period, typically one fiscal year and it starts with how much the company sold in that period.
Eletrobras generates revenues close to 33 billion Brazilian reals, or about $6 billion in 2021, and revenues are projected to remain relatively stable in the years to come. For a utility company like Eletrobras, this is one of its strengths – the ability to project steady revenues for years ahead.

Eletrobras's Earnings-per-Share
Earnings-per-share or EPS is a financial metric that shows just how much the company has earned in profits per one single share. The higher the number, the better for investors, as it shows increased profitability.
Eletrobras's estimates for the 2021 EPS are BRL5.43, expected to reach 5.93 by 2023.

Eletrobras's P/E Ratio
The P/E or price/earnings ratio is one metric used by investors to valuate a business. A higher P/E ratio is not desirable because it shows in how many years your investment is recovered should the company's profitability remain the same.
Eletrobras's P/E ratio for 2021 is estimated at 7.02, meaning that investors are willing to pay $7.02 for every dollar that the company makes in profit. For the years ahead, the P/E ratio is projected to drop to 6.42 by 2023 and then rise to 14.32 by 2025.
Eletrobras's Dividend Yield
A dividend yield is a financial ratio telling the percentage of the dividend paid at the current price. Effectively, it is calculated as the ratio between the annual dividends per share and the current share price and a higher dividend yield is attractive for dividend-seeking investors.
Eletrobras has a dividend yield trailing 12 months (TTM) of 8.51%, which is much higher than the 3.39% sector median. The ability to pay a dividend to its shareholders is one of the most attractive things about a utility company and utilities are part of every dividend-seeking portfolio strategy.

Eletrobras's Cash Flow
Another financial metric to consider when valuing a business is cash flow. It shows the company's ability to meet short, medium, and long-term liquidity needs and the free cash flow is of particular importance.
The free cash flow shows how much cash remains in the company after all costs of doing business are covered. Naturally, the higher the number, the better, because the cash generated can be used to fund expansion plans, such as opening new markets or launching new products. Also, the cash can be used to pay down debt, thus improving the solvency ratios and making the company more attractive in the eyes of investors.
Eletrobras free cash flow is expected to improve significantly in the years ahead, estimated to grow by about four times compared to the 2021 levels.

Why Buy Eletrobras Stocks?
Here are a few reasons why you might want to buy Eletrobras stocks:
Steady revenue stream;
Dividend-paying company;
Almost all energy generated comes from renewable sources;
Growing free cash flow available to the firm in the years ahead.
Expert Tip on Buying Eletrobras Stock

"

As a utility company, Eletrobras has the advantage of steady revenue flows. The business uncertainty, therefore, is insignificant, especially considering the fact that this is the largest utility company in Latin America.

"
Buy Eletrobras Stocks Today!
5 Things to Consider Before Buying Eletrobras Stock
Here are five things to consider before buying Eletrobras stock.
Understand the Company
Make sure you understand the company's business. Ideally, as an investor, you should pay attention to industry trends, regulations in the main markets, what are the risks ahead, and what might affect the business in the years ahead.
For a utility stock like Eletrobras, things like the changes in the customer base may be important, as well as what the company is doing to attract new customers (e.g., investing in new infrastructure, plans to expand to other markets, etc.).
The more data and info you have about the company, the better informed you are. Also, make sure to check the available info on the company's website, read and interpret the financial statements, as well as the forward guidance provided by the management.
Understand the Basics of Investing
Investing is not only for those who study economics, but it surely helps to understand some economic terms as well as investing ones. Things like financial ratios or money management rules do help in the investing process. Also, as an investor, you may want to make use of all the tools offered by the broker, such as the types of pending orders that help you manage the risk better.
Carefully Choose Your Broker
The stockbroker plays an important role in the investing process. Not all brokers are the same, and therefore due diligence is needed in order to pick the right one.
One thing is sure – you'll want to trade with a regulated broker. Unfortunately, not all brokers are regulated, and the presence of a financial authority that regulates the broker's activity is good for its customers. Some brokers choose to skip the regulation process because of its high costs, but it is a bad signal about the way the broker conducts business. Also, try to find out if the broker offers negative balance protection or if it segregates the customers' funds from the funds needed for the day to day business.
Decide How Much You Want to Invest
This is perhaps the most tricky part of the investing process. People are attracted to financial markets by the desire to gain some extra funds but everyone wants to become rich quickly. Because of that, errors are made, and in some cases, they lead to big losses.
Money management rules help protect an account while giving it room to grow. For example, instead of investing all of the funds in one single company, you might want to diversify your portfolio and, with it, the risk. Instead of buying one utility in one country, you might want to split the investment into multiple utility companies in different regions, thus spreading the risk of one single investment going wrong. Also, diversification works by adding to a portfolio uncorrelated assets.
Decide on a Goal for Your Investment
What is the reason you want to invest? This question, while simple, may hold the key to the strategy to be deployed.
Some traders invest for retirement. Therefore, they prefer a buy and hold approach, and the entry price is not necessarily important when you plan to hold a stock for years or decades.
Some other traders like to speculate on a stock's volatility. For them, technical analysis and fundamental analysis are important, as well as the economic releases that influence the prices every day.
All in all, the more clarity you have with what you want from your investments, the easier it is to manage the portfolio.
The Bottom Line on Buying Eletrobras Stocks
Eletrobras is the largest company in the electric energy sector in Brazil and Latin America. It is active in the generation, transmission, and commercialisation of electric energy, with almost all of it coming from renewable sources. This is a utility company, thus a dividend-paying one, with a high dividend yield and plans of expansion in Latin America. The cash flow position is set to improve in the years ahead, expected to rise four times by 2025 and beyond.
For those ready to invest in Eletrobras stocks, the next thing to do is to find a brokerage house that offers Eletrobras shares to trade. This article gives you a shortlist of such brokers, and then simply search in the database to find the company and shortlisted in the wishlist or in the favourites list. Finally, place an order or trade at the market price.
Trading at the market price means that the broker will use the current market prices to execute the order, while trading with pending orders means that the price needs to reach a certain level before an order gets executed. For example, if you want to buy from higher levels than the current market price, you might want to use a pending buy stop order and the broker will execute it only if and when the price reaches that level.
On the other hand, if you feel you are not ready and confident to invest yet, there are plenty of additional educational resources on our website. Make sure you read more about the investing process and how investing works. Ideally, open a demo account with a brokerage house to test the market using virtual funds and become familiar with the broker's offering as well as with the market's volatility.
Frequently Asked Questions
That would be hydro energy. Out of the approximately 97% clean generation sources used by Eletrobras, hydro accounts for 91.3%. The rest belongs to nuclear (3.9%), wind (1.4%), and solar (1%). Coal, diesel oil and natural gas represent only a small share in the Eletrobras installed capacity.

Most of the company's operations are in Brazil, but recently it tried to expand in other regions. As such, it is working on the development of the Arco Norte Project, a 1,900 kilometer transmission system traversing Brazil, Guyana, Surinam, and French Guiana. It also operates 1,500 kilometers of transmission lines in countries such as Venezuela or Argentina.

Eletrobras has put a strong emphasis on ESG – it received a bronze award in The Sustainability Yearbook 2021, a publication that lists the world's most sustainable companies. The list covers over 7,000 global companies from various industries and ranks them based on their scores on economic, environmental, social, and governance metrics.

Eletrobras is listed on the local B3 (Brasil, Bolsa, Balcao), a stock exchange located in Sao Paulo, Brazil. It is also listed on the Madrid stock exchange as well as on the New York Stock Exchange. Eletrobras is part of the Ibovespa index, a benchmark index of 83 stocks trading on the B3.

One solution is to book partial profits when the stock price rises and move the stop-loss order to break even. This way, you're set to make a profit even if the move higher turns out to be a false one. Another is to simply use a trailing stop order, meaning that the stop-loss order follows the move higher in price and it adjusts to higher levels automatically.

This is part of the money management system and it involves the use of a stop-loss order. Such an order instructs the broker to automatically close the position. Some traders prefer to have a "mental" stop-loss order, meaning that they will close the investment manually once the bullish case is not valid anymore, but this is risky because the market may move too fast.