How to buy Alibaba stocks in 2022
Alibaba (BABA)
...
Alibaba was founded two decades ago and it is now known as "China's Amazon". But there is more behind Alibaba Group Holding than meets the eye, so we have created this guide to Alibaba's business, how it is run, and what its future prospects are. 
This company operates through four segments: cloud computing, innovation initiatives, core commerce, and digital media and entertainment. It runs various online platforms, such as the Taobao marketplace and the Ele.me delivery and local services platform. 
How to Buy BABA Stocks in 5 Easy Steps
Visit eToro through the link below and sign up by entering your details in the required fields.

Provide all your personal data and fill out a basic questionnaire for informational purposes.

Click 'Deposit', choose your favourite payment method and follow the instructions to fund your account.

Search for your favourite stock and see the main stats. Once you're ready to invest, click on 'Trade'.

Enter the amount you want to invest and configure your trade to buy the stock.
Everything You Need to Know About Alibaba
We begin our analysis by looking at Alibaba's company history, how it earns its money, and how its shares have performed on the stock market.
Alibaba History
In its relatively short history, Alibaba's business has grown exponentially. What started with a simple online presence has transformed into a conglomerate with interests in cloud computing plus the Alibaba Health group of Internet platforms for pharmaceutical and healthcare products.
Founded by the charismatic Jack Ma, a former English teacher turned business tycoon, Alibaba employs over a quarter of a million people today. Some of its affiliate companies, such as Ant Group and Alipay, serve over one billion people and almost eighty million merchants, which tells us something about the true size of the Alibaba Group Holding business.
The company is headquartered in Hangzhou, China.
What Is Alibaba's Strategy?
Alibaba focuses on online business and has quickly expanded into areas with massive compounded annual growth rate (CAGR) potential. Helped by Chinese demographics and the relative difficulty of Western companies to do business in China, Alibaba has become the Chinese version of Amazon and founder Jack Ma has become the Jeff Bezos of China.
This company is active in the Internet and direct marketing retail industries. The group owns a diverse spectrum of businesses to spread risk rather than depending on any single business. For example, Alibaba operates the Fliggy online travel platform and the Cainiao Network logistic services platform. Other examples are Alibaba Pictures (a platform for videos and music), Koubei (a restaurant and local services guide), and Lingshoutong (a digital sourcing platform).
Cloud computing has been the cash cow for companies like Amazon, Microsoft, and Google. To benefit from the same growth potential, Alibaba has built one of the most powerful cloud computing businesses in the world, with investments in large-scale computing, storage, databases, and elastic computing.
How Does Alibaba Make Money?
The bulk of Alibaba's money comes from its China Retail Marketplaces division, with 46% of its annual revenue being driven by businesses in this division: Taobao, Fliggy, Alimama, and Idle Fish. The company constantly invests or seeds other businesses such as Taobao Grocery or Taobao Short Video.
Alibaba Cloud is responsible for about 8% of the annual revenue (and growing). Another 20% or so of sales are driven by the China Commerce Retail Others division. This name may sound a bit strange, but because Alibaba Group Holding comprises so many businesses, the "other" category is huge.
Finally, the Local Consumer Services, Cainiao Logistics Services, and International Commerce Retail divisions each contribute 5% to the annual revenue.
How Has Alibaba Performed in Recent Years?
In common with Amazon and other tech companies, Alibaba suffered the least through the COVID-19 pandemic. The tech sector was the first to erase the initial losses triggered by the pandemic, and companies in the sector quickly reversed and made new highs.
Alibaba stock was one of Wall Street's favorites, reaching over $300 in late 2020. The rising trend of the last five years remains promising, considering that the price action keeps forming a series of higher highs and higher lows (which is indicative of bullish financial markets).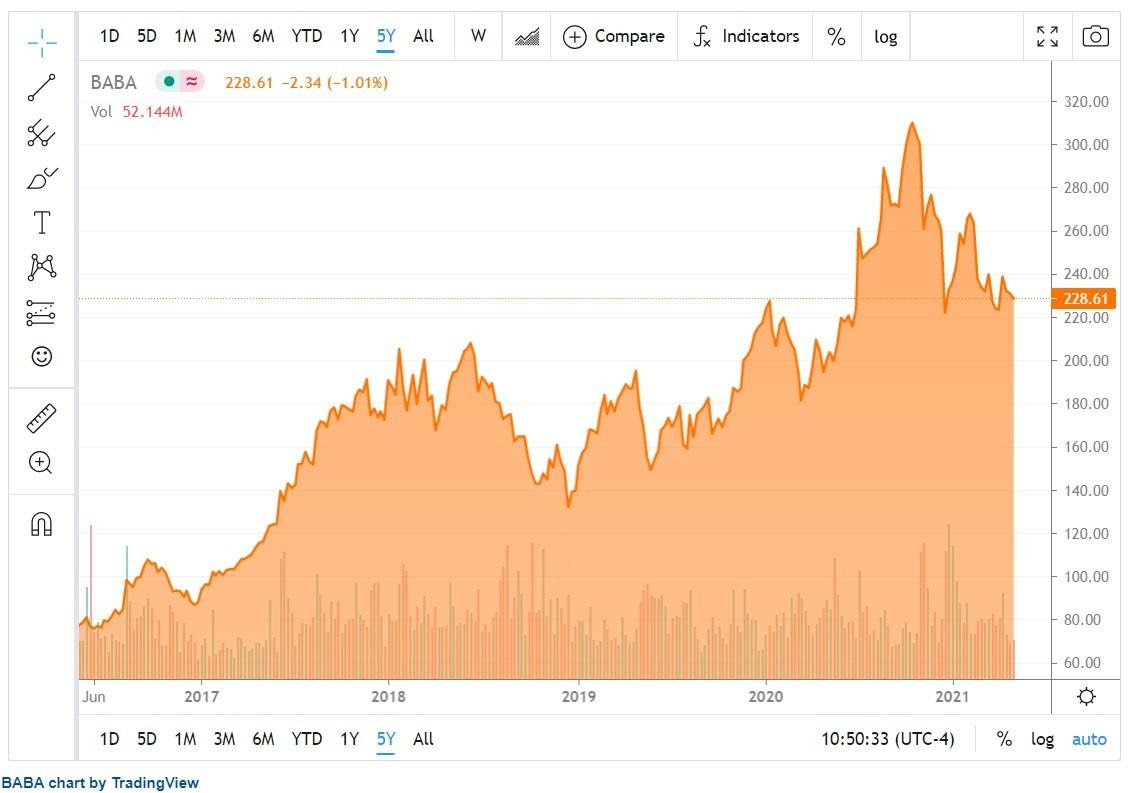 Where Can You Buy Alibaba Stock?
Alibaba Group Holding is listed on the New York Stock Exchange (NYSE) under the ticker BABA. You can gain exposure to Alibaba's businesses by buying shares directly in the group using a stockbroker account. Alternatively, you can bet on the rise or fall of Alibaba's share price via leveraged contracts-for-difference (CFD) that some online brokerages offer.
Most Popular
Min. Deposit
$10
Promotion
Trade/invest in stocks with just $10
Deposit with ACA, Wire, Pay with my bank
Invest for dividends and get payout on stocks on Ex-Dividend day
Pros:
Trade/invest in stocks with just $10
Deposit with ACA, Wire, Pay with my bank
Invest for dividends and get payout on stocks on Ex-Dividend day
Payment Methods
Bank Transfer, Wire Transfer
Full regulations list:
CySEC, FCA
Investoo Ltd is compensated if you access certain of the products or services offered by eToro USA LLC and/or eToro USA Securities Inc., as applicable. This compensation incentivizes Investoo Ltd to describe those products and services in favorable terms. Any testimonials contained in this communication may not be representative of the experience of other eToro customers and such testimonials are not guarantees of future performance or success.
Min. Deposit
$0
Promotion
$0 commission and $0 Options contract fees
Upgraded research with advanced charts
Smart Menus for faster trades
Pros:
$0 commission and $0 Options contract fees
Upgraded research with advanced charts
Smart Menus for faster trades
Alibaba Fundamental Analysis
Fundamental analysis is the process of finding the intrinsic value of a company by interpreting its financial statements. Three main financial statements provide the information you need: the balance sheet, the income statement, and the statement of cash flow.
Let's look at Alibaba's main fundamental ratios, namely its revenue, earnings-per-share (EPS), price/earnings ratio (P/E), dividend yield, and cash flow.
Alibaba's Revenue
Revenue is the first line on a company's income statement, and it represents the total value of goods and services sold over a period.
For the three months to December 31, 2020, Alibaba Group Holding reported revenue of $33,883 million, which was up 37% year-over-year. Income from operations rose by a solid 24%, indicating growing businesses and margins as suggested by the net income growth.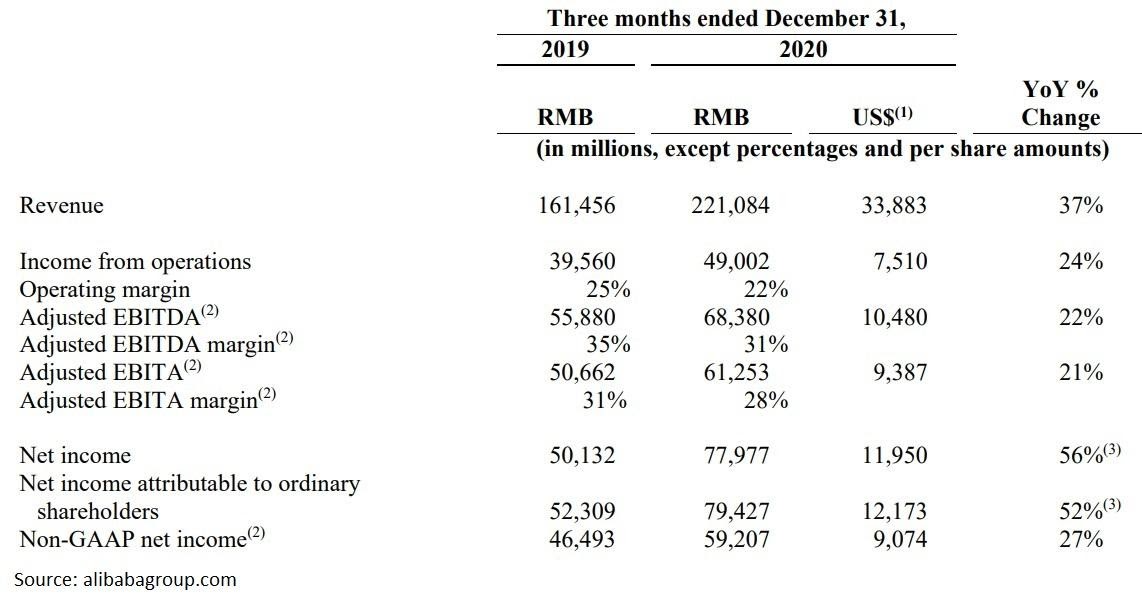 Alibaba's Earnings-per-Share
EPS shows how much the company earned per outstanding share, and it is derived from the bottom line of the income statement: the net income, adjusted for preferred dividends (if any) and divided by the weighted number of shares outstanding.
Alibaba has consistently beaten EPS expectations.

Alibaba's P/E Ratio
The price/earnings ratio follows on from the EPS calculation. P/E is calculated as the current stock price per share divided by the EPS. The lower the ratio, the more attractive the company is.
At the time of writing, one share of Alibaba stock is worth $225.31, and (according to the last quarterly report) the company earned $3.41/share. The P/E calculation, therefore, comes out at 66.07.
This means that investors are willing to pay $66 for every dollar the company generates. Although this high P/E may seem outrageously expensive, it depends a lot on investors' future expectations. If investors believe that the company can generate more revenue in the future to justify such a ratio, they will continue to buy shares.
One way to assess the fundamental ratios is to compare them with peer companies or with the industry/sector median. This will tell you if a company is undervalued or overvalued relative to its competitors.
Alibaba's Dividend Yield
Another metric to consider when valuing a company is the dividend yield that shows how much of its earnings the company shares with its shareholders. But not all companies choose to pay dividends.
Alibaba is not paying a dividend, so the dividend yield ratio cannot be calculated, but this doesn't mean that the business is a bad investment. It's just a management decision to run the business differently, maximising shareholder wealth by retaining profits within the company.
Alibaba's Cash Flow
Free cash flow is a way of measuring a company's liquidity. Note that liquidity and solvency are two different things, the former reflecting a company's ability to meet its short-term obligations and the latter relating to long-term obligations.
Naturally, the higher the cash level, the better for the company. However, cash sitting idle in the company's bank accounts forgoes the opportunity cost of not investing that cash. Therefore, a company must find a balance between how much cash to keep at hand and how much to invest in short-term marketable securities and other financial assets that can be quickly converted to cash.
Alibaba reported a strong cash position at the end of its last reporting quarter. Its cash, cash equivalents, and short-term investments were $69,933 and rising. The free cash flow position increased by 23% on a year-over-year basis.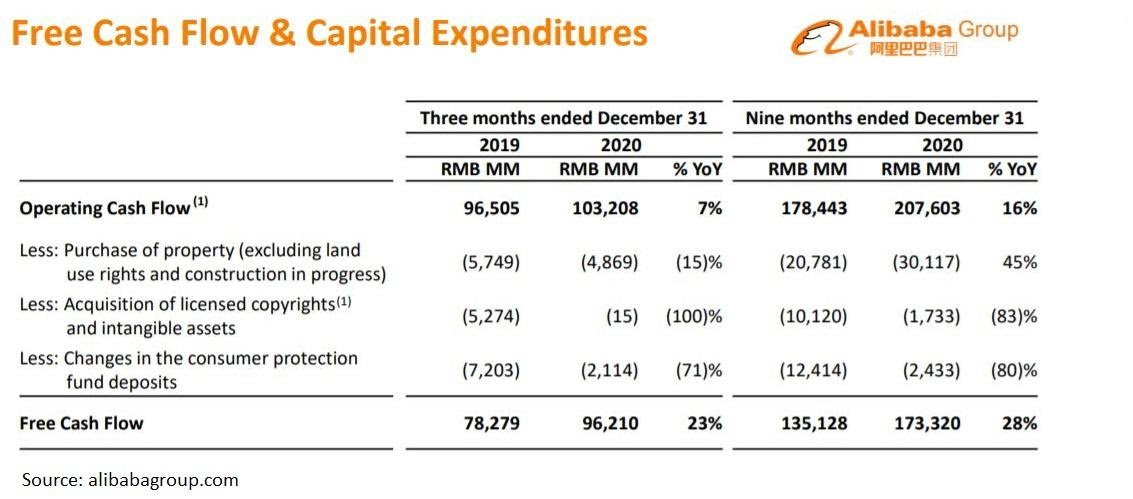 Why Buy Alibaba Stocks?
Alibaba is a tech company that outperformed during the COVID-19 pandemic. While the pandemic may soon be over, due to effective vaccines, the changes it brought to consumer behavior and remote working will likely stay forever.
For instance, Google recently announced that 20% of its workforce would work from home permanently. Consumer behavior also changed during the pandemic— online shopping rose significantly, and many people now have an online presence where previously they didn't.
Here are some more reasons why you might want to buy Alibaba stock:
Strong cash position
Growing opportunities on the online marketplace
Huge local market (in China)
Diversified businesses
Expert Tip on Buying Alibaba Stock

"

Alibaba will continue to benefit from post-pandemic changes in consumer behavior. Buying Alibaba shares via its listing on the New York Stock Exchange gives you indirect exposure to the growing Chinese economy.

"
Buy Alibaba Stocks Today!
5 Things to Consider Before You Buy Alibaba Stock
Before buying Alibaba stock — or any other company's stock — you should understand the company's business, have some knowledge about investing, be careful when choosing the broker, decide how much to invest, and set a goal for the investment. Let's look at each of these in turn.
1. Understand the Company
You should first make sure you understand a company's business or businesses. How is the company earning its money, what is the industry's growth rate, and how is the company performing compared with its peers?
2. Understand the Basics of Investing
Investing is more than blindly buying a company's shares and simply waiting. Successful investing requires an analysis of the company's intrinsic value, as per the fundamentals discussed earlier. Investors discount the future value of the company's cash flow at the required rate of return to find out if it is undervalued or overvalued, so you should learn how to do this.
3. Carefully Choose Your Broker
Your choice of broker is a critical step in the investing process. Not all brokers are the same in terms of the business model they follow and the fees they charge. A good broker is not necessarily the one that offers the lowest commissions; it could be the one that provides the necessary tools to make the investment process as smooth and fair as possible.
4. Decide How Much You Want to Invest
Different investing styles exist. Some investors choose to always have a solid cash position to take advantage of new opportunities that may arise. Some investors use a dollar-cost-averaging approach to smooth out the prices they pay for shares. Some investors like to distribute their investment funds across many different stock investments. Be sure to choose the investing style that suits you.
5. Decide on a Goal for Your Investment
Why do you invest? This is a cornerstone question before investing, and the answer defines your future expectations of the investing process. Investing requires a longer-term horizon than "trading" shares, so that's one thing to consider. Another is how much is too much for you in terms of risks and returns. Will you buy-and-hold potentially forever, or will you sell out as soon as you achieve a double-digit gain?
The Bottom Line on Buying Alibaba Stocks
Alibaba is the first name that comes to mind when thinking about Chinese online companies. And since the shares of Alibaba trade on the New York Stock Exchange, an investment in this company gives you indirect exposure to the growing Chinese economy.
When you're ready to invest, just choose the broker, find Alibaba or another stock to invest in, and place your "buy" order with the broker.
If you're not yet ready to invest, our other guides are designed to give you the confidence you need.
Frequently Asked Questions
Unlikely. Alibaba's business model and the way it rewards its shareholders do not include a dividend, but remember that some of the world's best-managed companies such as Berkshire Hathaway and Amazon don't pay dividends.

Every entrepreneur on the planet dreams of listing his or her company on a stock exchange (and particularly on one of the USA's stock exchanges). The US equity market is the largest in the world, and it offers a way for worldwide companies to gain access to Western capital. In the case of Alibaba, it works both ways: the company wanted access to American capital, and US investors wanted exposure to the Chinese economy.

It depends on the investor's time horizon and expectations. A company trading at 66 times earnings requires an investor to take a long-term perspective rather than speculating on the ups and downs of the company's share price. The best way to assess a company's P/E is not in absolute terms but relative to its peers in the same sector.

No one knows. Some of the pandemic-inspired changes in consumer behaviour may be temporary while some of them may be permanent.

It depends. If you're eager to gain exposure to the Chinese economy, and you have a long-term investing horizon, your exact entry price may be of secondary importance. But if you're intending to accumulate shares whenever the share price dips, placing pending "limit orders" to buy automatically on those dips could be a good idea.

Technical analysis refers to the process of interpreting the historical data (i.e., charts) and looking for patterns that guide educated guesses about future price movements. Many investors do not believe in technical analysis because markets in the developed world are supposed to be "efficient". However, techno-fundamental investors and traders (who combine technical and fundamental analysis) believe that they have an advantage over pure fundamental analysts.