How to buy Google stocks in 2022
Google (GOOG)
...
Google is a technology company that primarily provides digital services, such as online advertising, search engine, software, and cloud computing. It also produces hardware products such as smartphones and Chromebook computers. Google is headquartered in California, United States, and is a wholly-owned subsidiary of Alphabet Inc. At the share price of $2,872, Google has a market capitalization of $1.907 trillion at the time of writing and is ranked among the top companies in terms of market capitalization, alongside Apple, Microsoft, Amazon, and Facebook. Google owns two of the world's most-visited websites: Google and YouTube. The company is listed on the Nasdaq exchange with the ticker symbol GOOGL. 
The guide provides you with detailed information on how to buy Google stock and guides you on thoroughly analyzing the stock using different fundamental analysis metrics.  
How to Buy GOOG Stocks in 5 Easy Steps
Visit eToro through the link below and sign up by entering your details in the required fields.

Provide all your personal data and fill out a basic questionnaire for informational purposes.

Click 'Deposit', choose your favourite payment method and follow the instructions to fund your account.

Search for your favourite stock and see the main stats. Once you're ready to invest, click on 'Trade'.

Enter the amount you want to invest and configure your trade to buy the stock.
Everything You Need To Know About Google
Understanding the important aspects of the business, such as its history, strategy, revenue sources, and recent performance can help you make the right investment decisions.
Google History
Stanford students Larry Page and Sergey Brin founded Google on September 4, 1998, in California, United States. The duo intended to reform the conventional search engines that ranked web pages on the basis of the number of times the search term appeared on the page. They proposed to rank web pages on relevance, which would be determined by the number and importance of the pages linking to the original website. Page and Brin named the new search engine "BackRub" but later renamed it to its present form, Google: a misspelling of the word "googol" that signifies an uncountably large number.
In 1999, the company raised $25 million funding from Kleiner Perkins and Sequoia, two major venture capital firms. Google went public on August 19, 2004, when the company sold over 19.6 million shares at $85 per share, which raised $1.67 billion and gave the company a market capitalization of $23 billion. Google made some key strategic acquisitions: it acquired the popular video streaming website YouTube in 2006 for $1.6 billion, advertising company DoubleClick in 2008 for $3.1 billion, and telecommunications company Motorola Mobility in 2012 for $12.5 billion. The company also invested in setting up 11 data centres around the world to cater to the 1 billion unique monthly visitors to its website.
Alphabet, the parent company of Google, was formed in 2015 to restructure and reorganize the company's growing business. Google was tasked to handle the conglomerate's internet interests and became its largest wholly-owned subsidiary. Sundar Pichai took over Google as its new CEO, replacing Larry Page who took charge as CEO of Alphabet Inc.
What Is Google's Strategy?
Google's business strategy includes creating useful products for its customers, ensuring secure online sessions, supporting its business partners, and contributing its share to society. During the pandemic, the company launched around 200 new initiatives and products that helped health authorities and the general public in preventing the spread of the disease. Google and Apple developed an Exposure Notification System (ENS) that enabled health authorities to manage reopenings. More than 50 countries and states used the technology, which assisted them in making appropriate decisions to contain the proliferation of the disease. Google Meet, the company's video conferencing app, was made free of charge for use during the pandemic when businesses and the education sector switched to work-from-home and distant-learning modes.
Google ensures that its digital tools remain safe and that users' data and privacy are secured. For example, Gmail blocks around 99.9% of spam and phishing emails, while Google Play Protect scans around 100 billion apps every day for malware or spyware.
The company supports content creators and its business partners by providing them with innovative products. For example, app developers can build their businesses thanks to the Google Play store. According to Google, more than 2.9 billion users used its productivity tools like Calendar, Google Drive, Google Docs, and Google Meet in 2020. Google estimates that it generated economic activity worth $426 billion in 2020 for more than 2 billion Americans using its advertising tools.
Google plans to invest in R&D in the areas of advertising, cloud computing, machine learning, search engine, and new products and services. As part of its expansion strategy, the company regularly invests in land and buildings for data centres, offices, and information technology assets. Strategic acquisitions, investments, and the optimal use of capital will help the company to diversify its offerings, expand its capabilities in engineering and other functional areas, and build strategic initiatives and partnerships.
How Does Google Make Money?
Google generates revenue from a variety of services, including advertising, the Android operating system, YouTube, Google Maps, Google Play, search, the Chrome web browser, smartphones, and gadgets. The company's primary revenue source is advertising, whereas its secondary revenue comes from sales of apps, digital content, and in-app purchases. The company also sells hardware that includes smartphones and electronic gadgets. Google generates subscriptions and fees from YouTube Premium and YouTube TV.
Google Cloud charges its customers fees for using Google Cloud Platform (GCP) services and Google Workspace collaboration tools. "Other Bets" in Google's financial reports include a combination of operating segments, and their revenues originate primarily from the sale of internet services, licensing, and R&D services.
How Has Google Performed in Recent Years?
The stock of Google's parent company, Alphabet Inc., gained around 257% between September 16, 2016, and September 13, 2021. The stock closed at its all-time high of $2,904.31 on September 1, 2021.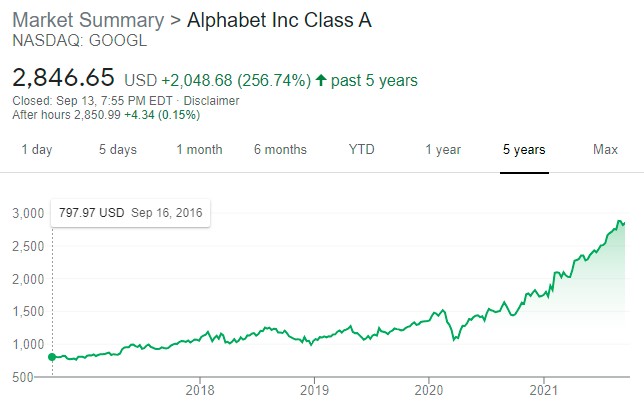 Source: Google Finance
Where Can You Buy Google Stock?
You can buy stock of Google's parent company, Alphabet Inc, by opening an account with a stockbroker. Many brokers offer different types of trading accounts, including margin accounts, cash accounts, options trading accounts, individual retirement accounts, and special-purpose investment accounts.
Most Popular
Min. Deposit
$10
Promotion
Trade/invest in stocks with just $10
Deposit with ACA, Wire, Pay with my bank
Invest for dividends and get payout on stocks on Ex-Dividend day
Pros:
Trade/invest in stocks with just $10
Deposit with ACA, Wire, Pay with my bank
Invest for dividends and get payout on stocks on Ex-Dividend day
Payment Methods
Bank Transfer, Wire Transfer
Full regulations list:
CySEC, FCA
Investoo Ltd is compensated if you access certain of the products or services offered by eToro USA LLC and/or eToro USA Securities Inc., as applicable. This compensation incentivizes Investoo Ltd to describe those products and services in favorable terms. Any testimonials contained in this communication may not be representative of the experience of other eToro customers and such testimonials are not guarantees of future performance or success.
Min. Deposit
$0
Promotion
$0 commission and $0 Options contract fees
Upgraded research with advanced charts
Smart Menus for faster trades
Pros:
$0 commission and $0 Options contract fees
Upgraded research with advanced charts
Smart Menus for faster trades
Min. Deposit
$500
Promotion
We offer one of the best execution speeds in the industry with low latency
Award-winning support in 14 languages
Trade with precision from 0.5 pips on EURUSD
Pros:
We offer one of the best execution speeds in the industry with low latency
Award-winning support in 14 languages
Trade with precision from 0.5 pips on EURUSD
Payment Methods
Bank Transfer, Bank Wire, Credit Card, Debit Card, PayPal, Sofort, neteller, skrill
CFDs are complex instruments and come with a high risk of losing money rapidly due to leverage. 68% of retail investor accounts lose money when trading CFDs with this provider. You should consider whether you understand how CFDs work and whether you can afford to take the high risk of losing your money.
Google Fundamental Analysis
Fundamental analysis entails evaluating a stock or company on a variety of financial metrics that give investors an idea about the stock's actual worth in relation to its market price. The common measures on which investors scrutinize a stock include revenue, earnings growth, earnings per share, price-to-earnings ratio, dividend yield, free cash flow, among others.
Google's Revenue
Revenue is the monetary value a company generates by selling its goods or services. An increase in a company's revenue can boost its profitability and stock price, whereas a decline in a company's revenue can reduce its profitability and reduce its stock price. Revenue is also called "top line" and can be found on the company's income statement.
Alphabet Inc. reported revenue of $61.88 billion in Q2 2021 against $38.29 billion in Q2 2020, which is an increase of 61.8% from the same quarter of the previous year.
Google's Earnings-per-Share
The earnings per share figure or EPS denotes the amount of earnings attributable to each share of stock. You can calculate a company's EPS by dividing its net profit by the average number of shares outstanding. For example, if a company's net profit is $100 million and the average number of shares outstanding is 10 million, its EPS would be $10 per share. Earnings per share can be negative if a company is making a loss instead of profit.
Companies usually report earnings per share in two forms, with differences lying in the calculation of the average number of outstanding. The basic EPS includes only common outstanding shares in the formula, while the diluted EPS also includes convertible shares (such as warrants and employee stock options) in the calculation, which dilutes the share of profit of existing shareholders as the denominator in the formula increases.
Alphabet reported a basic EPS of $27.69 in Q2 2021 as compared to $10.21 basic EPS reported in Q2 2020— a rise of 171% from the previous year.
Google's P/E Ratio
The price-to-earnings ratio, or P/E ratio, determines the ratio of the market price of a stock in relation to its earnings per share. In other words, it helps you calculate the multiples at which the stock is trading in comparison to its market price. For example, if a stock is trading at $20 while its EPS is $10, its P/E ratio would be 2x. This means that the stock is trading at twice the earnings it generates per share. Stocks that are trading at lower multiples of P/E can imply that they are cheap, but you should dig deeper and analyze other metrics as well before reaching any conclusion.
Google's trailing twelve-month P/E ratio was 27.17x on June 30, 2021.
Google's Dividend Yield
Dividends are cash payouts by the company to its shareholders from its profit. The board of directors decides whether to pay out dividends or skip them altogether, depending on their policy. Growing companies often don't pay dividends as they want to retain and reinvest the company's earnings to further expand the business. Investors who own shares of a company at least one business day before the ex-dividend date are eligible for any dividends declared by the company.
The dividend yield of a stock represents the total annual cash dividend paid out by the company as a percentage of its stock price. For example, if a company paid out annual dividends of $10 while the stock price is $50, its dividend yield would be 5%. Investors prefer stocks with high dividend yields as these stocks give them a higher return on their investments.
Alphabet Inc. has not paid any dividends to its shareholders to date.
Google's Cash Flow
A cash flow statement shows the inflows and outflows of cash separated into cash flows from investing activities, operating activities, and financing activities. The ending balance of the cash flow statement shows the amount of cash & cash equivalents held by the company. Positive cash flows from operating activities mean that the company generates more cash from its operations than it spends, so the surplus can be spent on other strategic activities.
As of June 30, 2021, Alphabet Inc. had cash and cash equivalents of $17.74 billion. The company generated $25.44 billion from operating activities in Q2 2021 compared with $41.17 billion in the same quarter of the previous year.
Why Buy Google Stock?
Google is known for rolling out innovative products and services. Google Search, Android, Chrome, Google Maps, YouTube, Google Play, and other services have become a part of the lives of most people. Here are the three reasons why you should buy Google (Alphabet) stock.
Google's strategy of building new digital and hardware products, and improving the existing ones, has made the company one of the world's largest and most valuable companies. Amidst the 2020 coronavirus pandemic, the company introduced 200 new products and features that helped the people in various ways. The fact that Google's products have been adopted globally speaks volumes about the potential of the company, which should be a good reason to include the stock in your portfolio.
Google regularly invests in research & development activities and acquires innovative businesses that can contribute to its long-term success and augment its expertise across different domains.
Google's stock has produced explosive returns since its inception due to its continuous earnings and revenue growth. The best part is that the company is still growing as it is aggressively investing in AI and machine learning that has many ground-breaking applications.
Expert Tip on Buying Google Stock

"

Alphabet stock has been climbing high since its inception. Any dips in the stock price can provide you with a buying opportunity. You can also consider applying the dollar-cost averaging technique by buying the stock in small amounts irrespective of its price, which minimizes the impact of volatility on your purchase and might lower your average cost of holding the stock. While the stock doesn't pay dividends, you can hold it for the long term to earn capital gains through stock appreciation.

"
5 Things to Consider Before You Buy Google Stock
To become a better investor or trader, you should consider the following 5 things before investing in any stock.
1. Understand the Company
Investing blindly in a stock just to jump on the bandwagon is not prudent investing. You should understand the company thoroughly to know the underlying risks and potential rewards of owning its stock. The more you become familiar with the company's operations, the higher will be your chances of making accurate decisions on buying and selling its stock at the right times. The best way to study the company's business model is to study the annual report and keep yourself updated by following the industry news. You can study the company's financials and compare them with its peers in the industry to determine whether the stock is appropriately valued on the market.
2. Understand the Basics of Investing
You should understand the basic principles of long-term investing as well as short-term trading. Try to build a well-diversified portfolio of different stocks that will spread your investment risk across different companies. In other words, you should refrain from putting all your money in a single stock that can expose you to high risk if the outcome doesn't go your way. If you are into short-term trading, you should risk only a small portion (1% or 2%) of your account on a single trade. You should always employ risk mitigation techniques and place stop loss on each of your trades to protect your capital.
3. Carefully Choose Your Broker
You should always choose a broker that gives you access to a robust trading platform with mobile trading features. Also, choose a broker that charges low commissions or spreads, allows you to trade a wide range of financial assets, and supports popular deposit and withdrawal methods. Opening your account with a regulated broker will safeguard you from getting defrauded. So, you should review a broker and compare its services with the other ones to choose the best one among them.
4. Decide How Much You Want to Invest
Before investing or trading, you should determine how much to invest. If you invest a large amount of money without mitigating the risk of losing your capital, you could find yourself in trouble. One of the basics of investing is that you should open smaller positions and limit the use of leverage because even a small movement can wipe away your account if you open large or leveraged trades.
5. Decide on a Goal for Your Investment
Your investment goal will determine the type of investment strategy you adopt to achieve that goal. If your investment goal is to beat the popular benchmark, such as the S&P 500 index, you might have to assume higher risk and pick stocks that can generate higher returns. There is always a risk-return trade-off. So, if an investor sets a goal of acquiring high returns, they will have to assume higher risk, and vice versa.
The Bottom Line on Buying Google Stocks
Tech giant Google continues to impress investors with its above-average financial results, and it impresses customers with its interesting products and services. In Q2 2021, Google's ad revenue jumped by 69% YoY to reach $35.8 billion while YouTube's ad revenue increased by 84% YoY to reach $7 billion. Also, Google Cloud registered 50% growth that helped slash its cloud business operating losses. The company is making investments in its new ventures: Waymo (a self-driving technology company), Verily (a life sciences company), and Calico (a healthcare research company). The company has plenty of growth prospects, and investors are upbeat about its stock.
If you want to invest in the stock of Google's parent company, Alphabet, you can open an equity account with a stockbroker. This is an easy process that requires filling out an online form and uploading your identity documents. Most brokers will open your account within three business days after verifying your credentials. After your account is successfully created, you can fund it using any of the popular deposit methods, such as Paypal, credit or debit cards, and wire transfers.
If you want to learn about other exciting stocks, check out the companion pages to this one or click here.
Frequently Asked Questions
Google's parent company, Alphabet Inc., is listed on the Nasdaq exchange with the ticker symbol GOOGL.

Google primarily earns revenue from Google search ads and YouTube ads.

Google has not paid out any dividends since its inception, but it has generated significant returns for its shareholders through stock price appreciation.

The United States accounted for 47% of Alphabet's total Q2 2021 revenue, while Europe, the Middle East, and Africa accounted for 30% of the company's Q2 2021 revenue.

Alphabet, the parent company of Google, was formed in 2015 to restructure and reorganize the company's growing business.

The Initial Public Offering of Google took place on August 19, 2004, when the company sold over 19.6 million shares at $85 per share, which raised it $1.67 billion and gave the company a market capitalization of $23 billion.