How to buy Lufthansa stocks in 2022
Lufthansa (LHA)
...
Lufthansa, or Deutsche Lufthansa AG, is a German group of companies that commenced operations in 1955. The group has approximately 550 subsidiaries, including Austrian Airlines, Brussels Airlines, Swiss International Airlines, Air Dolomiti, and Eurowings. The company is headquartered in Cologne, Germany, and is listed on the Frankfurt Stock Exchange (FRA) with a ticker symbol of LHA. Its stock is a component of the MDAX index for German companies and is categorized into the industrial sector and the airline industry.
How to Buy LHA Stocks in 5 Easy Steps
Visit eToro through the link below and sign up by entering your details in the required fields.

Provide all your personal data and fill out a basic questionnaire for informational purposes.

Click 'Deposit', choose your favourite payment method and follow the instructions to fund your account.

Search for your favourite stock and see the main stats. Once you're ready to invest, click on 'Trade'.

Enter the amount you want to invest and configure your trade to buy the stock.
Everything You Need To Know About Lufthansa
Learning about a company before investing in its stock allows you to determine the fair value of the stock based on different factors, including fundamentals, business model, corporate strategy, revenue sources, competitive position, and many others.
Lufthansa History
Lufthansa was founded in 1953. It started operating as an airline in 1955 and transformed into a group of companies in the 1990s. The airline reached the milestone of transporting its millionth passenger in 1958, just three years after commencing its operations.
In the 1960s, the airline modernised its fleet by replacing propellers with jets that saved flight time on all routes. The Boeing B707 was introduced on the North Atlantic and Far Eastern routes, while Boeing B720Bs were deployed on Middle East routes. In 1971, the airline inaugurated the world's largest air cargo hall of the time, Frachthof 3, in Frankfurt. In 1977, Lufthansa incorporated its subsidiary, German Cargo Services GmbH (GCS), which operates cargo chartered flights.
In 1988, Air France and Lufthansa jointly incorporated the French airline "EuroBerlin France" in Paris, with Air France holding 51 percent and Lufthansa holding 49 percent of the share capital. Lufthansa, Air Canada, Thai Airways, SAS, and United Airlines founded the "Star Alliance" — the world's largest global airline alliance —in Frankfurt am Main, Germany. The alliance has 26 members and 40 affiliates, and it serves approximately 762 million passengers annually from 1,294 airports in 195 countries.
What is Lufthansa's Strategy?
Lufthansa's management aims to become a leading European airline group, and it is in the process of implementing a program called ReNew to restructure and turn around the company. The objective is to improve profitability by introducing a lean, agile, and efficient production structure across all the group companies. The management plans to reduce the workforce by 27,000 full-time employees and cut the fleet by up to 150 aircraft. This will enable it to improve its profitability (through cost-cutting) and compete with the leading players in the market.
The company also plans to sell some of the non-European and non-airline businesses of its subsidiary, LSG Group. During the coronavirus crisis, the company secured financing through various government support packages that it intends to repay promptly using various financial instruments. The company's balance sheet is being strengthened using various measures to regain the investment-grade rating it lost post the pandemic.
How Does Lufthansa Make Money?
The company's business segments include network airlines and Eurowings that run flight operations, air freight and logistics services, maintenance, repair & overhaul services (MRO), and inflight catering services. However, the airline business generates the most revenue for the group.
Lufthansa German Airlines is the largest airline in Germany and its main operations hubs are Frankfurt and Munich airports. Lufthansa serves more than 200 destinations worldwide with a fleet size of more than 250 aircraft.
How Has Lufthansa Performed in Recent Years?
Lufthansa stock was trading on the Frankfurt Stock Exchange at €11.07 five years ago and (at the time of writing) is down more than 26% from the September 2016 levels. The stock hit its all-time high at €31.03, after which it slid downwards to its current level. The plummet was exacerbated by the pandemic situation that battered the airline industry worldwide.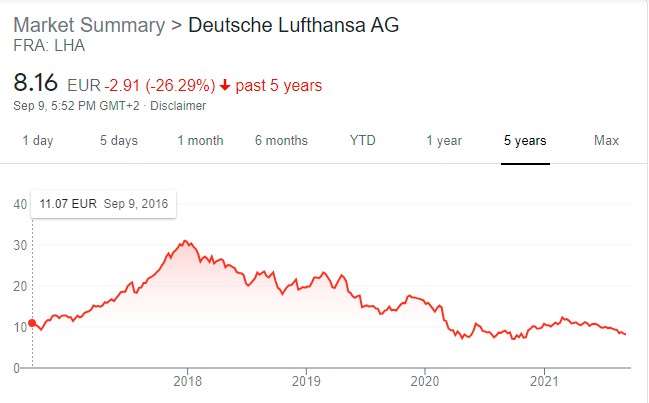 Lufthansa 5-year chart. Source: bloomberg.com
Where Can You Buy Lufthansa Stock?
You can buy Lufthansa stock by opening an equity trading account with a stockbroker. Some brokers also allow you to open margin accounts that let you trade stocks using money borrowed from your broker. You can also open retirement accounts, systematic investment plan (SIP) accounts, and other specialized accounts.
Most Popular
Min. Deposit
$10
Promotion
Trade/invest in stocks with just $10
Deposit with ACA, Wire, Pay with my bank
Invest for dividends and get payout on stocks on Ex-Dividend day
Pros:
Trade/invest in stocks with just $10
Deposit with ACA, Wire, Pay with my bank
Invest for dividends and get payout on stocks on Ex-Dividend day
Payment Methods
Bank Transfer, Wire Transfer
Full regulations list:
CySEC, FCA
Investoo Ltd is compensated if you access certain of the products or services offered by eToro USA LLC and/or eToro USA Securities Inc., as applicable. This compensation incentivizes Investoo Ltd to describe those products and services in favorable terms. Any testimonials contained in this communication may not be representative of the experience of other eToro customers and such testimonials are not guarantees of future performance or success.
Min. Deposit
$0
Promotion
$0 commission and $0 Options contract fees
Upgraded research with advanced charts
Smart Menus for faster trades
Pros:
$0 commission and $0 Options contract fees
Upgraded research with advanced charts
Smart Menus for faster trades
Min. Deposit
$500
Promotion
We offer one of the best execution speeds in the industry with low latency
Award-winning support in 14 languages
Trade with precision from 0.5 pips on EURUSD
Pros:
We offer one of the best execution speeds in the industry with low latency
Award-winning support in 14 languages
Trade with precision from 0.5 pips on EURUSD
Payment Methods
Bank Transfer, Bank Wire, Credit Card, Debit Card, PayPal, Sofort, neteller, skrill
CFDs are complex instruments and come with a high risk of losing money rapidly due to leverage. 68% of retail investor accounts lose money when trading CFDs with this provider. You should consider whether you understand how CFDs work and whether you can afford to take the high risk of losing your money.
Lufthansa Fundamental Analysis
Fundamental analysis involves evaluating different financial metrics of a company to determine the intrinsic value of the company's stock for investment purposes. Price-to-earnings ratio, revenue, revenue growth rate, earnings per share, dividend yield, and free cash flows are the most common statistics that investors assess before making their investment decisions.
Lufthansa's Revenue
The Lufthansa Group reported revenue of €3,211 million in Q2 2021, which was 69.5% higher than the same quarter in the previous year. The revenue for the first half of 2021 was €5,771 million, down by 31% year over year. The Network Airlines segment contributed 35%, while Logistics, and Maintenance, Revenue, and Overhaul (MRO) segments contributed 29% and 24% of the group's total revenue in the first half of 2021.
A company's financial reports often contain revenue figures categorised by revenue segments, which can give you further details about the company's revenue sources.
Lufthansa's Earnings-per-Share
A company's earnings-per-share is calculated by dividing net profit available for common stockholders by the number of shares outstanding. It represents how much of the company's profit is available for each share outstanding. In case of a loss, there will be a loss per share and the EPS figure will be negative. You can find the EPS metric on the income statement of the company.
The Lufthansa Group reported a loss per share of €3.02 for the half-year 2021 against €7.56 loss per share reported for the same period in the previous year.
Lufthansa's P/E Ratio
The P/E ratio, or price-to-earnings ratio, calculates a stock's market price in relation to its earnings per share. In other words, the ratio calculates the multiples a stock is trading compared to its earnings per share. For example, if a stock has an EPS of €10 and is trading at €50, its P/E ratio turns out to be 5. This means you are paying 5 times the earnings available to you, so it would take you 5 years to make your money back if the ratio remains the same.
The P/E ratio of Lufthansa Group on June 30, 2021, at a half-yearly loss per share of €3.02 and the day's closing market price of €9.49 turned out to be -3.14.
Lufthansa's Dividend Yield
The dividend yield is measured in percentage terms and determines how much dividend per share a company has paid relative to its stock closing price that day. Investors prefer stocks with high dividend yields as they offer a high return on investment even in the absence of stock appreciation. Investors need to purchase stock at least one business day before the ex-dividend date to be eligible for dividend payment.
Lufthansa Group paid out €0.5, €0.8, and €0.8 as dividends from 2016 through 2018. The dividend yield of the stock translates into 1.06%, 1.92%, and 3.53% from 2016 through 2018. However, the group took a bailout package under the Economic Stabilization Fund, which suspends dividend payments until at least 2023 when the stabilization measures are expected to expire. The AGM meeting of the group in May 2020 decided to retain the earnings of the year 2019 within the group as part of the stabilization measures.
Lufthansa's Cash Flow
The cash and cash equivalents of the Lufthansa group for the half-year ended 2021 were € 2,042 compared with €1,211 for the same period the previous year. The group's adjusted free cash flow during the half-year 2021 was minus €607 million as compared to minus €510 million in the same period the previous year.
You can find the cash and cash equivalents figure in the statement of cash flow part of the company's annual or quarterly financial statements.
Why Buy Lufthansa Stocks?
The following strong attributes of the group's business can provide investors with plenty of reasons to invest in its stock.
The group operates the largest airline in Germany and is among the big players in Europe.
The company has implemented a strong restructuring strategy to combat the long-term negative fallouts of the pandemic disruptions.
With the demand for air travel expected to rebound to the pre-pandemic levels, Lufthansa is better positioned to benefit from it in the coming years.
Expert Tip on Buying Lufthansa Stock

"

Lufthansa, like other airline stocks, is struggling due to the evaporation of air travel demand during the pandemic. The situation has improved marginally but experts believe that demand might not fully recover until late 2023. High overheads in the airline industry are going to take their toll but the company has a strong restructuring and stabilization plan in place to help it sail through turbulent times. Investors can consider buying small quantities of stock on the dips, to build a position ready for when the demand returns.

"
Buy Lufthansa Stocks Today!
5 Things to Consider Before You Buy Lufthansa Stock
You need to consider the following five important points before buying Lufthansa stock:
1. Understand the Company
Understanding the company's business model, revenue sources, competitive environment, and strategy can help you make an informed investment decision. You need to keep yourself up to date about the latest company and industry developments to decide if (or when) to buy or sell the stock.
2. Understand the Basics of Investing
Even if you are a beginner investor, a basic understanding of investing will give you a lot of confidence in picking stocks, building your portfolio, and executing short-term trades. You need to understand the concept of risk mitigation through diversification, how to analyze stocks using various metrics, and also know the money management techniques to open a position at a size that keeps your risk at manageable levels.
3. Carefully Choose Your Broker
You need to choose your stockbroker carefully because your trading success depends on the broker's services as well as your own skills. You should choose a broker that offers a robust trading platform, has low fees and commissions that will lower your trading costs, and allows trading a large number of trading instruments. If you are undercapitalized, you can consider opening an account with a broker that provides maximum leverage.
4. Decide On How Much You Want to Invest
If you find a lucrative investment opportunity, you need to decide on the amount of money you want to invest. You need to diversify your investment risk by allocating only a small portion of your available funds to each of your investments. In other words, you should not overexpose yourself to a single investment, which can fall you in deep trouble if your investment doesn't turn your way.
If you want to open a short-term trade, you need to calculate your trade size based on your risk per trade. Experts recommend that you should only risk 1% to 2% of your account on your trade and use a protective stop loss to limit your downside risk.
5. Decide on a Goal for Your Investment
The investment strategy you adopt depends on your investment goal and your risk tolerance. Young investors saving for retirement can have an aggressive investment strategy as they can afford to take risks because of their long-term investment horizon. They can allocate a large portion of their holdings in stocks. On the other hand, investors who are closer to retirement cannot afford to lose money on their investments, so they might invest a large portion in bonds that are less volatile and provide a stable (albeit lower) return.
The Bottom Line on Buying Lufthansa Stocks
Lufthansa Group stock gives you exposure to one of the largest groups of airlines that dominate the skies of Europe and Germany. The group generates revenue from different business segments, including Network Airlines, Catering, Logistics, MRO, and Eurowings.
The company, like other airline stocks, suffered as a result of the pandemic. However, the management has been proactive and is keeping the airline afloat through a comprehensive restructuring and stabilization program despite the challenges. While the group had been able to improve its revenue performance for the half-year ended June 30 2021 on the back of easing of travel restrictions and faster vaccination progress, the volume of business is still way below the pre-pandemic levels. The company's strong progress on the restructuring programme has reduced the operating losses compared with previous quarters.
If you want to invest in Lufthansa stock, you should select a stockbroker to open your trading account. Most brokers allow you to open your trading account online by filling out an online questionnaire and a form. You will be asked to verify your identity by uploading scanned images of proof of residence and/or your ID card. After successfully creating your account, you can place an order on an online trading platform to buy your favourite stock.
If you want to explore other interesting stocks, many other guides on our website cover hundreds of stocks and provide in-depth information to facilitate your in your stock selection process.
Frequently Asked Questions
It is a fact that the pandemic has ravaged the airline industry, but different airline stocks have different financials, fundamentals, and operate in different competitive environments. Lufthansa is a large company with a dominant position in Europe and Germany, so it is better positioned than some competitors to capitalize on the recovery in the demand for air travel. The improvement in the group revenues due to marginal improvement in the air travel conditions could be seen in the second-quarter 2021 results. While there are risks, the airline stocks might be bottomed out as all the negatives have already been priced into the share prices. There might be a significant upside allowing aggressive investors to jump in and build positions on dips.

The group's Network Airlines segment — which includes Lufthansa German Airlines, Swiss, Austrian Airlines, and Brussels Airlines — had a 35% share, while Logistics and MRO had shares of 29% and 24%, respectively, in the group's total revenues.

Lufthansa Group's management has implemented a group-wide restructuring programme that aims to cut costs, attain liquidity, and improve profitability. The group has reduced its fleet size by 150 aircraft and also relieved around 28,000 full-time staff from their positions. The group also borrowed €3.9 billion as part of the government's stabilization measures to support the company in staying liquid. The group also received payments and subsidies to the tune of USD 47 million under the CARES act.

Lufthansa stock trades on the Frankfurt Stock Exchange (FRA) with a ticker symbol of LHA.

As part of the stabilisation measures, the Economic Stabilisation Fund (WSF) disbands dividend payments until the full repayment of loans. Based on estimates, the company is expected to skip dividend payments until 2023, at least.

The Eurowings segment includes the flight operations of Eurowings Europe and Eurowings. The group's equity investment in SunExpress, a Turkish-German airline, is also included in the segment.