2 reasons why US equities remain bid despite rising YoY inflation
US inflation reached 7.5% YoY in January – the biggest annual increase in inflation in 40 years. Why is the stock market still bid?
The main event of the trading week is now behind us, as the US inflation data for January was just released a bit earlier today. The prices of goods and services in the US firmed to their highest levels in four decades.
More precisely, this is the highest CPI inflation since 1982.
Used cars, airfare, and electricity prices rose by 1.5%, 2.3%, and 0.9%, respectively. As a result, both the headline and core CPI rose to four-decade high levels, and yet the stock market barely blinked – at the time of writing this article, the Dow Jones Industrial Average (DJIA) is roughly unchanged on the day, down about 100 points or so.
Here are two reasons why equities are still bid:
Higher inflation weighs on the dollar
The Fed looks trapped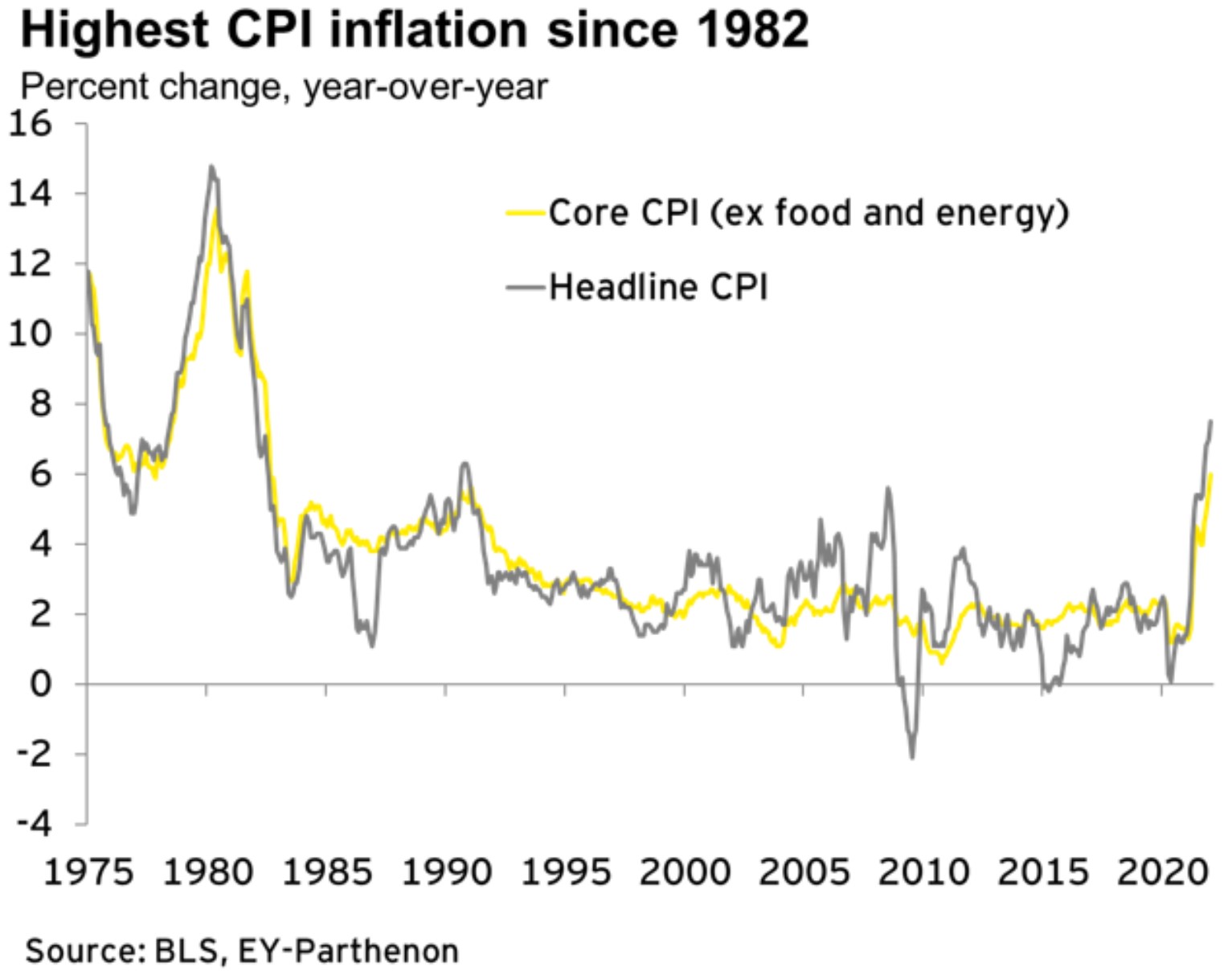 Higher inflation weighs on the dollar
The dollar dropped across the board on inflation data, despite the opposite initial reaction. The idea behind the move is that inflation is typically detrimental to the value of a currency.
Now that inflation has reached levels not seen since 1982, it represents an unknown to most market participants, not to mention central bankers. Moreover, the Fed still runs quantitative easing in February, so, if anything, inflation will rise even more before the March meeting.
Another reason for the decline in the dollar, which supports equities, is the time it takes for rate hikes to mean something. This is because the transmission mechanism of rate hikes throughout the economy is complex and takes a lot of time (about six months or so). Hence, even with a rate hike in March, the hike's effect will have little or no impact on the economy.
The Fed looks trapped
Another reason that supports stocks comes from the Fed – it looks trapped here. After today's data, the market implies a 50% chance of a 50bp rate hike in March.
A little more than that and the Fed is "forced" to hike that much, just not to be seen as behind the curve. If it hikes only 25bp, the market would see it as easing and not tightening, thus bullish for stocks.