Best 3 lithium & battery stocks to buy as EV adoption increases
EV adoption increases worldwide, leading to strong demand for lithium and batteries. So what are the best Lithium and battery stocks to buy?
The COVID-19 pandemic and now the Russia-Ukraine war led to supply chain disruptions that still affect the global economy. Moreover, the urgent, unprecedented measures taken by governments worldwide led to delays in plans for reaching green targets.
However, plans are in place, and most advanced economies have ambitious targets to reach net-zero emissions in the decades to come. Funds are available, and various measures have been announced to stimulate the population to make the transition to an electric vehicle (EV).
Lithium has numerous industrial uses, but the highest potential is seen in the battery market. As every EV needs a battery, what are the best lithium and battery stocks to buy as EV adoption increases?
Albemarle Corporation
Albemarle Corporation (NYSE:ALB) is a specialty chemicals company from the United States. Founded in 1887, it has a dedicated Lithium segment that offers lithium hydroxide and chloride and other lithium-based products used in the EV industry.
Albemarle is a dividend-paying company with a 5 year growth rate of 5.04%. Moreover, it increased the annual dividend in the past 27 consecutive years.
The stock price peaked in November last year, and it is in retreat ever since. Nevertheless, the series of higher highs and higher lows remains intact thus, the bullish bias persists.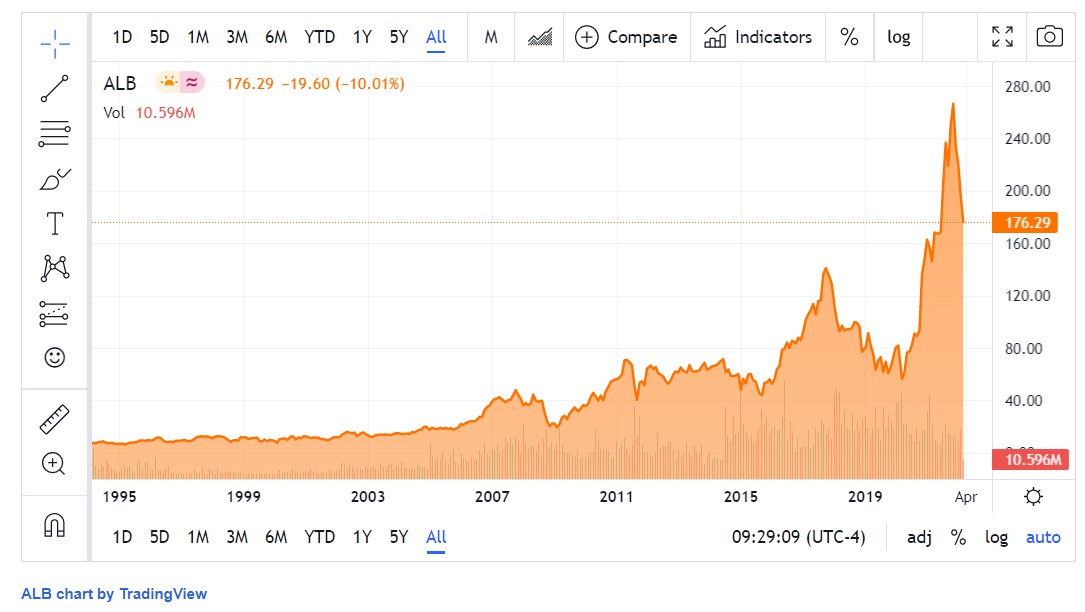 Tesla
Tesla (NASDAQ:TSLA) needs no introduction as its brand gained worldwide recognition. It grew into a company that employs about 100,000 people and makes batteries for EVs too.
The stock price declined from above $1,000 after Elon Musk, the company's CEO, sold some of his shares to raise funds for paying taxes. Nevertheless, the company is valued at $822 billion and has an enterprise value of $814.59 billion.
PPG Industries
PPG Industries (NYSE:PPG) is an American specialty chemicals company based in Pittsburgh, Pennsylvania. It manufactures numerous products, such as products used as battery separators, and it is one of the US companies that increased its annual dividend in the past 49 years.
The forward dividend yield is 1.94%, and the payout ratio is 33.38%. Moreover, PPG Industries increased the dividend by 7.62% in the past five years.