Best aerospace and defense stocks to buy in April 2022: HEI, TXT, and LMT
Aerospace and defense stocks are a good way to diversify the portfolio when conflicts among nations arise. So what are the best aerospace and defense stocks to buy in April?
Since the conflict between Russia and Ukraine started, investors' attention turned to aerospace and defense stocks. This is because they tend to do well when a war starts and also pay a dividend.
So what are the best aerospace and defense stocks to buy in Apri? Here are three names to consider: Heico Corporation, Textron, and Lockheed Martin Corporation.
Heico Corporation
Heico Corporation (NYSE:HEI) was founded in 1957 and is based in Florida. It makes products for the aerospace and defense industry, such as aircraft component replacement parts.
The stock price gained over 17% in the last twelve months, and Heico pays a dividend – the forward dividend yield is 0.12%, and the 5-year growth rate is 15.64%. Heico increased the annual dividend for the past eight consecutive years.
The company operates with a gross profit margin of 39.17%, higher than the sector median by 35.46%. Also, the EBIT margin for the past twelve months exceeds the sector margin by over 120%.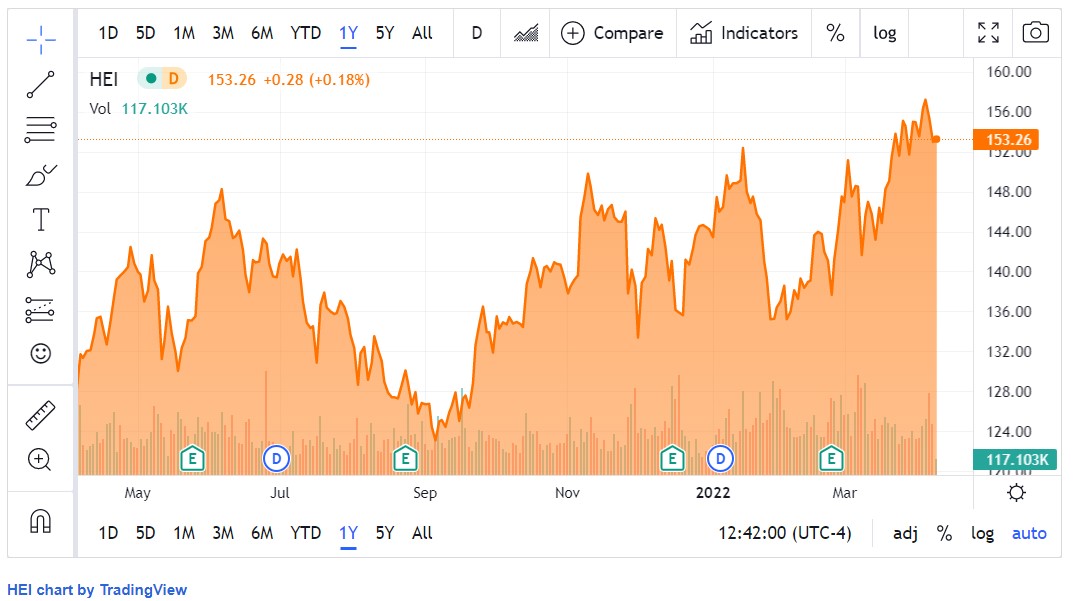 Textron
Textron (NYSE:TXT) was founded in 1923, and it manufactures and sells piston engine aircraft, among others. It also supplies military components and serves governments around the world.
Textron pays a small dividend, and the stock price gained +46.82% in the past five years. Most analysts have a buy rating for Textron's stock price (15 out of 22 analysts), while 7 analysts have issued a neutral rating. No analyst has issued a sell rating for the stock.
Textron is valued at $15.33 billion at the current stock market price, and the enterprise value reached $17.56 billion.
Lockheed Martin Corporation
Lockheed Martin Corporation (NYSE:LMT) was founded in 1912 and is one of the largest aerospace and defense companies worldwide. It employs over 100,000 people, and its forward dividend yield is 2.46%.
Moreover, the dividend payout ratio is 38.9%, and Lockheed Martin increased the annual dividend in the past twenty consecutive years. The stock price is up by more than 20% in the past twelve months.