Dax index signal after rising 2,000 points from the lows
Dax index rose more than 2,000 points from the recent lows. Is there scope for more upside, or should investors fade the recent rally?
The German stock market index declined so far in the day, but the move comes at the end of a strong rally. The index is up more than 2,000 points from its recent lows, and it appears that it is only consolidating before a new attempt higher.
Europe is a complicated place right now. The Russia-Ukraine conflict triggered a wave of sanctions from the Western nations to Russia, and they might have a boomerang effect on the European economies.
Germany, in particular, is in a sensible place, as it is energy-dependent on Russia. As such, the Dax index declined abruptly at the start of the conflict in Eastern Europe, but the recent bounce looks constructive.
Inverse head and shoulders pattern points to more upside
An inverse head and shoulders pattern visible on the 4h timeframe points to more upside, providing the Dax index closes above the neckline. This is a reversal pattern, and a daily close above 14,800 points opens up the possibility for a run to a new all-time high, as suggested by the measured move.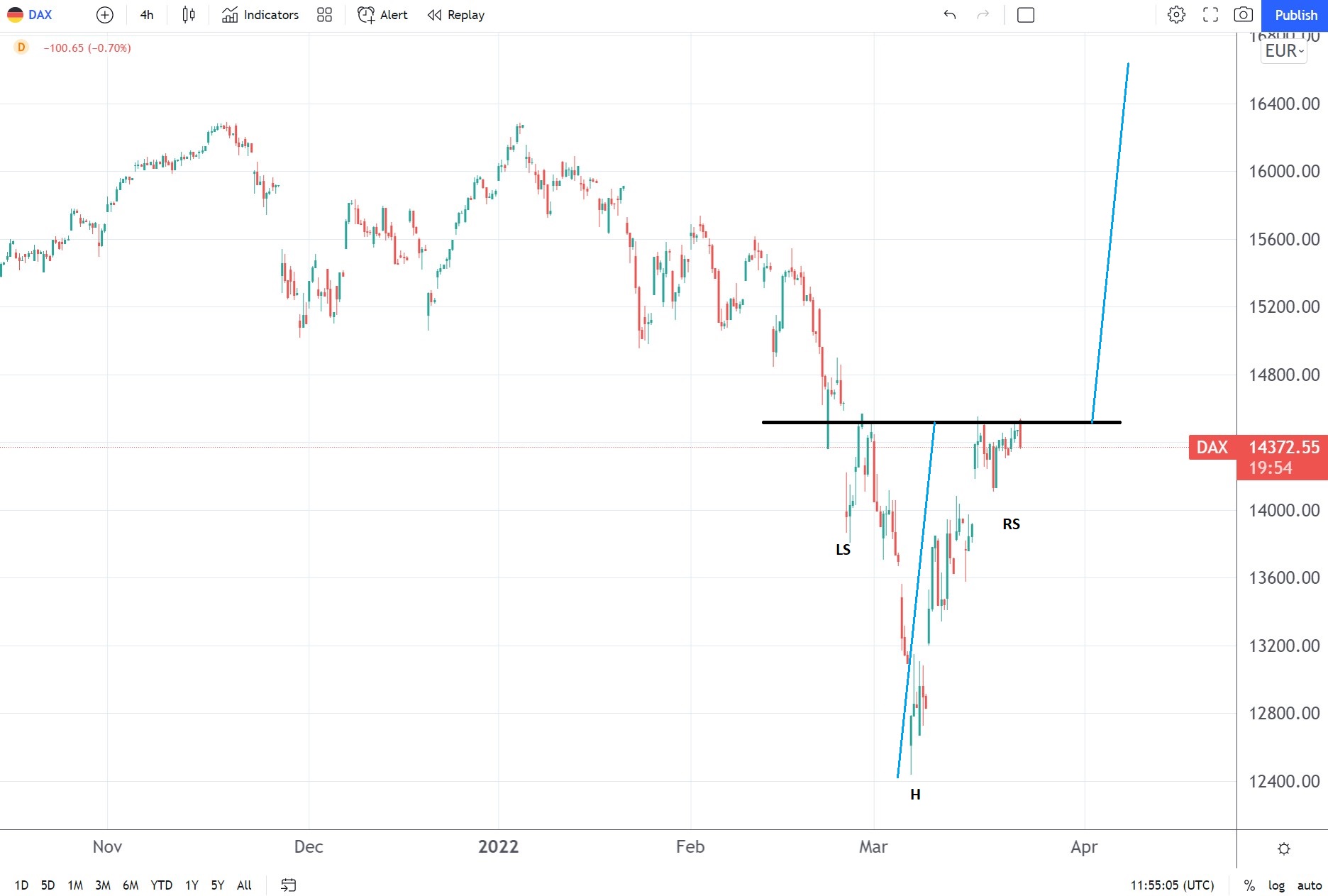 ECB keeps the monetary stance accommodative
One reason that might explain the bounce in the European stock markets comes from the ECB. Despite delivering a hawkish rhetoric, the central bank kept the monetary policy unchanged.
Ather the market participants digested the message, stocks bounced as, ultimately, the monetary policy remains accommodative, at least for now.
It is not what one can say about the UK or the US markets, where the central banks raised the rates already. As such, stocks remain attractive, and the recent bounce looks constructive.
War in Ukraine a major risk for European equity markets
On the flip side, the war in Ukraine and its long-term consequences are a major risk for investing in Europe. With millions of refugees fleeing Ukraine, a solution is not in sight, and the conflict might take much longer than many expect.