FTSE 100 index rises 1% at the opening, bounces from horizontal support: will it keep rallying?
FTSE 100 rises at the market's opening, reacting from strong horizontal support. Will it keep rallying, or another leg lower is in the cards?
Financial markets' volatility has increased significantly since the Russia-Ukraine conflict started. The Western nations' response to Russia invading Ukraine was a set of sanctions and restrictions by both governments and the private sector.
All countries in the Western world announced various measures in solidarity with what happened to Ukraine. But the measures would also affect the companies previously doing business in Russia, thus, their profitability.
One example is British Petroleum. It sold its 20% stake in a Russian company and took a big financial loss.
As such, the recent decline in the FTSE 100 index may be viewed as a reaction to the macro events impacting Europe. Equity investors pull some chips off the table as uncertainty reigns.
Nevertheless, the move lower brought the index back to 6,800 points. This is an area where strong horizontal support led to the market bouncing previously.
It did so again today, but can it hold above?
Bullish bias holds while above 6,800 points
Despite the recent drop, the FTSE 100 index keeps a bullish bias while trading above 6,800 points. It is for the fourth time in a row when the index reacts to horizontal support, and, therefore, one can say that this is a pivotal level moving forward.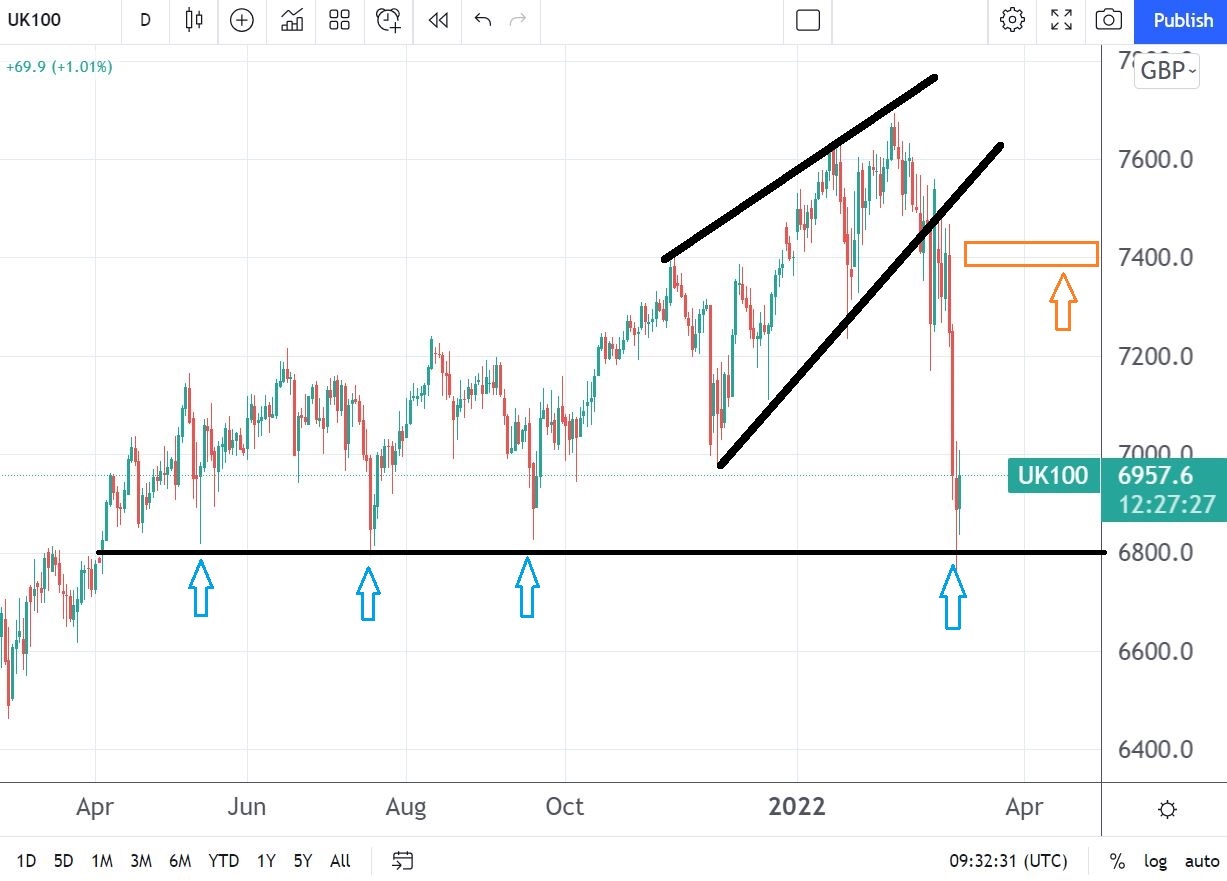 One can also note the market's difficulty in advancing in the last months. In 2022, it only managed to make marginal highs, and a rising wedge pattern formed on the daily timeframe.
A rising wedge is a reversal pattern, signaling more downside once the market breaks below the lower trendline. It did so with the conflict in Ukraine, but on its way lower, the FTSE 100 index failed to break horizontal support.
So what would be the level the bulls want to see the market at before buying again?
That would be 7,400. A daily close above that level would trigger more upside because such a move would invalidate the rising wedge pattern.