Is it safe to buy Home Depot stocks after plummeting 8% on 2022 forward guidance?
Home Depot stock price diving as management warns on a challenging year ahead. Is it safe to buy it here?
One of the week's main events in terms of earnings reporting was Home Depot's earnings call. Yesterday, the company reported better than expected results, and yet the stock price has plummeted by more than 8%.
The key to interpreting Home Depot's results is forward guidance. Management warned that 2022 would be challenging for the company, even though it said to expect slightly positive same-store sales.
Q4 FY2021 highlights
Sales increased by 10.7% when compared to the same quarter one year ago. Comparable sales were up too.
Moreover, diluted earnings per share rose by 21.1% YoY. All in all, 2021 was a record year for the company, with over $150 billion in sales.
To celebrate the milestone or to provide a sweetener for the poor guidance, management announced a 15% increase in the quarterly dividend. More precisely, the quarterly dividend will rise to $1.90/quarter or $7.6/year, starting with March 24, 2022.
It is worth mentioning here an outstanding milestone that Home Depot reached. That is, the number of consecutive quarters during which the company has paid a dividend has reached 140.
What do the charts tell us?
The technical picture shows a damaged bullish setup. The market topped at $420 at the end of 2021 and formed a double top pattern.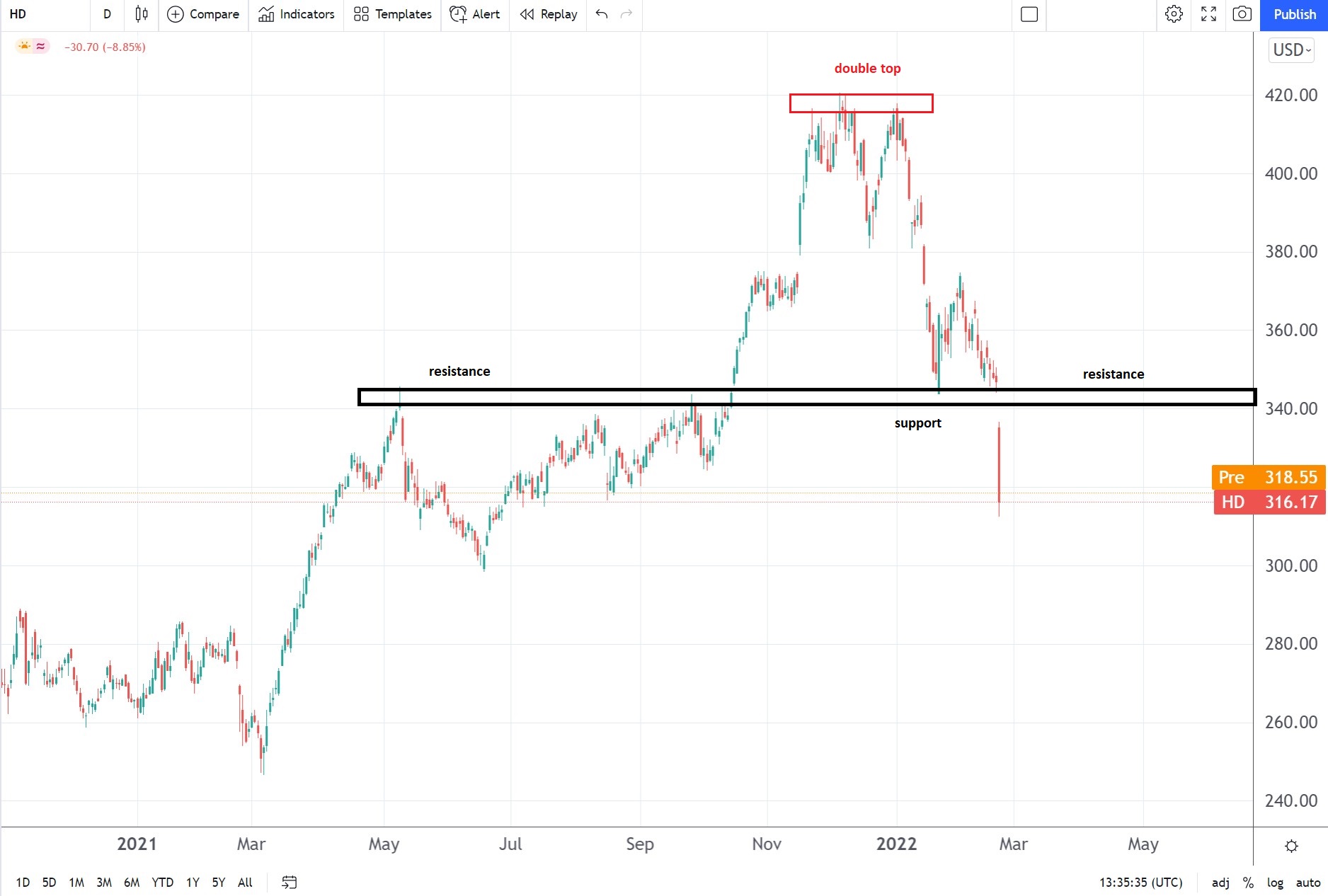 Home Depot's stock price found support at previous resistance on its move lower. It bounced for a while, but the poor 2022 guidance triggered a selloff that broke support.
As such, support became resistance. Therefore, the $340 area should act as resistance on any attempt higher.
Or, one might say that the bias from now on is bearish, while the stock price remains below $340. On the other hand, a daily close above $340 puts bulls back in control.
All in all, Home Depot delivered record sales and earned more than the market estimated for 2021. However, the poor forward guidance was enough to trigger a selloff, especially considering the overall bearish market sentiment at the start of 2022.