Is the FTSE 100 correction done? Weak UK data weighs on the market
FTSE 100 is in free-falling after failing at 7,600 again. Is this correction done, or should investors expect a bounce from current levels?
Financial markets in the advanced economies declined this week. Rising inflation led to major central banks racing to tighten financial conditions, so the stock market correction is understandable.
The problem is that the tightening occurs when the global economy slows down again. In the United Kingdom, the economic data disappointed ahead of the Bank of England's decision on Thursday.
As such, the FTSE 100 index, which tracks the 100 companies listed on the London Stock Exchange with the highest market capitalization, has recently lost close to 500 points. So is there more to come?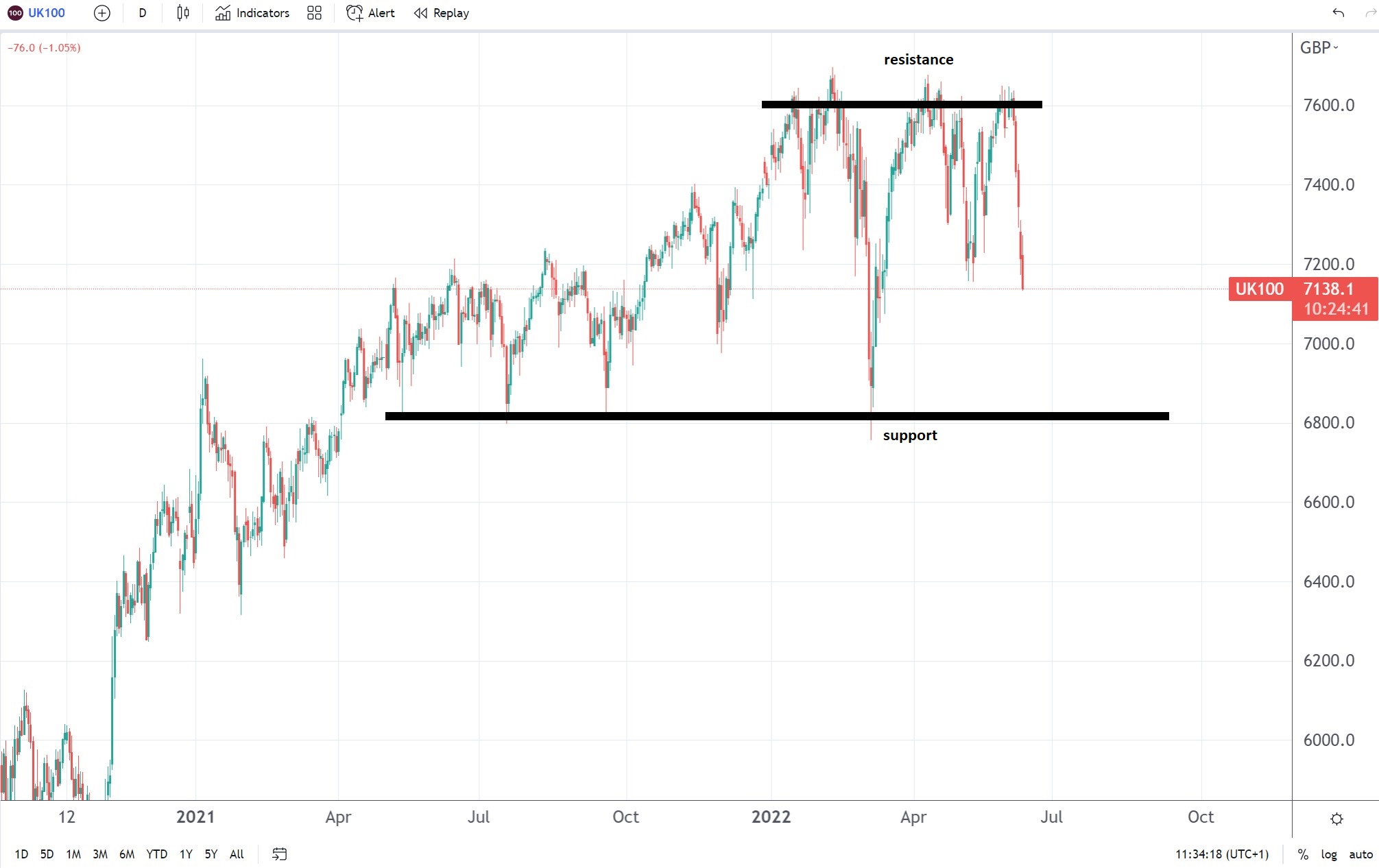 Charts show no support until 6,800
The technical picture provides no relief for stock market bulls. The FTSE 100 was rejected for the third time at 2022 highs, as the 7,600 level proved to be too difficult to break.
The move lower in an almost vertical drop scared bulls away, and no support is seen until the 6,800 area. This is the area that provided support in the past and will likely do so next.
Is the BOE tightening during an economic slowdown?
On Thursday, the Bank of England is due to present its monetary policy decision. The bank rate is at 1% in the United Kingdom, and the market expects the central bank to lift it again by 25bp this week.
But the rate hike comes at a time when the economy is slowing down.
Yesterday, the UK GDP monthly estimate for April 2022 showed a surprise contraction. Also, the Goods Trade Balance, the Index of Services, the Industrial Production and the Manufacturing Production all came out worse than expected.
Moreover, today's employment data has disappointed too. The Unemployment Rate surprised to the upside, coming out at 3.8% on expectations of 2.6%.
Therefore, the Bank of England may well be in a position to tighten the monetary policy (bearish stocks), while economic data worsens (bearish stocks again). Hence, more weakness for the UK stock market might be in the cards.