Should you buy Coca-Cola shares after reporting better than expected quarterly earnings?
Coca-Cola reported better than expected quarterly earnings today. It smashed organic sales expectations for the first quarter, and the stock price gained in pre-market trading hours.
The Coca-Cola Company (NYSE:KO) reported its financial performance for the first quarter, and the stock price is seen higher in pre-market trading. Coca-Cola reported better than expected organic sales and has beaten expectations both for the quarterly EPS and revenue.
The stock price reacted positively after it closed lower last Friday. It trades at all-time highs, and the company also pays a dividend.
Coca-Cola has raised its dividend for the past 59 consecutive years, and the forward dividend yield is 2.70%. Also, the payout ratio is 72.10%, and the 5-year dividend growth rate is 3.66%.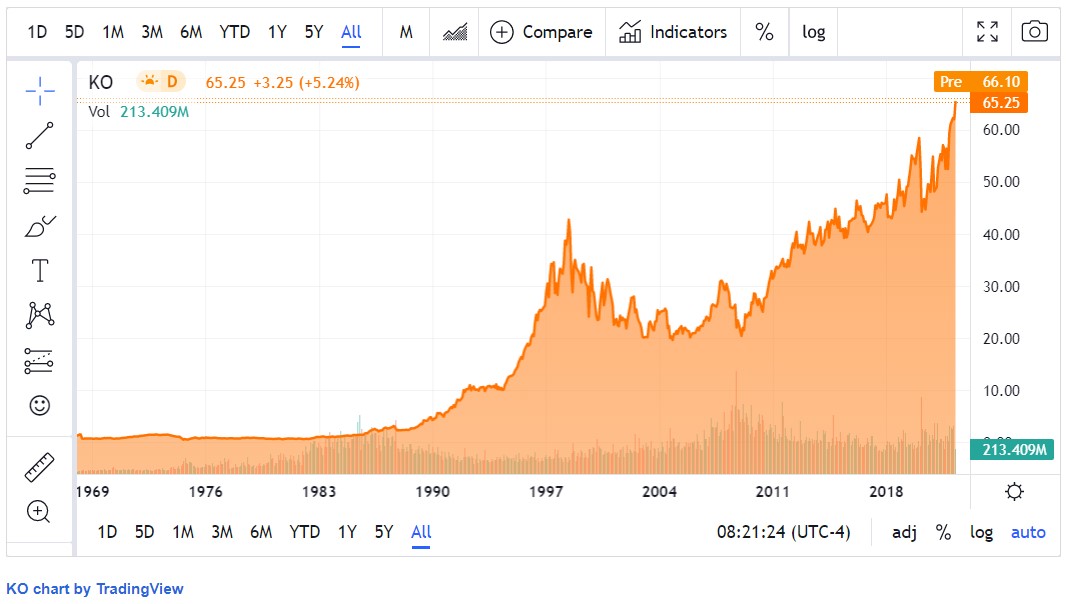 Highlights of the Q1 2022 results
Revenues, operating margin, and earnings per share (EPS) grew in the quarter. Net revenues in the first quarter of the year grew by 16% when compared to the same period last year, while the operating margin was 32.5%, higher than 30.2% in the prior year. Moreover, EPS grew by 23% to $0.64.
What do analysts say about the Coca-Cola stock price?
Out of the 20 analysts covering the Coca-Cola stock price, 16 have issued buy ratings and 4 have neutral ones. No analyst has issued a sell rating.
Most recently, JP Morgan has maintained its buy rating with a $68/share price target. Morgan Stanley did the same, but this time with a price target of $76.
Coca-Cola operated with a gross profit margin of 60.27% for the past twelve months, higher than the sector median by 34.72%. At the current market price, the company's market capitalization reached $282/89 billion, and the enterprise value is $316.37 billion.
Coca-Cola suspended its business in Russia as a result of the Russia-Ukraine conflict. As a result, it expects the full year 2022 results to be affected by 1% tp2% in terms of net revenues and operating income.