Should you buy Disney stocks ahead of the Q2 FY2022 results?
Disney will present its Q2 FY2022 financial results on Wednesday and the market expects EPS of $1.19 for the quarter. So should you buy Disney stocks ahead of the release?
The Walt Disney Company presents its financial performance for the Q2 FY2022 on Wednesday, May 11. Investors expect EPS of $1.19 for the quarter, and the annual revenue estimate for the fiscal period ending September 2022 is $84.67 billion.
Disney does not currently pay a dividend, and it operated with a gross profit margin for the past twelve months of 34.34%. The company's business model was affected drastically by the COVID-19 pandemic as Disney was forced to shut down its parks around the world.
How did the stock price perform lately?
Despite the COVID-19 disruptions, Disney's stock price made new all-time highs. It peaked at around $200 about a year ago and has corrected ever since.
What does the technical analysis show?
The charts show ongoing weakness. At the top, the market formed a head and shoulders pattern, and the price reached the measured move at the start of 2022.
But the measured move is only the minimum distance the market should travel in order to confirm the pattern. In other words, unless the price reverses and breaks the series of lower lows and lower highs, the bias remains bearish.
Currently, the stock price retraced most of the COVID-19 gains. The round $100 level looms large for Disney, as a daily close below may trigger some more stops.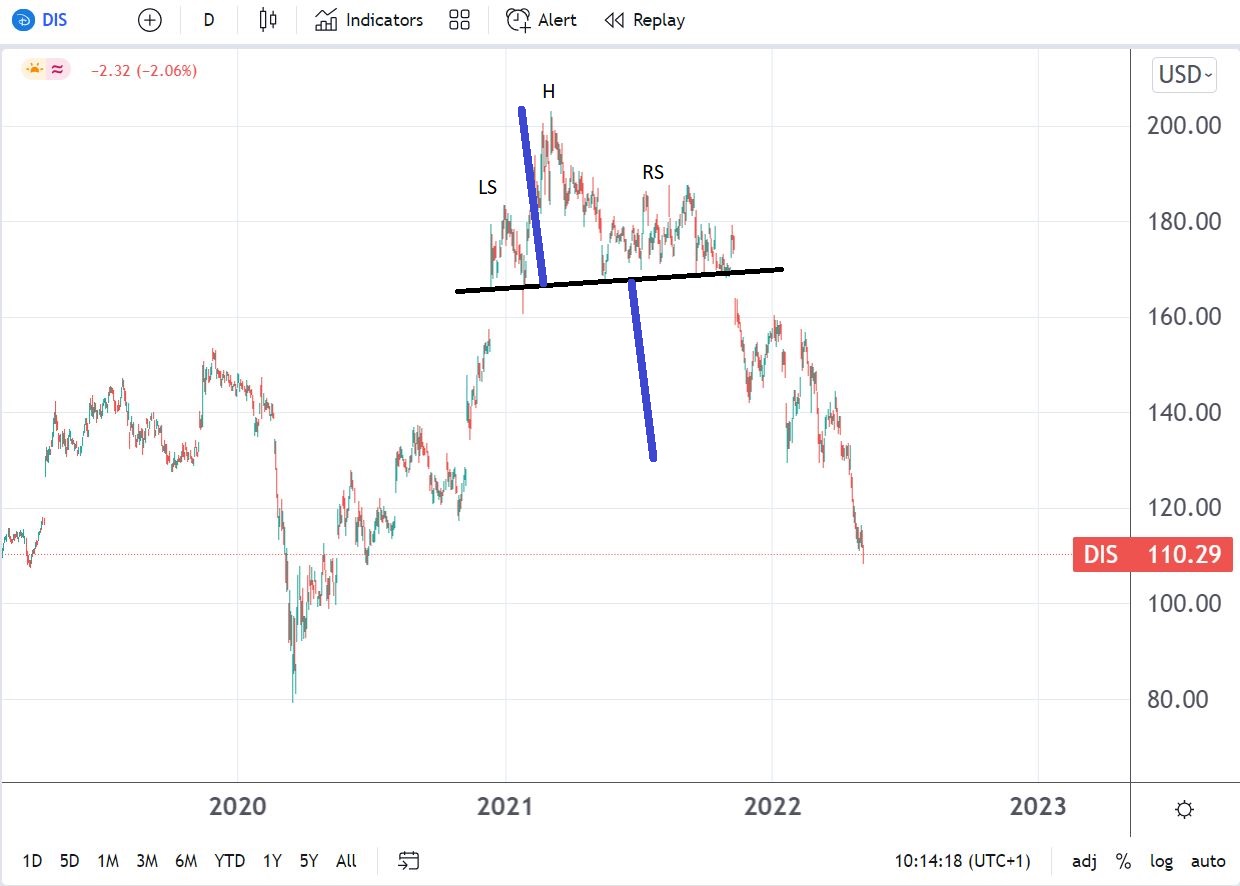 What do analysts say about Disney's stock price?
Analysts are mostly bullish. Out of the 60 analysts covering Disney, 50 have buy recommendations, and 9 have neutral ones. Only 1 analyst has issued a sell recommendation.
Most recently, Disney was maintained as a buy at Rosenblat, JP Morgan, and Citigroup, with a price target of $177, $175, and $200, respectively.