Should you buy Paramount stocks amid huge Top Gun:Maverick success?
Paramount Global (NASDAQ:PARA) closed last Friday higher by 4.66%, ahead of the long weekend when Top Gun:Maverick premiered. The stock is up 5.18% YTD.
The long weekend in the United States due to the Memorial Day holiday led to record-breaking earnings for the last movie produced by Paramount and Skydance – Top Gun:Maverick. According to some estimates, the opening weekend brought $124 million domestically and another $124 million internationally.
Paramount is a publicly-listed company that delivered positive returns YTD. Despite the stock market correcting, Paramount shares are up a little over 5% this year as investors welcomed changes in ownership.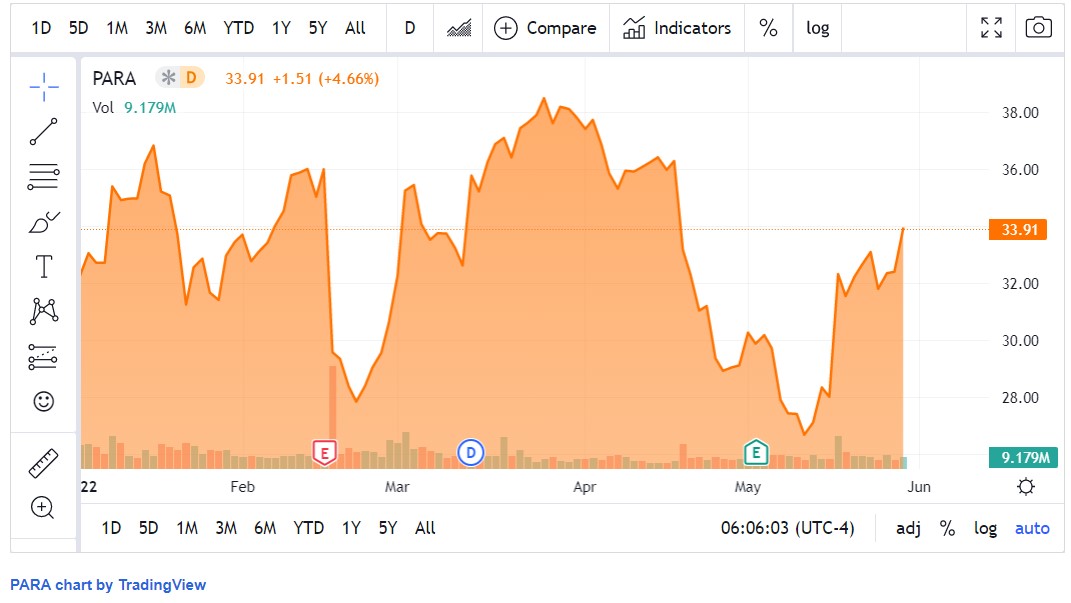 Earlier this month, the share price jumped by more than 15% on the news that Warren Buffet's investment vehicle, Berkshire Hathaway, bought 68.9 million shares worth more than $2.5 billion. Paramount is a company that fits the profile of an investment from Buffett, as it pays a dividend.
The dividend yield is 2.83%, and the payout ratio is 37.07%.
Paramount's valuation is still tempting
The stock trades at a P/E Non-GAAP of 13.09 for the past twelve months, lower than the sector median by -14.35%. Moreover, the EBIT (Earnings Before Interest and Taxes) margin for the past twelve months exceeds the sector media as well – 11.53% vs. 22.12%.
Paramount's market capitalization has reached $22.11 billion at the current stock market price, while the enterprise value is $35.79 billion.
Paramount is a media and entertainment company operating in the communication services sector. An active player in the broadcasting industry, it employs close to 23,000 people and was founded in 1986. It operates with a gross profit margin of 36.23%, and over 64% of the shares outstanding are owned by institutions.