Tesla drops on Musk's Twitter deal: here's what the charts are signaling
Tesla drops more than -8% on Elon Musk financing Twitter acquisition via a margin loan. So what does the technical analysis signal?
In a stunning turn of events, Twitter accepted Elon Musk's offer to take the company private after the richest man on the planet detailed its financing plan. While Twitter shareholders may be happy, as they will receive a higher price than the stock was trading at the moment of the announcement, Tesla shareholders have reasons to be concerned.
As it turned out, Elon Musk borrowed more than $12 billion to secure financing for the Twitter deal. More interestingly, it did so via a margin loan secured by pledging Tesla shares.
More precisely, Elon Musk pledged Tesla shares worth about $62 billion to secure the loan. If Tesla's stock price drops by 43%, the banks will start selling stocks as Elon Musk will literally receive a margin call.
The margin call level is $570, and Tesla's stock price traded at $909/share at the time of writing this article.
Tesla's stock price fails at dynamic resistance
From a technical analysis perspective, the stock price looks bearish too. $1,200 proved to be difficult to surpass, and the stock price was rejected at dynamic resistance.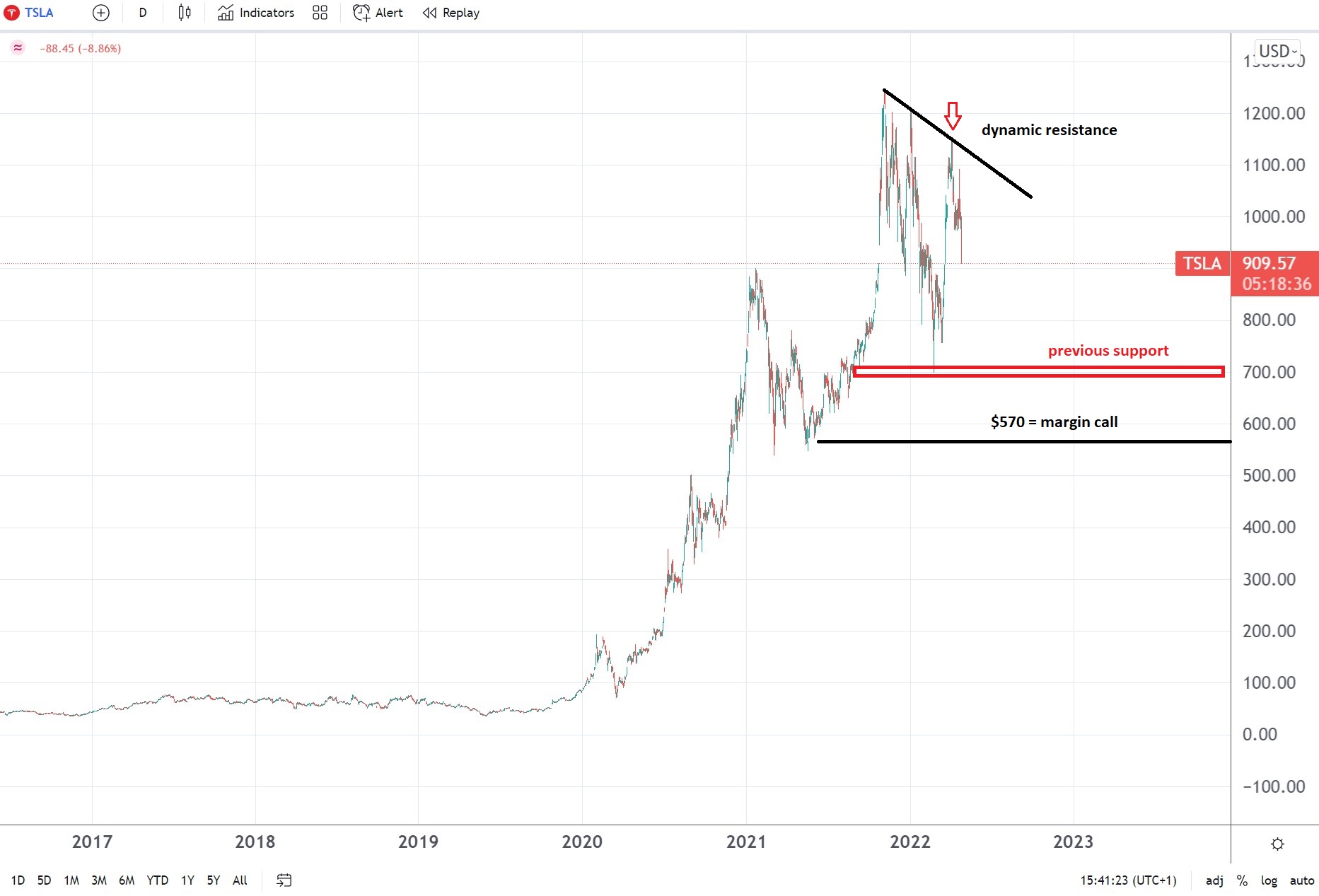 At the current level, there is no meaningful support in sight until the $700 area. This is an area from where the stock price reversed in 2022, and one should not be surprised to see the market testing its strength again.
The meteoric rise of Tesla's stock price during the COVID-19 pandemic may have come to a halt. If bears push it through the $700 support level, it is improbable that the market won't test $570, considering that everyone knows the invalidation level where banks will start selling to cover Elon Musk's loan.