Top 4 consumer staples stocks to buy as the yield curve inverted
Consumer staples companies sell food, beverages, household products, and personal items. The yield curve is inverted, so what are the best consumer staples stocks to buy?
Consumer stapes companies tend to be non-cyclical, thus offering reliability to investors. Because they sell products needed for everyday use, consumer staples stocks do not react to changes in the business cycle as other companies do.
Yesterday, the yield curve in the United States inverted, triggering recession fears in the market. Historically speaking, the yield curve inversion always preceded a recession.
So what are the best consumer staples stocks to buy as the yield curve inverts? Here are four companies to consider: Archer-Daniels-Midland, Walmart, General Mills, and Kroger.
Archer-Daniels-Midland
Archer-Daniels-Midland is one of the largest companies in the agricultural products industry. It sells agricultural commodities and products worldwide and stands to benefit from the current rise in food prices.
The company is owned by institutions, making up close to 80% of the total shares outstanding, followed by the general public and other individuals and insiders.
Archer-Daniels-Midland pays a dividend, and the stock price gained close to 30% YTD. Moreover, in the past 5 years, the stock almost doubled in price.
Walmart
Walmart runs supermarkets and supercenters in the United States and internationally. It is one of the companies with the longest dividend-paying history in the United States.
Moreover, it has increased its annual dividend for the past 48 years, and the forward dividend yield is 1.52%.
Almost all analysts covering Walmart's stock price have a buy recommendation – 57 out of 64. The rest are mostly neutral, and 1 analyst has issued a sell recommendation. Most recently, Morgan Stanley maintained its buy rating with a $165/share price target.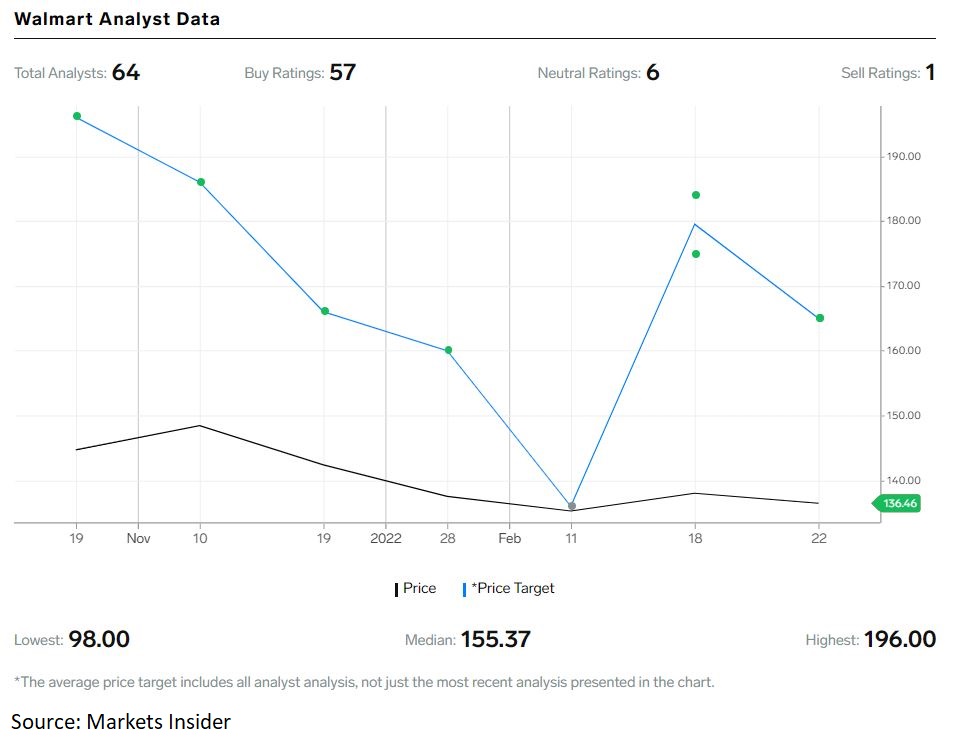 General Mills
General Mills is an American dividend-paying company operating in the packaged foods and meats industry. It sells branded consumer foods worldwide, and its EBIT margin for the past 12 months is higher than the sector median by 83.74%.
Kroger
Kroger is a retailer in the United States paying a dividend with a forward dividend yield of 1.49%. It increased the dividend for the past 15 years, and the stock price gained 27.78% YTD.