2 reasons to buy UK stocks despite today's drop in the FTSE 100 index
FTSE 100 index reacted to the news that Russia invaded Ukraine overnight. All European bourses are in the red, and the main UK index lost about -3% at the time this article was written.
However, long-term investors may find it attractive to buy the dip. For those looking to pick up some bargains in the global equity markets, the UK equities look attractive here for at least two reasons:
Attractive valuations
Higher free cash flow than other regions
UK stocks trade at attractive valuations
One of the main things that make UK stocks attractive is the steep discount they trade at compared to their peers. For instance, at the end of January this year, UK stocks represented by the FTSE 100 index traded at a discount of about 30% compared to the MSCI World Index.
Moreover, even small and medium-sized companies in the UK trade at attractive valuations. While the premium, as measured by the price-to-earnings ratio, is bigger than the FTSE 100 large cap index, it is still well below its global benchmark index.
UK corporates have high cash balances
On top of the attractive valuations, UK companies sit on a pile of cash. According to Goldman Sachs, cash as a percentage of total assets has reached above 34% for UK stocks.
Moreover, the FTSE 100's free cash flow outpaces other regions, such as the USA, Japan, or Europe, without the United Kingdom. Free cash flow is a measure of how much money is left after a company covers all of its capital and operational expenses. After accounted by the market value the free cash flow yield in the UK, as represented by the FTSE 100 companies, is at 6.8%, much higher than in other regions.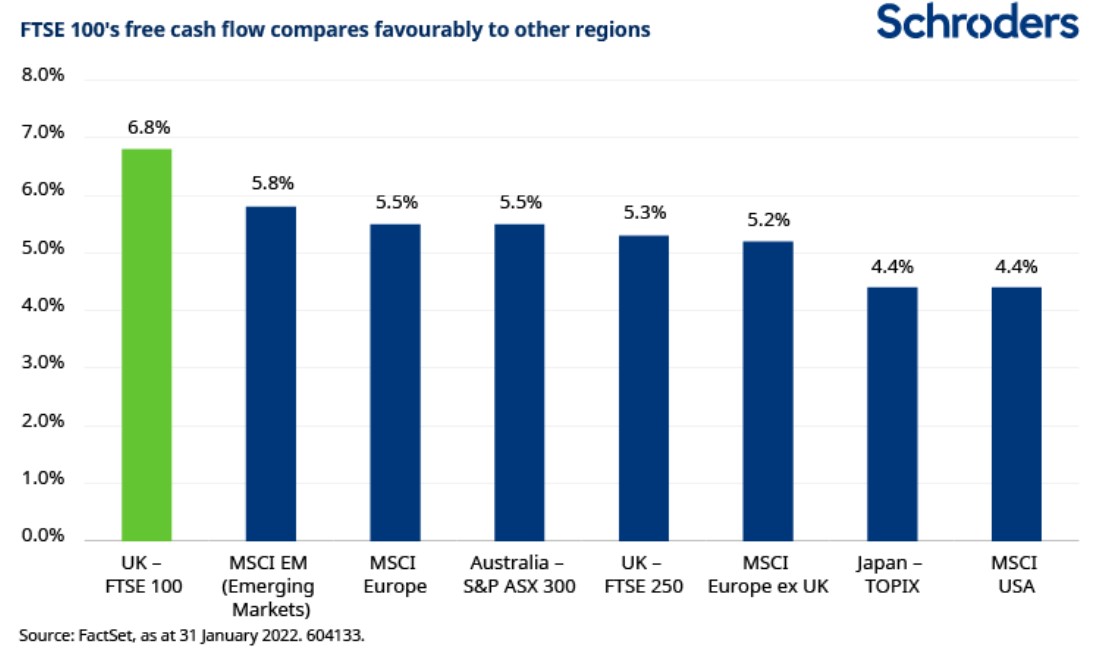 All in all, the times may be uncertain for investors to pick up stocks when they are down. But those willing to do so might want to pay attention to UK companies' cheap valuation and strong free cash flows.