Top 4 Nasdaq 100 companies to buy amid positive returns YTD
Nasdaq 100 dropped for all-time highs, and now it is close to entering the bear market territory. The index closed yesterday down -17.22%, a day before Russia invaded Ukraine. Here are four stocks that delivered positive returns YTD despite the index dropping.
Nasdaq 100 is known as the tech sector index because its constituents are mostly active in the tech sector. In fact, it represents the non-financial corporations in the United States, and it had a terrible start to the new trading year.
The index topped at the end of 2021, just like other major stock market indices in the world. However, while other indexes declined too, the Nasdaq 100 did so by the most.
At yesterday's closing, it was down -17.22% YTD, just shy of entering a bear market. A bear market starts when an index declines by more than 20% from its highs. Now that a conflict started in Eastern Europe, it seems inevitable that the stock market will take further losses.
However, some companies faired pretty well the selling in Nasdaq 100. Four stocks delivered positive YTD returns despite the index selling off: T-Mobile US, Activision Blizzard, Booking Holdings, and Kraft Heinz.
T-Mobile US
T-Mobile US (NASDAQ:TMUS) is an active player in the wireless telecommunication services industry. It provides mobile communication services to customers in the United States and also sells wireless devices, such as tablets and wearables.
The stock price is up 4.71% YTD as the company's revenue growth YoY exceeds the sector median by more than 75.62%.

Activision Blizzard
Earlier this year, Microsoft, the tech giant, announced that it reached an agreement to acquire Activision Blizzard (NASDAQ:ATVI), a leader in game development and interactive entertainment.
With this move, Microsoft intends to strengthen its position in the metaverse too, and the announcement triggered a sharp move higher in the Activision Blizzard stock price.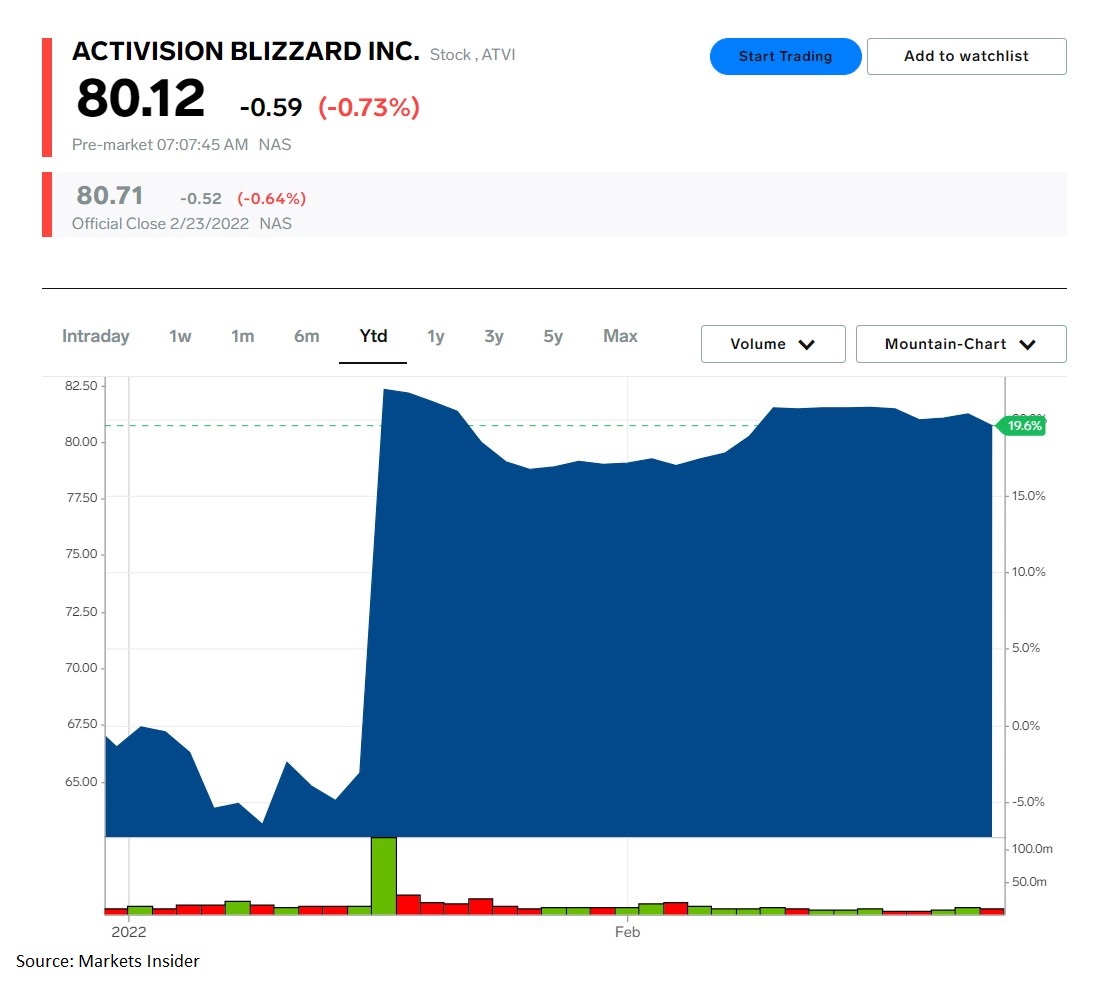 Booking Holdings
Booking Holdings (NASDAQ:BKNG) is an American company operating in the hotels, resorts, and cruise lines industry. Its stock price delivered positive returns so far in 2022, and most analysts have buy recommendations.
Most recently, the stock was upgraded to buy at RBC Capital Markets.
Kraft Heinz
The Kraft Heinz Company (NASDAQ:KHC) stock price is up 11.70% YTD. It manufactures and sells food and beverage products in the United States and internationally, and it pays a dividend. The forward dividend yield is 3.99%, and the payout ratio is 54.42%.