2 reasons why US stocks rallied despite a hawkish Fed
Hawkish Fed could not stop US stocks rallying. Negative real yields spook investors, as they prefer the stock market instead.
US stocks closed at the highs on the day the Federal Reserve started a tightening cycle. Of course, one might say that the stocks just love a hawkish Fed, but the move higher is not so surprising.
Indeed, rising rates are not good for stocks, but if we think of alternatives for investors, then stocks do not look so bad after all. Yes, the Fed lifted the rates by 0.25%, but inflation is at 7.9%.
Moreover, the Fed's projections show that inflation will be persistent despite the central bank's much tighter policy stance. So why did stocks rally? Here are two possible explanations:
Negative real yields way on investors' decisions
The rate hike was largely priced in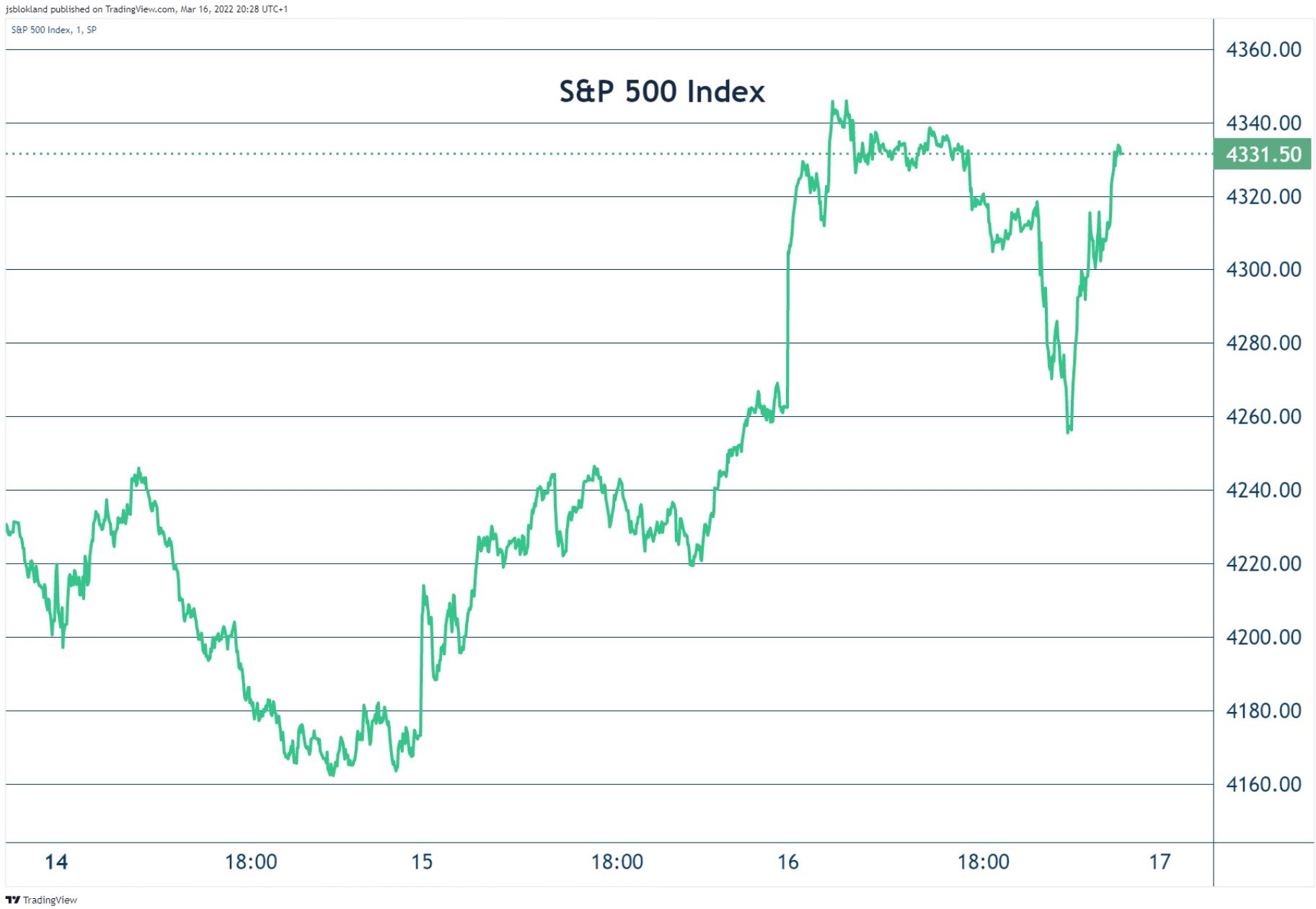 Negative real yields spook investors
The Fed delivered the first rate hike in a new tightening cycle after keeping the federal funds rate close to zero during the COVID-19 pandemic. But when compared to the inflation rate, the increase is so small that it does not make a difference.
The real yield is the difference between the federal funds rate and the inflation rate. As inflation is 7.9% and the federal funds rate only 0.25%, the real yield remains negative. The gap barely shrank.
Moreover, inflation is expected to keep rising. Hence, by the time the Fed delivers a new rate hike six weeks from now, the negative gap may be even higher.
Therefore, investors have few options left other than investing in the stock market.
The rate hike was largely priced in
Another explanation for yesterday's rally is that the rate hike was largely priced in. The Fed communicated well in advance its decision and, as such, it came as no surprise.
The initial move lower came on the bank of one of the Fed members dissenting and wanting a bigger increase at yesterday's meeting. But overall, the markets expected a hawkish Fed, so there were no surprises whatsoever.