3 economic events bullish for US equities today
Important economic data from the United States was released earlier today. For January, consumer spending and durable goods orders came out better than expected, while core prices were in line with expectations – bullish data for US equities.
The US equity markets have recovered the lost ground caused by the shocking news that Russia invaded Ukraine yesterday. The main indexes ended yesterday higher, in a stunning reversal.
The rally continued today as at the opening indexes were in the green. Only this time, the stock market was also supported by positive economic data released earlier. Consumer spending and durable goods came out better than expected in January, while core inflation's increase came in line with the forecast.
Consumer spending surged 2.1% in January
Consumer spending is an important metric in any economy. It shows the willingness of consumers to spend and the higher the number, the better.
If consumers do not spend and choose to save more, the economy has a hard time growing. This is why in recessionary times, the central bank steps in and eases financial conditions in the hope that consumers will start spending again.
Also, an increase in consumer spending reflects that the consumers are optimistic about the future – another positive for economic growth. In January, consumer spending surged 2.1% and disposable income came out at +0.1%.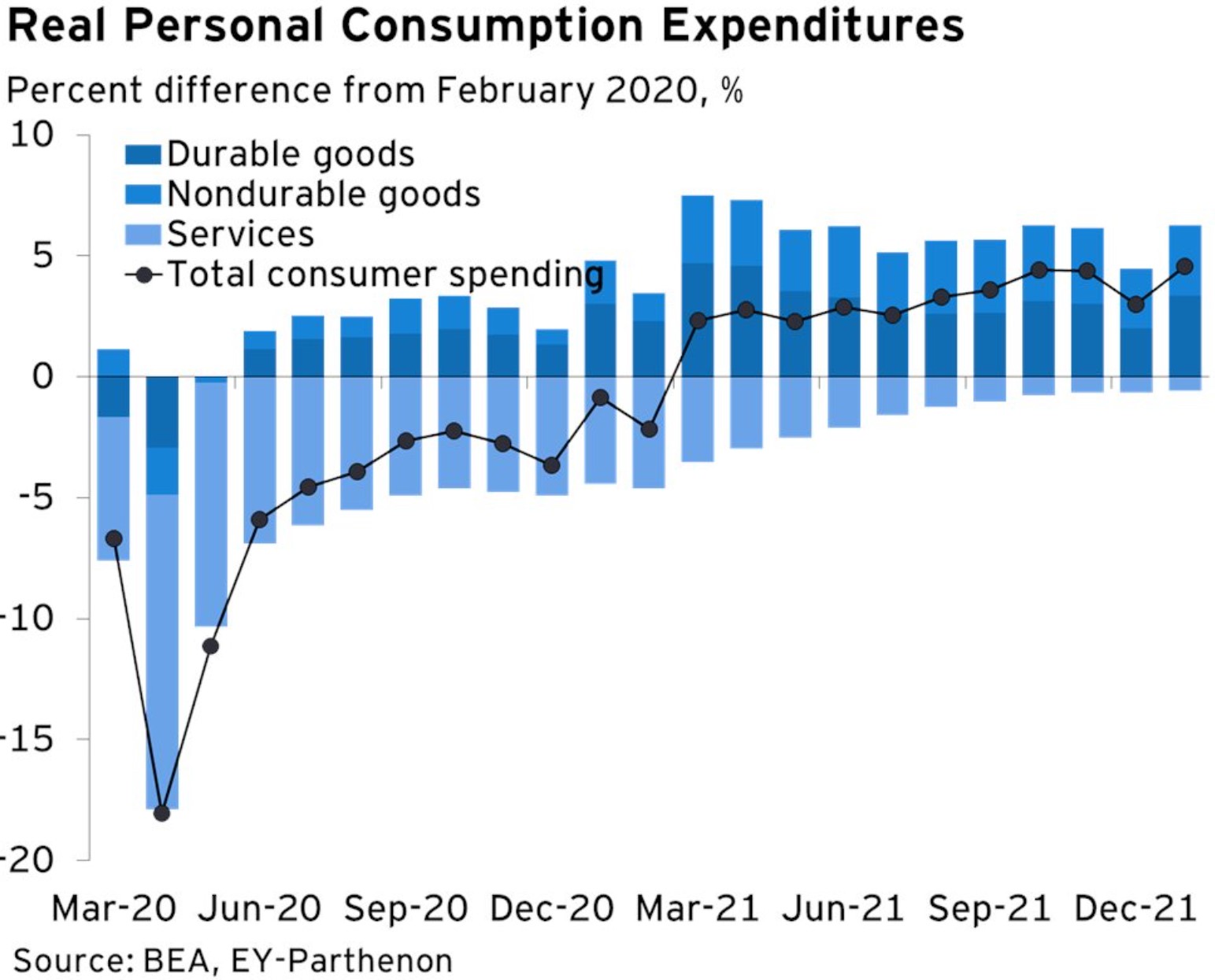 Core Durable Goods Orders rose 0.7% MoM
Another piece of economic data released earlier today in the US was Core Durable Goods Orders. Released monthly, it shows the change in the total value of new purchase orders for durable goods. However, transportation items are not included.
For January, the estimates were that the core durable goods increased by 0.4% MoM. But the actual data surprised positively, out at 0.7%, almost double the estimate.
Core prices rose in line with expectations
Core prices MoM rose by 0.5% in January, bringing the annual core inflation at 5.2%, the highest level since 1983. While this is much higher than the Fed's tolerance level, it did not exceed the monthly forecast.
All in all, the three pieces of economic data released today helped push stocks higher. At the time of writing this article, the Dow Jones index traded up 1.77%, the S&P 500 rose by 1.66%, and NASDAQ 100 gained 1.15%.