3 reasons to buy Texas Instruments stocks despite the market selloff
Texas Instruments's stock price declined YTD, but the company has an excellent track record or returning FCF to investors. What other reasons exist to buy its stock?
Texas Instruments (NASDAQ:TXN) is one of the largest companies in the world operating in the semiconductors industry. At a time when NASDAQ 100 is down by more than 20% YTD, it is difficult to think of buying stocks.
However, the recent price declines led to the market offering some attractive opportunities. One of them is Texas Instruments.
Founded in 1930, it employs over 30,000 people and manufactures and sells semiconductors. The stock price is down close to 20% YTD and the company operates with a gross profit margin for the past twelve months of 68.68%, higher than the sector median by more than 50%.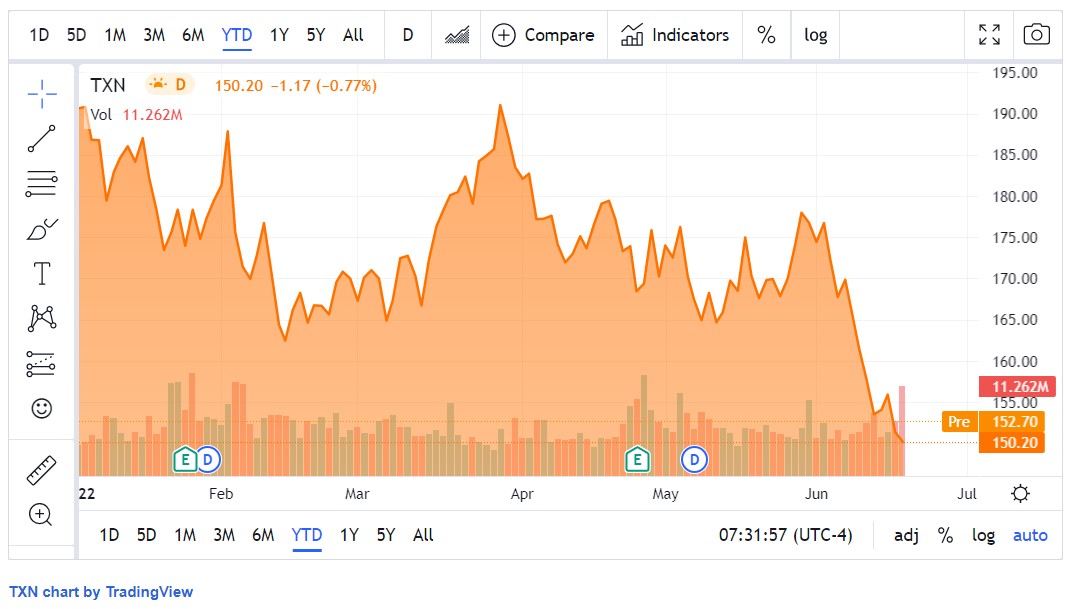 Excellent track record of returning FCF to investors
One of the attractive things at Texas Instruments is its ability to grow free cash flow per share during the years. Between 2004 and 2021, free cash flow per share had a 12% annual growth rate – impressive by all means.
Free cash flow is one of the most important metrics when valuing a company. It shows what is left after the business covers all of its operating expenses and capital expenditures.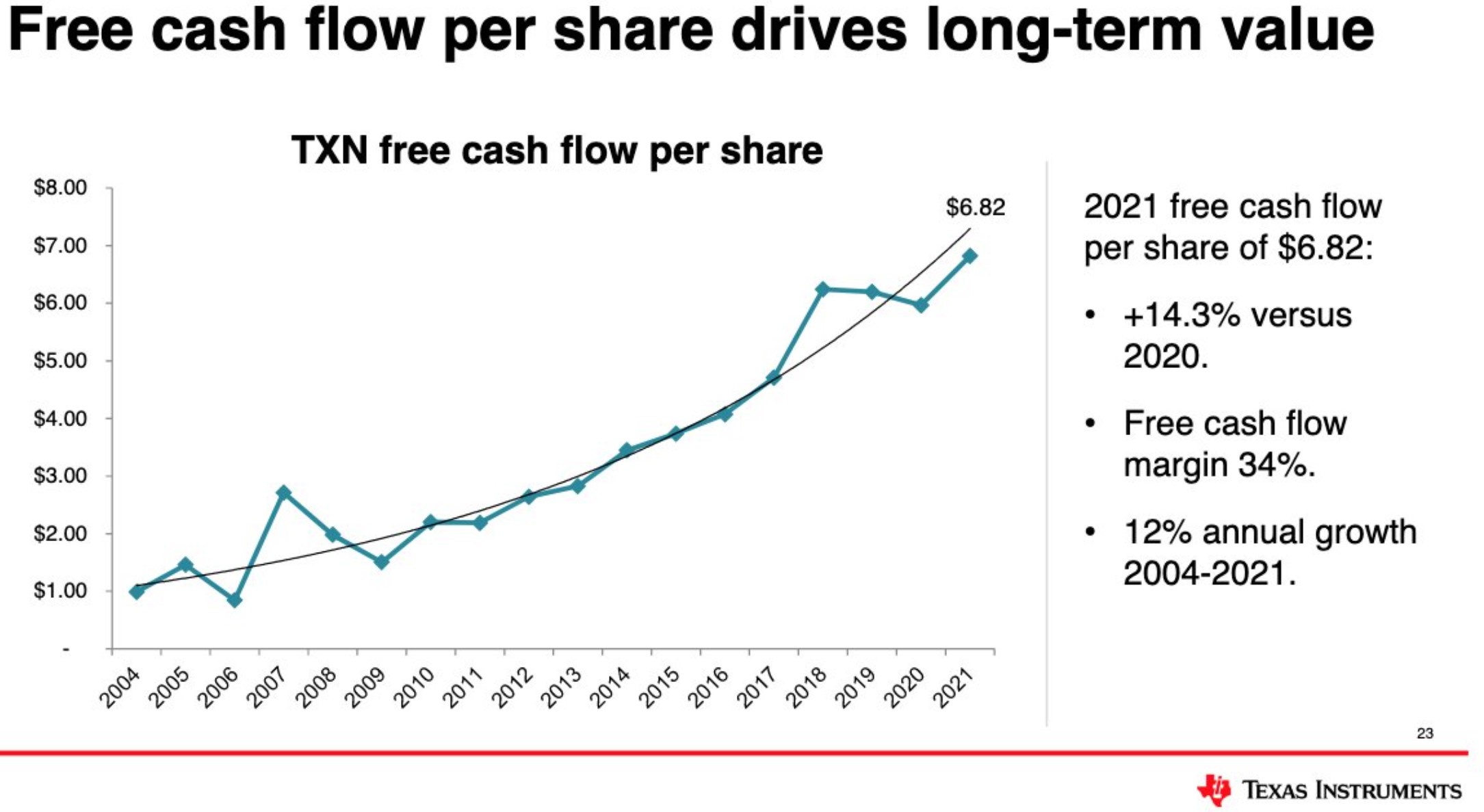 Dividend-paying company
Besides growing the free cash flow at a staggering rate in the past decade, Texas Instruments is a dividend-paying company. The forward dividend yield is 3.06%, and the dividend payout ratio is 48.33%.
Moreover, the company managed to increase the dividend paid to its shareholders in the last 18 consecutive years. Hence, the YTD stock price decline was somehow alleviated by the constant payouts shareholders receive as dividends.
Revenue is forecast to double by 2030
Texas Instrument's long-term growth plan implies higher revenues by 2030. More precisely, revenue is about to double by 2030, exceeding $34 billion.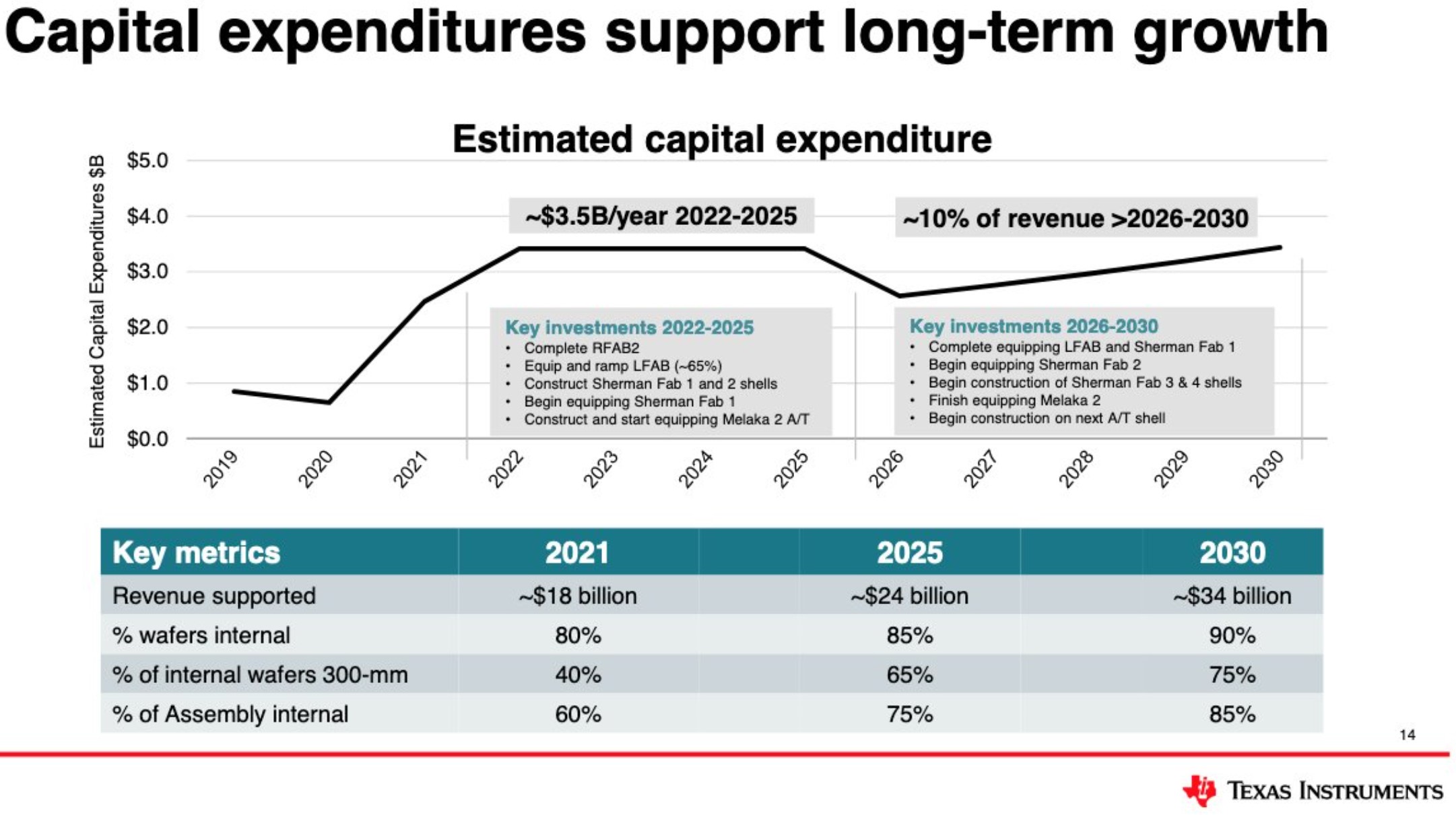 To sum up, Texas Instruments's stock price looks attractive here, given the recent declines. This is a great business model and a company that shows discipline in allocating capital to the best opportunities.
Put it simply; it strives for more output for every dollar spent.