2 reasons why the Fed will hike without fears of hurting the stock market
The stock market heads towards another down week on the back of investors fearing the Fed's actions to bring inflation down. But is it possible that the Fed will tighten even more aggressively?
$1.5 trillion has "evaporated" from the stock market this year, and the slide is poised to continue. The Nasdaq 100 index trades well into bear market territory, down over -28% YTD.
Also, the S&P 500 index is on track for its longest losing weekly streak since 2001. It did not cross the -20% decline rubicon, but it sits dangerously close to it.
If asked, investors blame it on the Fed. It is always the Fed, no matter the direction the market is moving.
Short-sellers blamed the Fed for easing too much into a strong economy on its way up. On its way down, stock investors blame the Fed for tightening too much and too fast and hurting stocks.
But everyone should bear in mind that the Fed does not have the mandate to keep stocks elevated. Instead, it has a mandate of price stability – and that mandate is in danger.
So will the Fed hike even if it hurts the stock market? Here are two reasons why it will do so:
Political consequences of not dealing with inflation
Too few rate hikes are priced in
Political consequences of high inflation
Inflation in the USA has reached a four-decade high. While truly remarkable, the Fed insisted that inflation was temporary just several months ago.
Only it wasn't, hurting the Fed's credibility. And, together with it, the credibility of those who vetted the Fed's Chair.
With President Biden's approval ratings affected by inflation, the Fed will be under constant pressure to do something about it. And they will.
Market participants have priced in too few hikes
According to a recent survey run by the Bank of America, investors expect 7.9 rate hikes during this tightening cycle. While this is quite hawkish from the Fed, a little math tells us that the market participants have priced in too few hikes.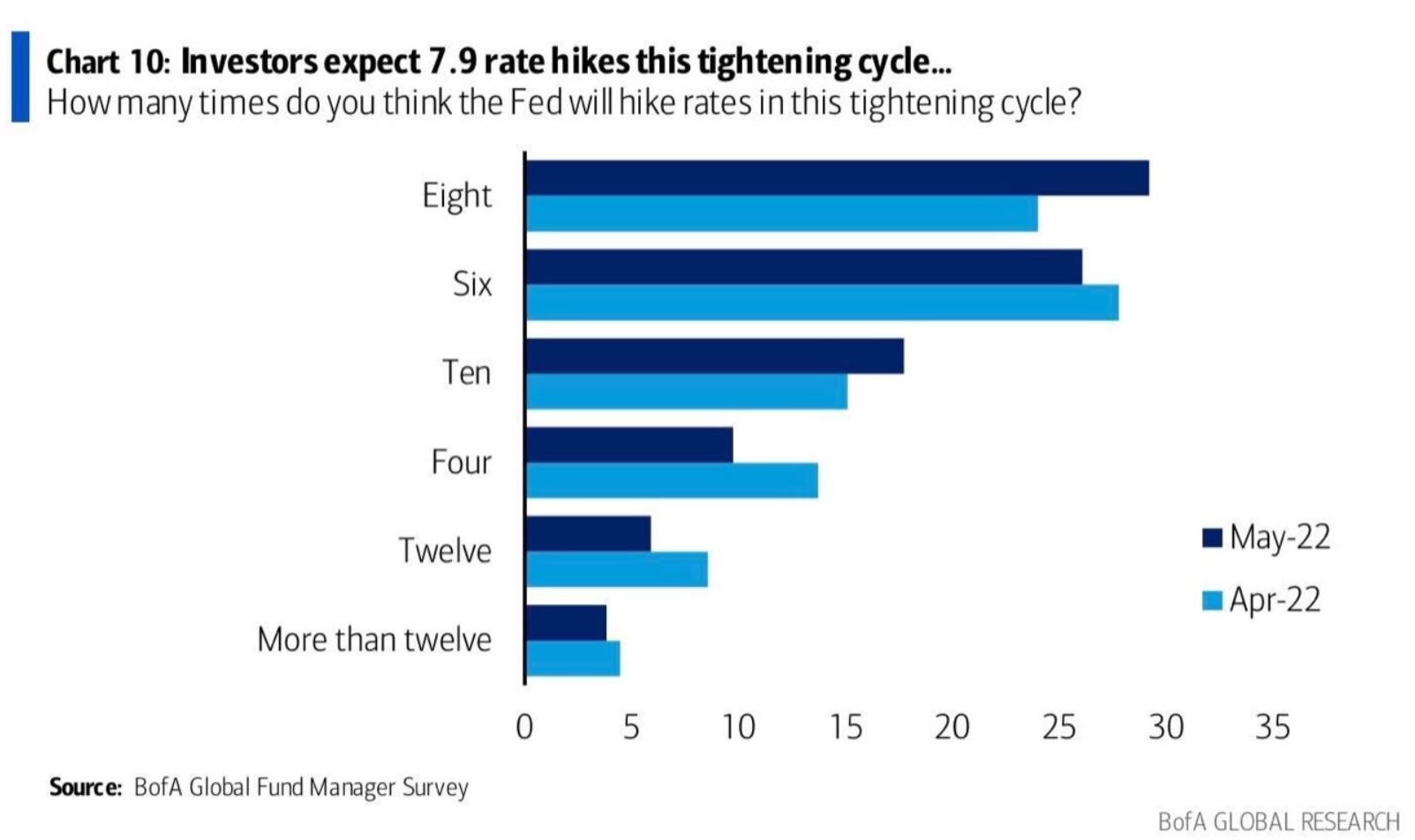 If one rate hike is 25bp, then the Fed already delivered 3 and will deliver another 4 in the upcoming two meetings. That is, by July, the Fed have delivered 7 rate hikes.
Yet, the survey shows that 25% of the managers believe that the Fed will cave in and will hike only 6 times, while 10% believe that it will do so only 4 times.
Hence, there is a difference between what the Fed already pledged to do and what some market participants expect. As such, the stock market will have a hard time bouncing from the lows.