Best 3 consumer discretionary stocks to buy in April
Consumer discretionary stocks tend to outperform in times with strong economic growth. So what are the best consumer discretionary stocks to buy in April?
During the last press conference following the FOMC Statement's release, the Fed's Chair, Jerome Powell, stated that the US economic growth is forecast to exceed its potential in 2022. Consumer discretionary stocks tend to see strong gains when the economy is expanding.
So if the US economic growth rate is so high, what are the best consumer discretionary stocks to buy in April? Here are three names to consider: Amazon, Home Depot, and Nike.
Amazon
Amazon (NASDAQ:AMZN) is one of the world's most famous companies, and it is not paying a dividend. The online retail giant saw its stock price increase by more than 1,500% in the past ten years.
During the COVID-19 pandemic, Amazon was one of the few companies that kept expanding, creating new jobs and benefiting from the shift in consumer behavior. As it turned out, people from all over the world used online services to shop for their everyday needs and more due to lockdowns caused by the pandemic.
To many, Amazon is an expensive company. The stock did not go anywhere in the past year, gaining about 10%, but nothing impressive.
Nevertheless, it hovers close to all-time highs, and ALL analysts have a buy recommendation for Amazon's stock price. Out of 100 analysts, 100 have issued a buy recommendation.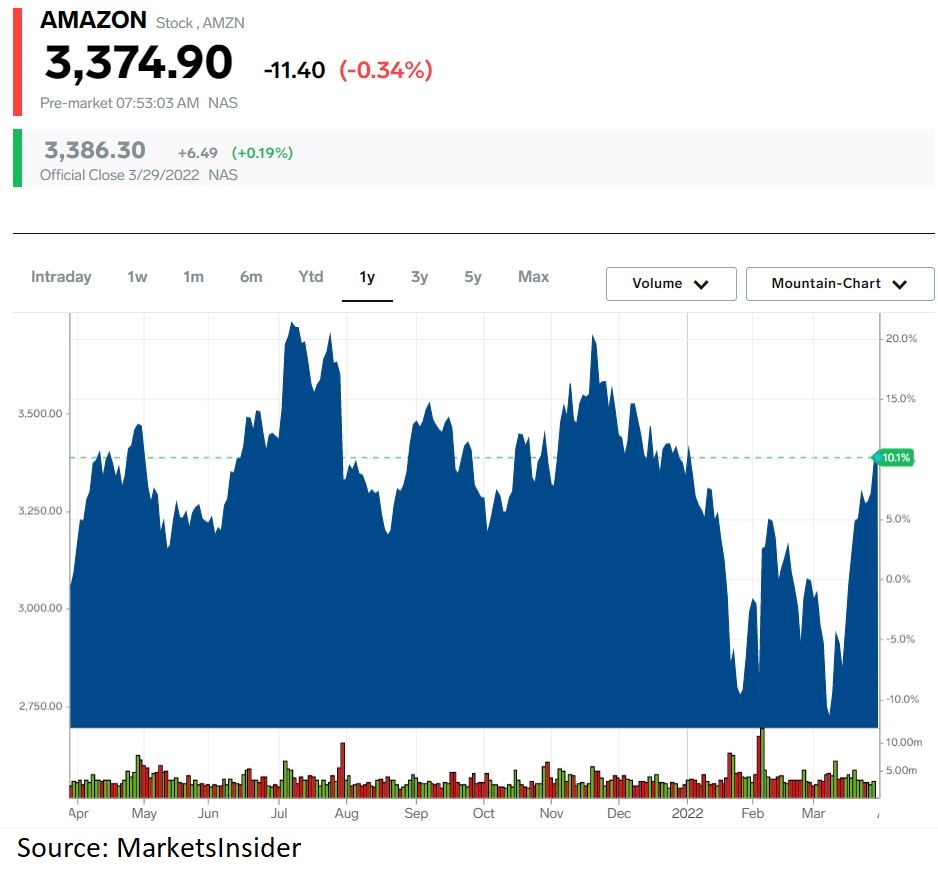 Home Depot
Home Depot (NYSE:HD) is a home improvement retailer employing close to half a million people. Based in Atlanta, Georgia, it pays a quarterly dividend with a payout ratio of 44.14% and a forward dividend yield of 2.39%.
Nike
Nike (NYSE:NKE) is another company that saw its stock price surging during the COVID-19 pandemic. While off its highs, reached in the late part of 2021, Nike's stock keeps delivering as it rewards its shareholders by paying a quarterly dividend.
Nike has increased the annual dividend in the last twenty consecutive years. Its gross profit margin exceeds the sector median by 28.88%.