Dow Jones price prediction as the Fed prepares to release the FOMC Minutes
The FOMC Minutes are due later in the North American trading session, and the Dow Jones trades in negative territory on the day. How will the minutes impact the index?
Later today, the FOMC Minutes will reveal what the actual discussions were at the last Fed meeting. These minutes are essential for financial markets because they are released three weeks after the Federal Reserve increased the funds rate by 50bp.
The normal pace for many years was 25bp. However, in light of inflation running too hot, much higher than the Fed's target, the central bank's credibility was threatened.
As such, the Fed hiked 50bp and plans to do the same three weeks from now. Therefore, market participants will closely watch any subtle change in today's minutes that might call for a faster or slower tightening pace.
Stocks had a hard time in 2022. A quick look at the Dow Jones chart below reveals that the index gave up most of its 2021 gains in the first five months of 2022.
The sharp decline is because the markets believe that the Fed is on the verge of making a policy mistake. More precisely, it is hiking when the economy has already started to cool down. So any clear message one may take from today's minutes will be enough to move the US markets.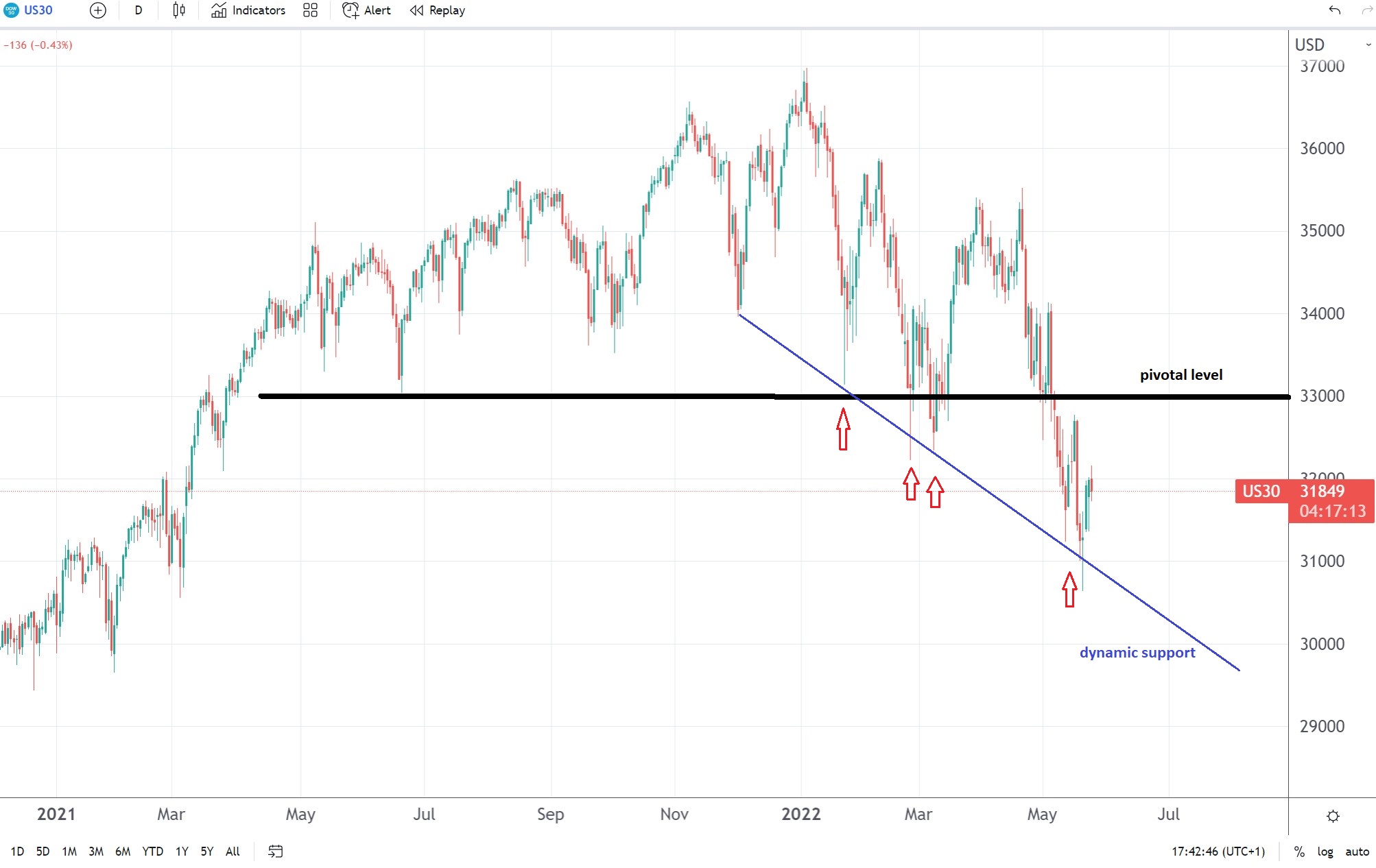 Dow Jones reacting to dynamic support
Dow Jones bounced from the lows in the second part of last week. However, the bounce is unconvincing so far, as the series of lower lows and lower highs remains intact.
Technical traders may easily spot the pivotal level on the daily chart. The 33,000 level acted as support on the market's way down and should act as resistance on a first test from below.
To sum up, the Dow remains bearish while below 33,000 points. As such, traders will likely establish new short positions on any bullish reaction after the FOMC Minutes are released.