Peloton stocks drop another -14% on poor earnings: is it time for a rebound?
Peloton Interactive's investors are in shock after the company misses quarterly estimates. The share price dropped by more than -14% and now is down -80% in six months.
One of the most-awaited quarterly reports this week was the one from Peloton – an interactive fitness platform with more than seven million members. It became popular during the COVID-19 pandemic as, due to lockdowns, people were forced to spend more time indoors.
But now that the COVID-19 restrictions are lifted, the fortunes reversed quickly. Peloton stocks traded above $140 at the height of the pandemic but now are down -80% – and falling.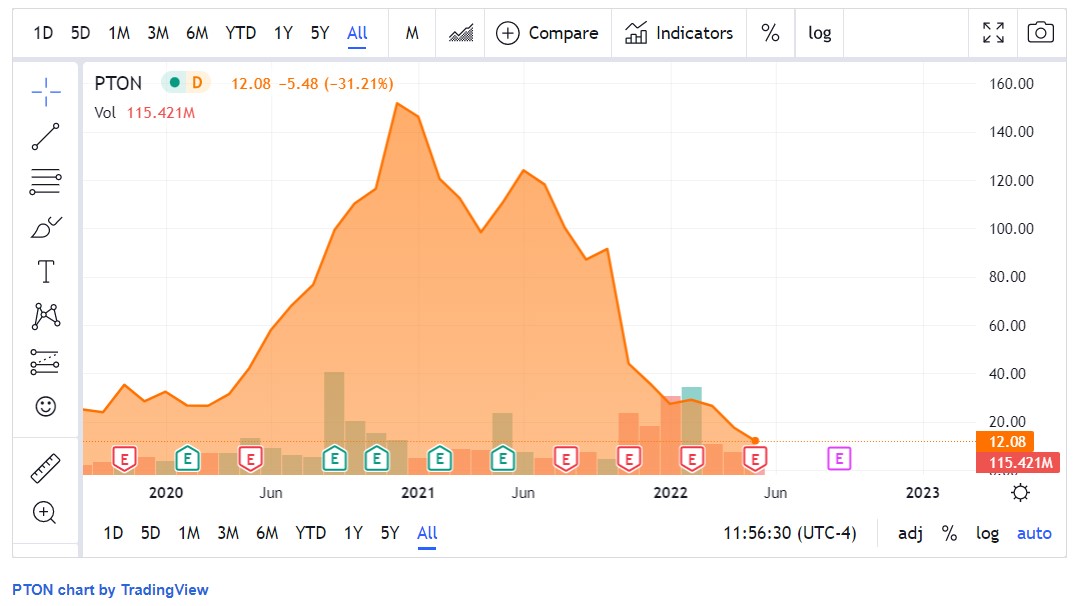 Highlights of Q3 FY2022 earnings
Peloton reported its quarterly earnings today, and the stock price dropped more than -14%. The details are simply terrible – revenue outlook below consensus, poor guidance, cash being burnt, etc. A truly poor result on the quarter.
Besides the revenue collapse, expenses grew dramatically. For instance, total operating expenses grew to $920 million from $458.6 million in the same period last year. In other words, expenses nearly doubled in the span of one year.
Moreover, free cash flow dived – reaching -$746.7 million from -$204 million for the same period last year. If massive free cash flow burn and huge expenses are not enough to drive investors away, subscriber growth almost disappeared – barely 5% QoQ.
As a result, the net loss simply ballooned, reaching -$757 million versus only -$8.6 million for the same period last year.
What did analysts say before the quarterly earnings?
Interestingly enough, most analysts were bullish on Peloton's stock ahead of the release. Out of the 96 analysts covering the stock, 74 had buy recommendations and 19 had neutral ones. Only three analysts have issued a sell recommendation on Peloton's stock.
In April, two analysts updated their reports. Citigroup upgraded the stock to buy, with a $36/share price target, while Telsey Advisory Group maintained its buy recommendation with a $28/share price target.
At the time of writing this article, Peloton trades at $12.19/share, a steep discount compared to Citi and Telsey. Is the stock price due for a rebound?
Today's report says no.