Should you buy NVIDIA stocks ahead of the Q1 FY2023 earnings report?
NVIDIA reports its quarterly earnings later today in the North American session. The market expects EPS of $1.29 for the quarter, and the stock dropped by more than -40% YTD.
In a year when the NASDAQ 100 index dropped into the bear market territory, the tech companies are scrutinized by investors. Today, one of the largest companies in the semiconductors industry will present its Q1 FY2023 financial results.
Investors expect EPS of $1.29 for the quarter, and the company has delivered better than expected EPS in the last three consecutive years (i.e., 12 consecutive quarters). NVIDIA's stock price, however, did not perform well lately, dropping with the tech sector.
It is down by -45.40% YTD, meaning that it almost halved in less than five months. Therefore, investors have all the reasons in the world to scrutinize NVIDIA's quarterly results and check if the company's financial position has improved and if there is a reason to buy the stock.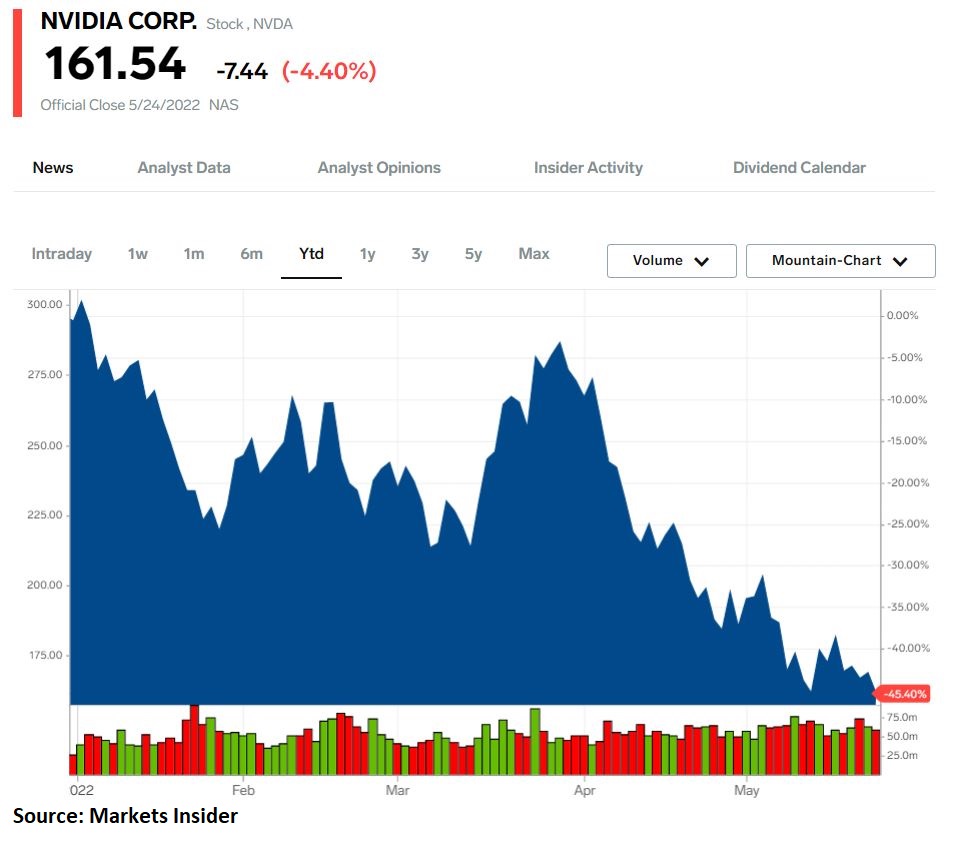 How about NVIDIA's stock price valuation?
Valuations improved after the stock market's decline this year. Yet, NVIDIA's stock still trades at a P/E Non-GAAP ratio of 38.02, trailing twelve months. This is much higher than the sector median by 116.42%.
What do analysts say about NVIDIA's stock price?
Analysts are bullish. Out of the 98 analysts covering the stock price, not even one has issued a sell recommendation. Moreover, 81 analysts have a buy recommendation, while 17 have a neutral rating on the stock.
Two days ago, Bernstein and UBS maintained their buy rating with a price target of $225, respectively $280/share.
NVIDIA is a dividend-paying company with a dividend payout ratio of 3.60% and a five-year growth rate of 4.65%. Despite the stock losing close to half of its value this year, NVIDIA's market capitalization still exceeds $400 billion.